Marge and Homer Turn a Couple Play
Wikisimpsons - The Simpsons Wiki
378
"Marge and Homer Turn a Couple Play"
"Marge and Homer Turn a Couple Play"
Episode Information

"Marge and Homer Turn a Couple Play" is the twenty-second and final episode of season 17 of The Simpsons and the three-hundred and seventy-eighth episode overall. It originally aired on May 21, 2006. The episode was written by Joel H. Cohen and directed by Bob Anderson. It guest stars Mandy Moore as Tabitha Vixx and Stacy Keach as Howard K. Duff.
Synopsis
[
edit
]
"After a passionate kiss between Marge and Homer airs on the Isotope Jumbotron, struggling baseball player Buck Mitchell turns to the couple for marital advice for him and his wife, singer Tabitha Vixx."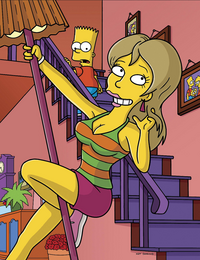 After an episode of the TV series Hunch finishes airing, Kent Brockman reports on the Springfield Isotopes becoming first in the league, thanks to their new signing, Buck Mitchell. Since the team is now first, the Simpsons decide to jump on the bandwagon and go to the next game. Before the game, singer Tabitha Vixx, the wife of Buck Mitchell, performs the national anthem, which evolves into her new song "Trouble-istic". The performance had Tabitha acting provocative whilst stripping her clothes off. This led to Buck Mitchell feeling angry and embarrassed over her actions. As a result of these feelings, his playing was affected and he messed up badly. To distract the crowd from this, Howard K. Duff VIII and Duffman turn on the Kiss Cam. When Buck sees Homer and Marge kiss, he gets an idea on how to save his marriage.
That night, Buck goes to the Simpsons and asks for their help with his marriage, since it isn't going how he wanted it. Whilst Marge is initially reluctant, she comes around to the idea of counseling them. During the first session, Buck tells everyone that he expected Tabitha to give up her singing career to focus on his own goal in life instead. Tabitha then tells them that she doesn't want to stay in a mismatched marriage. The session is ended after Homer starts to flirt with Tabitha. Homer then asks Buck to sign a large amount of baseballs, which he claims are for Bart.
The next session takes place at Buck and Tabitha's mansion. They discuss how the couple can make more time to spend with each other, including going on mini vacations together. Marge suggests that they can both take the same limo to an award ceremony, rather than separate limos. Buck and Tabitha like this idea and do that. Due to the couple spending more time together, Buck begins to play better once more. The barflies at Moe's Tavern congratulate Homer on fixing the relationship, because it means the Isotopes may win. Meanwhile, Tabitha writes a new song, "Sexy Marriage Land". After she performs the song, Homer goes to see her in the dressing room and ends up giving her a chicken grease neck massage. When Buck overhears this, he storms in and knocks Homer out, ending their counseling sessions.
Buck's performance in baseball takes a dive again as his mind is occupied by his marriage problems. The KBBL show Jock Squawk tells listeners that Homer is to blame because of his poor counseling. This leads to Homer and Bart both getting beaten up. Homer then decides that he needs to fix the marriage, but Marge refuses to help as Homer gave Tabitha a massage. After Homer leaves to try and fix the marriage, Tabitha arrives at the house and tells Marge that she's leaving Buck. Marge then decides that she does need to help fix the relationship.
At the Isotopes Stadium, the Duff Blimp flies overhead displaying a message supposedly from Tabitha, saying that she loves Buck. Tabitha wasn't actually in the blimp and Homer had hijacked it from Duffman to get Buck to play better again. Buck sees the message and hits the next ball out of the park, and through the blimp. As the blimp crashes down, Homer jumps out. Buck searches the blimp for Tabitha before he realizes that she wasn't there and Homer had tricked him. When he was about to hit Homer again, Tabitha appears on the Jumbotron and tells Buck that she will take him back if he can guess the attendance of the game. She then takes Buck back and the two reunite. Buck then asks another player, Tito, if love is grand. Tito tells Buck that he doesn't care as bandits kidnapped his mother.
Production
[
edit
]
The episode originated from the idea that Homer and Marge didn't have many couple friends, but then it went off on a tangent.[1] The couch gag for the episode was directed by Susie Dietter.[2] Mandy Moore was directed by Carolyn Omine.[3] The song she performs, "Trouble-istic", was roughly based on "Toxic" by Britney Spears. Tabitha Vixx was originally called Fiona Vixx, but someone on the writing team thought it sounded too similar to Fiona Apple.[1]
The attendance number options of the stadium are a perfect number (8,128), a narcissistic number (8,208), and a mersenne prime number (8,191). These numbers were suggested by Jeff Westbrook, however, it was Ian Maxtone-Graham's suggestion to have funny numbers as the options.[4]
Reception
[
edit
]
As of February 2022, the episode has a 6.3 rating on IMDb.[5]
References
[
edit
]