Mary Spuckler
Wikisimpsons - The Simpsons Wiki
Mary WrestleMania Spuckler is one of Cletus and Brandine Spuckler's children.
History
[
edit
]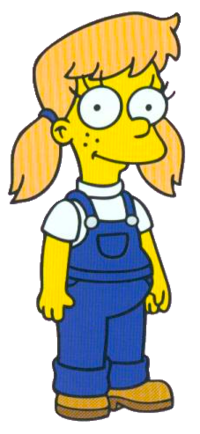 She is a member of the 4-H club where she befriends Bart. She is forced to marry Bart in order to save Lou. Bart and Mary end up not marrying. Unlike most of the Spuckler children, Mary appears to have at least an average education, as she was a prominent member of the 4-H club and is able to use proper English.
After Bart gave Mary Lou to look after, Cletus took this as Bart asking Mary to marry him and they almost get married, until it is called off.[2] When Bart decided to track down his ex-girlfriends, he went to find Mary, as she was his last hope. Bart reveals that Mary was fed on ordinary milk and not white paint as a baby, which is why she turned out to be smarter than the other Spuckler children. Bart then found out that Mary had run away after being engaged to Old Man Wellbottom. Dubya Spuckler then tells Bart that she had moved to New York City.
Bart heads to New York to find Mary again. He thinks that he's lost her for good, until Mary finds him. They spend some time together and Mary sings a song for Bart which she had written, called "The Ballad of Cylinder Head". Eventually, Cletus finds Mary again and wants to take her home. Mary runs away and gets a train out of the city. Bart says goodbye to her and is saddened. Cletus then gives Bart a picture of Mary and other Spuckler children.[3]
Mary eventually returned home and started to go to Springfield Elementary School. Bart was shocked to see her again after he put a caterpillar on her back and they agreed to meet up the next day. Mary came round early, eager to see Bart, but Bart just ignored her while playing video games. Eventually, Mary just leaves.
Bart went round to Mary's house and Mary was annoyed at Bart at first, asking him if he would rather have been playing video games. Bart tells Mary that she has his full attention before getting distracted again. Mary tells Bart about a talent contest she wants to enter and Bart agrees to go. Whitney and Jitney then kick Bart and Mary out of the boyfriend room to practice kissing with a French-Canadian mountain man.
After Mary lost the talent contest, a Brazilian record producer asked Mary to come with him and his son. Mary agreed but was annoyed when Bart refused to come. Mary then walked off with the two. After Bart realized what a mistake he had made, he held an event with other men who had temporary breakups and everyone got their woman back, except from Bart. Bart was upset that Mary had rejected him again and moped around.
Mary then wrote a song about Bart, and how bad he was for her and how much better off without him she was. She sung "Spuckler Bossa Nova" to Bart, playing in a band with her other siblings, while Bart listened on the phone, getting more and more depressed. Mary wrote this song as she said that the breakup helped her songwriting.
Mary then got married finally, possibly to the record producer's son. However, her husband soon died and Mary became a widow. As soon as she changed her online status to "single", Bart sent her a message saying that he missed her and Mary replied with a video message.[1]
Mary Spuckler was one of the Spuckler children that Brandine got to sing a sing to convince Cletus to return to his family.[4]
Mary plays the saw in the Spuckler Family Band.[5]
Personality
[
edit
]
Mary seems to be very caring, wanting to look after animals. When she was helping Bart look after Lou, Mary liked that Bart was so attached to his cow and eventually agreed to help Bart save him, due to both her fondness of animals and of Bart. Mary, unlike more of her siblings, also seems to have been educated up to a decent standard. This may be down to her joining the 4-H club.
Mary eventually ended up hating the hillbilly life, after getting engaged to Old Man Wellbottom. She ran away to avoid the life and to try and make her dream of becoming a singer/songwriter come true. When she realized that she couldn't make her dream come true, she returned home and back to the hillbilly lifestyle where she began to accept it.
Relationships
[
edit
]
Bart Simpson
[
edit
]
Mary began to fall in love with Bart after seeing how fond of his cow, Lou, he was. Mary would help Bart out looking after Lou and they became close. When Bart gave Lou to Mary, unknowing that it was a hillbilly marriage proposal, Bart was willing to get married to Mary both because he actually liked her and because it would save Lou. Mary was also happy because she liked Bart. However, the wedding is broken up by Marge.
Mary never lost her feelings for Bart as, when Bart tracked her down to New York City, Mary was happy to see him and sung him the song she had written for him. Both Mary and Bart were upset when Mary had to leave again.
When Mary returned to Springfield, she was happy to be with Bart again. However, she started to see Bart differently and get annoyed with him when he started paying more attention to his video games or just getting out of spending time with Mary, even when she told him that she needed him. Eventually, their relationship ended when Mary told Bart that it wouldn't work between them. In the future, the pair reconnect after Mary becomes a widow.
Brazilian record producer's son
[
edit
]
Mary met the Brazilian record producer's son when his father introduced him to Mary. Mary became attracted to him and they went off as Bart blew Mary off again. Later, Mary officially broke it off with Bart and she and her new boyfriend went off together. Mary may have then got married to him, (it was never said who she had gotten married to), although he then died, making Mary a widower.
Non-canon
[
edit
]
| | |
| --- | --- |
| | The contents of this article or section are considered to be non-canon and therefore may not have actually happened or existed. |
The Simpsons: Tapped Out
[
edit
]
This section is transcluded from The Simpsons: Tapped Out characters/County Fair 2017. To edit it, please edit the transcluded page.

Mary Spuckler
Image
Cost
Unlock method
Unlock message
Yearbook
150
County Fair, Love, Springfieldian Style, Northward Bound and Springfield's Got Talent?
Premium, Springfield Opry House

30
100
Moe's Ark
Premium, Springfield Opry House (Zoo Gift Shop Mystery Box)
40
Thanksgiving 2018, Simpsons Babies, All American Auction, Blargsgiving, Northward Bound and The Atom Smasher
Premium, Springfield Opry House (Youngsters Mystery Box)
60
Thanksgiving 2018, All American Auction, Blargsgiving, Northward Bound and The Atom Smasher
Premium, Springfield Opry House (Women Mystery Box)
1
Love and War
Love and War Mystery Box, Springfield Opry House
Permanent Jobs
| Task | Time | Reward | Requires | Quest with the task | Animated? |
| --- | --- | --- | --- | --- | --- |
| Go Skating | 10m | 26, 7 | Simpsons' Skating Rink | | |
| Set a High Score at Whack a Real Mole | 10m | 26, 7 | Whack A Real Mole | | |
| Sneak an Ice Cream | 30m | 60, 15 | Ice Cream Truck | | |
| Overload on Sugar | 30m | 60, 15 | The Candy Shoppe | | |
| Go on a Field Trip | 60m | 105, 26 | Cypress Creek Elementary | | |
| Serenade Wildlife | 60m | 105, 26 | | Making Ends Meat Pt. 3 | |
| Catch a Movie | 2h | 175, 40 | Big T Theatre | | |
| Ride the Carousel | 2h | 175, 40 | Boardwalk Carousel | | |
| Play a Show | 4h | 260, 70 | Springfield Opry House | | |
| Learn by Fun | 4h | 260, 70 | Childrarium | | |
| Put Coins on the Rails | 4h | 260, 70 | Springfield Union Station | | |
| Get Fit and Educated | 4h | 260, 70 | Springfield Gymdandee | | |
| Split a Fancy Mac and Cheese | 4h | 260, 70 | Le Petite Appétit | | |
| Play With Interactive Exhibits | 4h | 260, 70 | KidZone Elite | | |
| Pay Some Bills | 8h | 420, 105 | Shop | Making Ends Meat Pt. 4 | |
| Attend Wizarding School | 8h | 420, 105 | Magic Academy | | |
| Get Brainfreeze | 8h | 420, 105 | Pinkbeardy Yogurt | | |
| Get Caught in Webs | 8h | 420, 105 | Big Bug House | | |
| Clean up After a Show | 12h | 600, 150 | Springfield Opry House | | |
| Enjoy a Night at the Theater | 12h | 600, 150 | Springfield Playhouse | | |
| Work on a New Song | 24h | 1,000, 225 | Springfield Opry House | | |
She is the second girl to have almost married Bart, the first being Darcy.
Behind the Laughter
[
edit
]
Appearance
[
edit
]
In "Apocalypse Cow", Mary was originally about the same age as Bart. She had freckles on her face, had her hair in pigtails and wore blue overalls. In her next appearance in "Moonshine River", Mary was seen to be slightly older. She started to wear more mature clothing and wore makeup. This may have only been because she was away from her family and needed to look older than she actually was to blend in. In "Love Is a Many-Splintered Thing", Mary started to wear frilly dresses, rather than go back to her overalls, showing that she had actually matured in her time since her first appearance. However, she does get her pigtails back, showing that there is still a child within her.
Appearances
[
edit
]
References
[
edit
]
Factfiles from Simpsons World the Ultimate Episode Guide: Seasons 1-20
Season 14
Rock Stars • Audrey McConnell, Third Grade Teacher • Dr. Velimirovic, Plastic Surgeon • Mitch Hartwell, the Reality Channel Producer • Junior (AKA Frank Grimes, Jr.) • Teacher of the Year Award Nominating Committee • Dexter Colt, Private Eye • The Mugger • Larry H. Lawyer, Jr. • Baby Stink-Breath • Booberella • Sara Sloane, Hollywood Movie Star • Cookie Kwan, Red Coat Realtor • Stark Richdale • Declan Desmond • Julio and Grady • Luke Stetson, Junior Wrangler • Suds McDuff, Spokesdog/Mascot for Duff Beer • Marriage Counselor • Jim Proudfoot • Don Castellaneta