Vance Connor
Wikisimpsons - The Simpsons Wiki
Vance Connor
Character Information
Vance Connor is a former class President at Springfield High School, and recent inductee into the Springfield Wall of Fame.
History
[
edit
]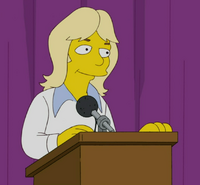 He campaigned against Homer and another student, and won the school election.
Many years later, however, Homer found out that his former principal had rigged the election in Vance's fabour. When Homer confronted him about this, the principal said that two students had had talked their classmates into voting for Homer so that they could laugh at him all the way through high school.
According to Homer, Vance is ten days younger than Homer, implying his birthday is on May 22nd.
Appearances
[
edit
]
Factfiles from Simpsons World the Ultimate Episode Guide: Seasons 1-20
Season 14
Rock Stars • Audrey McConnell, Third Grade Teacher • Dr. Velimirovic, Plastic Surgeon • Mitch Hartwell, the Reality Channel Producer • Junior (AKA Frank Grimes, Jr.) • Teacher of the Year Award Nominating Committee • Dexter Colt, Private Eye • The Mugger • Larry H. Lawyer, Jr. • Baby Stink-Breath • Booberella • Sara Sloane, Hollywood Movie Star • Cookie Kwan, Red Coat Realtor • Stark Richdale • Declan Desmond • Julio and Grady • Luke Stetson, Junior Wrangler • Suds McDuff, Spokesdog/Mascot for Duff Beer • Marriage Counselor • Jim Proudfoot • Don Castellaneta