Rachel Jordan
Wikisimpsons - The Simpsons Wiki
Rachel Jordan is a singer and the former lead singer of Kovenant, a Christian rock band.
History
[
edit
]
Early life
[
edit
]
In the lyrics of the song "He's the Man", Rachel Jordan sings about her life. Rachel was drunk in a sleazy motel, where she was thinking about the wrong turns she had made in her life. She then opened the dresser drawer to get another bottle of alcohol but found the Bible instead, which changed her life.[1]
Current life
[
edit
]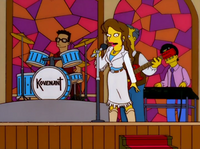 After Maude Flanders died, Ned didn't want to go to church. However, he regretted this decision and arrived at the church late. As he walked in, he heard rock music playing and found that Rachel Jordan was singing "He's the Man" to the congregation. Ned became smitten with her and the song. After the service, Ned helped Rachel pack the Kovenant van and they got to know each other. Rachel asked Ned if he wanted to get a coffee with her, but Ned told her that he wasn't ready yet. Rachel Jordan then left to go on tour but told Ned that they could meet up again when she got back.[1]
Rachel Jordan returned to Springfield again to perform the song "Jesus Loves Me" at the First Church of Springfield Ice Cream Social. After the performance, Homer pushed Ned into Rachel and the two of them reconnected. Rachel revealed that the rest of Kovenant had moved from Christian music to regular pop music. Ned then went on to tell Rachel that he's over Maude and Rachel asked Ned if he would like to get coffee with her. Ned accepted but then told Rachel that he couldn't go as he was busy the next day. After Rachel said that she had to go check into her hotel, Homer suggested that Rachel stay at Ned's house. Rachel accepted and went home with Ned, where she quickly found that Ned still wasn't over Maude, having pictures of her everywhere and found that Ned had even preserved Maude's indentation in the bed. As Rachel slept that night, Ned snuck into the room and cut her hair to make her look like Maude. Rachel was horrified by this and quickly left to get a taxi away from the house.
After Praiseland closed down, Rachel turned up to meet Ned again. She told Ned that she read about what happened and just wanted to see him again. When Ned pointed out that Rachel's hair had grown back, Rachel said that it was a wig and they should never speak of it again. Ned then said that he would explain what happened at Praiseland over a cup of coffee. Later, Ned and Rachel remove Maude's indentation from Ned's bed then Ned invites Rachel to see a movie with him the next night.[2]
During Trappuccino, she was part of the mob that was after Homer for polluting Lake Springfield and placing the town under the dome.[3]
Non-canon
[
edit
]
| | |
| --- | --- |
| | The contents of this article or section are considered to be non-canon and therefore may not have actually happened or existed. |
The Simpsons: Tapped Out
[
edit
]
This section is transcluded from The Simpsons: Tapped Out characters/Churchy Joes. To edit it, please edit the transcluded page.

Permanent Jobs
| Task | Time | Reward | Requires | Quest with the task | Animated? |
| --- | --- | --- | --- | --- | --- |
| Go Skating | 10m | 26, 7 | Simpsons' Skating Rink | | |
| Do Her Hair | 60m | 105, 26 | | Praisin' Liaison Pt. 2 | |
| Volunteer at Praiseland | 4h | 260, 70 | Praiseland Gate | | |
| Overpay for Sex on the Beach | 4h | 260, 70 | Smooches on the Beach | | |
| Stay at the Swelldorado | 4h | 260, 70 | Swelldorado | | |
| Try to Win at Blackjack | 4h | 260, 70 | $ Casino | | |
| Drink and Babysit | 4h | 260, 70 | The Boiled Potato | | |
| Attend Coffee Meetup | 4h | 260, 70 | Jittery Joe's Coffee | | |
| Ride the Rockin' Ark | 8h | 420, 105 | Rockin' Ark | | |
| Dance the Señor Burns | 8h | 420, 105 | Chez Guevara | | |
| Spread the Word | 12h | 600, 150 | | | |
| Enjoy a Night at the Theater | 12h | 600, 150 | Springfield Playhouse | | |
| Work on Music | 24h | 1,000, 225 | Brown House | | |
Personality
[
edit
]
Rachel Jordan seems to be a devout Christian. Whilst the rest of her band moved on from Christian music, Rachel stuck with it, starting a solo career. Rachel also appears to be a forgiving person, giving Ned another chance after he cut her hair against her wishes.
Appearances
[
edit
]
References
[
edit
]