YOLO
Wikisimpsons - The Simpsons Wiki
"I'm tired of living once."
"I can't believe I'm saying this, but I'm starting to regret saying YOLO."
"YOLO"
Episode Information

"YOLO" is the fourth episode of season 25 of The Simpsons and the five-hundred and thirty-fourth episode overall. It originally aired on November 10, 2013. The episode was written by Michael Nobori and directed by Michael Polcino. It guest stars Jon Lovitz as Llewellyn Sinclair.
Synopsis
[
edit
]
"Homer's down-in-the-dumps after he realizes you only live once, so Marge encourages him to embrace his YOLO spirit, and she invites his old pen pal to stay and cross items off his 'to-do/dream list' from when he was 10-years-old. Meanwhile, Springfield Elementary's cheating scandal is resolved, or seems to be, when Lisa institutes a new honor code."
Bart and Milhouse are having a play-date at the former's house. After finishing constructing a toy race-track, the pair argue over who gets to play with it first and brawl, ultimately crushing the track under their body weight. Milhouse then triggers an allergic reaction by sniffing a nectarine and both Homer and Marge agree it's best for Milhouse to go home and text his father requesting he pick up his son.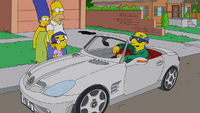 Shortly after, Kirk arrives at the Simpson home to pick up Milhouse in a Mercedes, complete with a 'YOLO' license-plate, wearing a track-suit with accompanying bling and boasting about his DJ class. It's clear Kirk is going through a mid-life crisis.
Later that night, Homer and Marge are brushing their teeth and laughing over how silly Kurt looked. Then, Marge tells Homer how proud she is of Homer - "You've had the same job, same car, same house for 20 years. And that's all you'll ever have... A cycle you'll never ever, ever, ever, ever, ever change. And you're OK with it... Like I say night after night after night. Nighty night." Homer starts questioning how happy he really is.

The next morning,
Kent Brockman
arrives with his
Channel 6
news crew at
Springfield Elementary
to interview
Principal Skinner
. The journalistic piece turns "gotcha!" when it transpires the interview was faked in order to expose the on-going cheating at the school.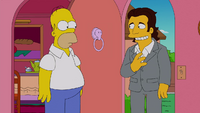 With the cameras rolling, Brockman hands over incriminating evidence of the cheating (30 identical essays about "My Summer in Cozumel") to Skinner and presents a video-tape of various students cheating during an exam. "
This school is more corrupt than the Italian government
," Kent explains, "
If these children are our future then I, for one, do not want to live.
" Despite Skinner pleading, Brockman airs the report later that day.
Meanwhile, Homer begins to realizes his life is boring and uneventful. He decides to quit complaining about his life and start wallowing in the past. Homer informs Marge about his old pen pal from Spain, Eduardo Barcelona. During 5th grade, the two wrote back and forth about their dreams and ambitions for the future. Marge comes up with an idea... She notifies Eduardo of Homer's predicament and he pays a visit to Springfield. Eduardo is initially surprised by Homer's appearance ("Did your hair burn off in a fire that trapped you in a candy factory?) but ultimately recognizes his old pen-pal.
After introducing himself to Marge, Eduardo explains to Homer that, unlike him, he has been doing all the things they discussed in their letters. Eduardo announces his plans to help Homer fulfill some of his childhood dreams and promises Marge that once they return, Homer will be happy and bring a new sense of adventure to their marriage.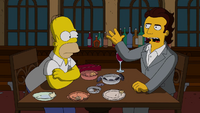 Elsewhere, Lisa develops a solution to the school's cheating scandal - implementing an honor code. The suggestion gathers support from both the parents and teachers. She tries implementing the new honor code, which can only become active once all her fellow students agree to use it. Lisa understands that if she gets the toughest kid in the class to sign it, then the rest of them will too. Her plan succeeds and pretty soon everyone begins signing up.
Homer and Eduardo begin their quest of completing the former's dreams, beginning with riding on the back of a fire-engine. Next, the pair engage in a swashbuckling sword-fight with a band of pirate actors in a play, directed by Llewellyn Sinclair, at the Springfield Dinner Theater. Following this, Homer reenacts the fight scene between Captain Kirk and a Gorn from Star Trek.
That night, after Homer expresses his happiness at embracing his you-only-live-once lifestyle, Marge admits she is feeling melancholy over not completing one of her dreams - rebelling against her parents by jumping on the bed. After some encouragement by Homer, she does just that.
The next day Homer and Eduardo prepare to complete the last childhood dream: skydiving. Up in a plane thousands of feet in the air, Homer begins to have second thoughts. However, before he can retreat, Eduardo pushes him out and Homer tumbles through the sky down towards Springfield...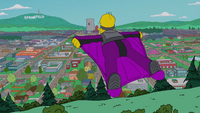 At Springfield Elementary, the honor code has become a huge success. Students, particularly the bullies, are actively taking part in their learning by spending lunch doing homework and assignments. Principal Skinner is pleased with the result and congratulations Lisa. However, Lisa soon discovers Bart has got A*s on all of his tests and believes he might be cheating the system. Lisa threatens to report him, until Bart points out that if she does it'll prove her system is a failure.
Meanwhile, up in the air, Homer learns to use his skydiving suit and soars across the sky, with Eduardo following behind. Just then, Marge's voice crackles in Homer's headset. "Come down Homie," Marge pleads, "You only live once also means when you die...you die." Homer panics, until Eduardo knocks his headpiece off. "You can listen to your wife when you're dead. Now savor the moment," Eduardo instructs him. While taking in the sights, Homer fails to notice he is fast approaching the Largest Building in Springfield. He whams into it and loses the wind updraft that was keeping him afloat. He begins falling to the ground.
Lisa confronts Bart in the school's playground. Lisa has a plan to keep her credibility and the honor system intact and it involves having Bart turn himself in for cheating. Unfazed, Bart says he'll only turn himself in when he sees a sign from God. Just then, a falling Homer lands on Bart, leaving behind a huge crater and a cloud of dust. This proves as enough of a sign for Bart and, to Lisa's pleasure, he decides to turn himself in.
Homer is rushed to Springfield General Hospital, where Eduardo congratulations him on living his dreams. Just then, Homer wakes up in his bed at home and concludes that all of the previous events were just a dream. "It was not just a dream and you said you would drive me to the airport," Eduardo says. However, instead of just simply driving Eduardo there and dropping him off, Homer decides to pay a visit to Barcelona. The two pen-pals tour the Sagrada Família together, with Eduardo adding, "You are a good friend" as the pair head off to explore.
Reception
[
edit
]
The episode gathered 4.2 million viewers and a 1.9 18-49 rating/share.[1]
The episode received mixed-to-positive reviews from critics. The A.V Club gave the episode a B rating and summed up, "It's not groundbreaking, but it's at least an improvement over the structural shrug that was last week's denouement. And the tag, with Homer unexpectedly having accompanied Eduardo all the way back to Spain instead of dropping him off at the gate, is one of those lovely little moments where they show goes for a little heart—and gives the character his due." They gave praise to the episode's B-story "where most of the hard laughs come in" and were pleased "the creators expanded their canvas a little."[2] Den of Geek generally enjoyed the episode and lauded the episode's reference to June Foray, a legend in the cartoon community and The Adventures of Bullwinkle and Rocky, describing Simpsons recreations as "always first rate and they do Jay Ward proud." They ultimately gave the episode a 3.5/5 rating.[3] Bubble Blabber summed up their review with, "This episode definitely had its moments, and it had a very sweet ending, but the jokes in episodes like this, with an abundance of nostalgia, sometimes fall a little flat when they're squished into a less silly plot. [...] Regardless, it's still worthy of a few laughs, and luckily, some of them are pretty hearty." They awarded a 6/10 rating.[4] Conversely, TV Fanatic gave a somewhat mixed-to-negative review. They criticized the episode's title as "an effort to remain current" and deemed the overall episode as "mindless and dull" - they gave the episode a 2.5/5 rating.[5]
Fan reaction was mixed. On No Homers, the episode holds a 3/5 majority rating on a fan poll. Many fans labelled the episode as "bland" and "nothing special", with some, on the other hand, appreciating the episode's humor and opening couch gag.[6]
"YOLO" was nominated for a 2014 Writers Guild of America award in Animation, but it lost to "A Test Before Trying".[7]
International premieres
[
edit
]
In other languages
[
edit
]
| Language | Name | Translation |
| --- | --- | --- |
| Italiano | "Si Vive Una Volta Sola" | You only Live Once |
Gallery
[
edit
]
References
[
edit
]
| | |
| --- | --- |
| | Wikisimpsons has a collection of images related to YOLO. |