Crazy Cat Lady
Wikisimpsons - The Simpsons Wiki
<!–-INFOLINKS_ON-–>
Eleanor Abernathy Artwork of Crazy Cat Lady
Character Information
Eleanor Abernathy, better known as the Crazy Cat Lady, is a mentally-ill woman who always surrounds herself with a large number of cats. She usually screams gibberish and/or throws her cats at passersby. She gives Lisa one of her cats, Snowball V, who looks exactly like her original Snowball II.
Biography
[
edit
]
When she was eight, she was a smart and ambitious young girl who wanted to be both a lawyer and a doctor "because a woman can do anything".[1] She was studying for law school at 16, and by 24, she had earned an MD from Harvard Medical School and a JD from Yale Law School. However, by 32, suffering from burnout, she had turned to alcohol and became obsessed with her pet cat. By the time she turned 40, she had assumed her present state as a drunken, raving lunatic.
She once shared a cat with Moe.[2]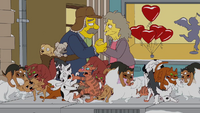 She once met the Crazy dog man on Valentine's Day and they shared a romantic moment, as opposed to their cats and dogs, who literally fought.[3]
Intelligence
[
edit
]
Even without medication, she appears to be very intelligent. When Mayor Quimby is recalled, she runs for the mayor's office. During a candidate debate, she is asked what public-policy issues are important to her. Unlike the other candidates (who act as stereotypical dishonest politicians), Abernathy discusses issues such as health care, economy, and public education in between her screams and gibberish (and a call for cats "in everyone's pants").[4]
Illness
[
edit
]
The Cat Lady enjoys "brief moments of lucidity" after taking psychoactive medication.[5] She abruptly resumes her usual bizarre behavior when Marge mentions that the "pills" are actually Reese's Pieces. Her medication helps her speak intelligibly rather than her usual gibberish.
Non-canon
[
edit
]
| | |
| --- | --- |
| | The contents of this article or section are considered to be non-canon and therefore may not have actually happened or existed. |
The Simpsons: Tapped Out
[
edit
]
This section is transcluded from The Simpsons: Tapped Out characters/Helpful Guest Stars. To edit it, please edit the transcluded page.

Permanent Tasks
| Task | Time | Reward | Requires | Quest with the task | Visible? |
| --- | --- | --- | --- | --- | --- |
| Babble Incoherently | 60m | 105, 26 | | | |
| Polish her Degrees (With a Cat) | 4h | 260, 70 | Crazy Cat House | Look What the Cat Dragged In Pt. 2 | |
| Speak Cat | 8h | 420, 105 | Crazy Cat House | | |
| Throw Cats | 12h | 600, 150 | | Look What the Cat Dragged In Pt. 1 | |
| Plan a Cat Revolution | 24h | 1,000, 225 | Crazy Cat House | | |
Behind the Laughter
[
edit
]
Foreign dubs
[
edit
]
Appearances
[
edit
]
This article or section is incomplete.


Please improve the article, or discuss the issue on the talk page.

References
[
edit
]
Factfiles from Simpsons World the Ultimate Episode Guide: Seasons 1-20
Season 14
Rock Stars • Audrey McConnell, Third Grade Teacher • Dr. Velimirovic, Plastic Surgeon • Mitch Hartwell, the Reality Channel Producer • Junior (AKA Frank Grimes, Jr.) • Teacher of the Year Award Nominating Committee • Dexter Colt, Private Eye • The Mugger • Larry H. Lawyer, Jr. • Baby Stink-Breath • Booberella • Sara Sloane, Hollywood Movie Star • Cookie Kwan, Red Coat Realtor • Stark Richdale • Declan Desmond • Julio and Grady • Luke Stetson, Junior Wrangler • Suds McDuff, Spokesdog/Mascot for Duff Beer • Marriage Counselor • Jim Proudfoot • Don Castellaneta
<!–-INFOLINKS_OFF-–>