Duncan
Wikisimpsons - The Simpsons Wiki
For the auctioneer, see Duncan (auctioneer).
"He's the bad boy of racing. He's got attitude and bad-itude, so show him some latitude and you'll win his gratitude. Only in America!"
Duncan, also known by his nickname Furious D, is a racehorse.
History
[
edit
]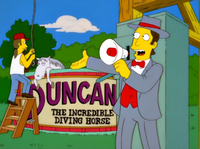 Duncan initially was an attraction at the State Fair, where he was forced to dive off a high diving board into a small pool of water. This show was then shut down by Chief Wiggum as it was animal cruelty. After the owner ran away, Chief Wiggum was going to send Duncan to become dog food, but Bart wanted to adopt him instead, which the rest of the family agreed to, despite knowing it would cost them a lot of money to feed him. They then took Duncan home, strapping him to the roof of the car.
Homer decided that Duncan would have to earn his keep and first tries him out at football, which Duncan proved to be good at. Homer then found out that horses weren't allowed to take part in the NFL. Bart then realized that Duncan was fast so they decided to try him out as a race horse instead. Duncan's first race had him finish last after he was too scared and intimidated to start. But Bart managed to talk him round to running.
Homer and Bart give Duncan a makeover to make him more confident, giving him the name "Furious D". Furious D then went on to win many races, attacking the other horses to win races. Eventually, the other jockeys took offense to this and told Homer that Duncan must lose. In Furious D's final race, Bart refused to let Duncan lose and won the race anyway. Homer and Bart then rode away on Duncan as the jockeys tried to kill them until they sprung a trap and captured the jockeys. Afterwards, Duncan retired to live as a stud.
Non-canon
[
edit
]
| | |
| --- | --- |
| | The contents of this article or section are considered to be non-canon and therefore may not have actually happened or existed. |
The Simpsons: Tapped Out
[
edit
]
This section is transcluded from The Simpsons: Tapped Out characters/Sporty Tough Guys. To edit it, please edit the transcluded page.

Permanent Tasks
| Task | Time | Reward | Requires | Quest with the task | Animated? |
| --- | --- | --- | --- | --- | --- |
| Ride Around Town | 4h | 520, 140 | Bart | | |
| Eat Hay | 60m | 105, 26 | Cletus's Farm | | |
| Attend Stag Party | 4h | 260, 70 | Cletus's Farm | | |
| Check Out the Competition | 8h | 420, 105 | Springfield Downs | | |
| Be Cool | 12h | 600, 150 | | D Biscuit Pt. 2 | |
| Admire Twonicorn | 16h | 1,500, 400 | Two-nicorn | | |
| Defend Steroid Allegations | 24h | 1,000, 225 | Court House | | |
Personality
[
edit
]
Initially, Duncan was insecure and nervous, as seen when he refused to run in the race until Bart gave him a pep talk. After his makeover into "Furious D", he gained a lot of confidence and used his new look to his advantage.
Behind the Laughter
[
edit
]
Duncan's vocal effects were provided by Jim Cummings.
Appearances
[
edit
]
Simpson family
Main family

Homer Simpson
•

Marge Simpson
•

Bart Simpson
•

Lisa Simpson
•

Maggie Simpson

Santa's Little Helper
•

Snowball II