To Surveil with Love
Wikisimpsons - The Simpsons Wiki
461
"To Surveil with Love"
"Now just follow a little formula called PB&J, peer at the monitor, be judgmental, and jot it down. And one way to remember that is ABC, Always Be Considering PB&J, but the single most important rule is the four 'A's, Always Act According to ABC."
"To Surveil with Love"
Episode Information

"To Surveil with Love" is the twentieth episode of season 21 of The Simpsons and the four-hundred and sixty-first episode overall. It originally aired on May 2, 2010. The episode was written by Michael Nobori and directed by Lance Kramer. It guest stars Eddie Izzard as Queen Elizabeth II, Nigel Bakerbutcher and Prince Charles.
Synopsis
[
edit
]
"Thanks to Homer leaving a gym bag with radioactive waste (planted there by Smithers) unattended in a train station, Springfield has surveillance cameras installed throughout the town to stop terrorist attacks. But when citizen video monitor scanner Ned abuses his ability to speak through the cameras' speakers, Homer uses the camera blind spot Bart discovers to the town's advantage; Lisa, having heard one too many dumb blonde jokes, dyes her hair brown."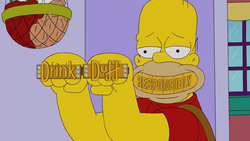 Duffman bursts into Moe's Tavern to gives everyone free Duff and Duff stuff, including a Duff gym bag. Back at home, Homer fails to impress Bart with his collection. At school, Lisa is invited to join the school debate team but soon discovers that she faces prejudice from the brunette supremacist judges (that her competition readily capitalizes on) because she has blond hair.
When Mr. Burns is informed that the Springfield Nuclear Power Plant has run out of room to store waste plutonium, Smithers is told to hide some of the radioactive matter in Homer's Duff gym bag. Later that day, Homer forgets the bag in a train station and it is spotted as an unnattended bag. It is seen as a threat and blown up, and revealed that the bag contained plutonium. The incident sparks fears of terrorism, and the town votes to hire a British security consultant named Nigel Bakerbutcher to install surveillance cameras all around Springfield, although Lisa protests and is mocked about her hair color.
Marge gives Lisa a book named Sally Circle in Rectangu-land, which Lisa finds unambitious. Later Lisa and Bart watch The Krusty the Clown Show which includes Krusty telling jokes about blondes.
Soon the entire town is being watched, but Chief Wiggum and the other officers tire of watching the surveillance screens. Wiggum gets Lou and Eddie to recruit seven of the townspeople — including Marge and Ned Flanders — to keep watch. Eventually only Marge and Flanders are left, but Marge is not comfortable watching the activities of her fellow townspeople and goes home, which leaves Ned to discover he enjoys being Springfield's "conscience" and proceeds to nag everyone through loudspeakers on the cameras, somewhat abusing his powers.
After stopping illegal wagering in Moe's Tavern, Ned frustrates Bart with his constant nagging which makes Bart show his butt to the camera. He notices this has no effect on Ned, and discovers the Simpsons' back yard is a blind spot. Soon, he and Homer are charging the townsfolk to use the yard to relax and do anything they want. Marge asks Homer what is happening and voices her disapproval to herself outside the blind spot. Ned overhears the conversation and uses Rod to find the blind spot.
At the next debate meeting, Lisa (who is wearing a brunette wig), intentionally presents a weak argument and when the judges enthusiastically agree with her, she points out that they judged her on her hair color rather than the strength of her debate skills, and notes that there are exceptions to every stereotype. Not all blondes are stupid and not all fat people are jolly, including Comic Book Guy, and just as she says that not all old people are bad drivers, though, Grampa crashes his car through the wall of the gym where the meeting is being held, ruining her argument.
When Ned confronts Homer, Homer points out that because Ned won't let anyone do anything all their pent up desires have been focused into this one small point and that he is playing God. Ned is troubled by this and admits that he got carried away with his nagging, and he and Homer proceed to destroy every security camera in town.
In the end, it is revealed that the antics of Springfield's citizens were broadcast as a (in fact, the most popular) reality TV show in England, known as The American Oafs. Queen Elizabeth II remarks that she will miss "that Ralph Wiggum boy," that he reminded her of her own son, and her son Prince Charles replies with a quintessential Wiggum-ism: "My cat's breath smells like cat food."