Co-Dependent's Day
Wikisimpsons - The Simpsons Wiki
"Co-Dependent's Day"
Episode Information

"Co-Dependent's Day" is the fifteenth episode of season 15 of The Simpsons and the three-hundred and twenty-eighth episode overall. It originally aired on March 21, 2004. The episode was written by Matt Warburton and directed by Bob Anderson. It guest stars Brave Combo as themselves.
Synopsis
[
edit
]
"In a trip to Northern California, Homer and Marge find that they have fun drinking together. They have a great time until Homer drink drives and crashes the car, then pins the blame on Marge."
Cosmic Wars: The Gathering Shadow premiered at the Aztec Theater and the Simpson family went to watch it. Many other Springfielders also turned up, in costume, to watch the movie. Otto turned up to the wrong ticket booth after waiting there for three weeks and ended up watching The Momentum of Things. The audience get bored of the film pretty quickly with some members falling asleep. After they left the studio, Comic Book Guy declared it the "Worst. Cosmic Wars. Ever."
Marge suggested that Bart and Lisa write a letter to Randall Curtis, the creator of Cosmic Wars, to complain about the film. However, they got a letter ignoring their complaints back along with a signed photo of Curtis. The Simpsons then head to Northern California to go to the Cosmic Wars Ranch to meet Curtis in person. Whilst Bart and Lisa go to meed Curtis, Homer and Marge went to the Lush Valley Winery. Bart and Lisa left the tour to go meet Curtis. Meanwhile, Marge and Homer got drunk. Bart and Lisa managed to convince Randall Curtis to go back to his roots with making his movies. Bart and Lisa left the ranch to find Homer and Marge drunk.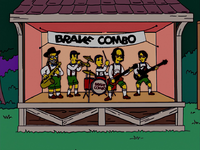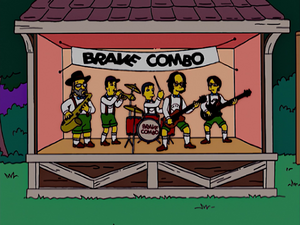 Homer and Marge bond over their drinking. Homer even invited Marge to drink with him at Moe's Tavern. The two start to go out wine drinking a lot more often, leading to Marge getting bad hangovers. Marge decides to give up drinking but to still have fun with Homer. They then make a visit to Oktoberfest. Marge got extremely drunk and Homer drove them home, even though he was also in no condition to drive. Homer then crashed the car and switched places with Marge to make it seem like she was the one driving. He then runs off and hides in the woods.
Homer bails Marge out of jail and then tells Moe what he had done. Marge became an outcast in town. Barney tells her about a place where he was cured of his addiction five times at Quitters and so Marge checks in. Lisa begins to get suspicious and guesses that Homer was the one who was driving. He goes to see Marge and admits what he had done. She gets angry and goes to meet up with the other people at the rehab and gets drunk with them. She then realizes she enjoyed spending time with Homer more than drinking. She checks out of rehab, despite the fact Kyle thinks that they should both stay as Homer is an alcoholic and Marge is in denial. Homer then promised to give up some of his drinking for Marge.
Production
[
edit
]
Matt Groening learned of Brave Combo as a college-radio DJ in the 1980s. He got them to perform at "his best friend's wedding party", where Groening invited them to appear on the show. The band were then contacted asking for videos of them so the animators could animate their Simpsons likenesses. They also recorded a Polka version of the "The Simpsons Theme" and made two other songs available for use during the Oktoberfest scene in the episode.[1]
Reception
[
edit
]
The episode currently holds a 6.9 rating on IMDb[2] and a 8.1 rating on TV.com[3]
In other languages
[
edit
]
| Language | Name | Translation |
| --- | --- | --- |
| Italiano | "Fatti e Assuefatti" | High and Addicted |
References
[
edit
]