A Tree Grows in Springfield
Wikisimpsons - The Simpsons Wiki
514
"A Tree Grows in Springfield"
Not to be confused with the film, A Tree Grew in Springfield.
"A Tree Grows in Springfield"
Episode Information

"A Tree Grows in Springfield" is the sixth episode of season 24 of The Simpsons and the five-hundred and fourteenth episode overall. It originally aired on November 25, 2012. The episode was written by Stephanie Gillis and directed by Timothy Bailey. It guest stars Kelsey Grammer as Sideshow Bob.
Synopsis
[
edit
]
"Homer wins a MyPad at the school auction and Steve Mobbs, who is now in heaven, talks to Homer through it. Homer goes into a funk when he breaks his myPad, until Ned Flanders discovers a miracle tree in the Simpsons' back garden."
Homer dreams in his hammock, but is woken by the rain. He goes in the house, only to find that it is also raining inside. Homer leaves Marge and his family in the rain-damaged house to visit Moe's. Moe discovers that Homer is upset, so he calls the Duff Beer Party Bus. Duffman tries to cheer up Homer, but also becomes depressed. When leaving Moe's, it is revealed that Homer received a parking ticket; he tries to avoid it but fails. Homer comes home just in time for the school fundraiser, where Lisa buys a raffle ticket for him. Despite Homer's doubtfulness, he wins a MyPad. Homer loves his new tablet, and Marge realizes that it has improved his mood. Homer uses it to get a kiss from Marge, have a Skype call with Lenny, entertains himself while he visits the IRS, and talks with Mr. Burns. Lisa and Bart thinks it's dicey when Homer cares more about the MyPad than them when they visit the zoo, and when Homer want use the MyPad when he plays with Maggie starts also causes Marge to be annoyed by it. Homer plays a game on it while walking and falls down an open storm drain on the street.
Homer ends up in hospital and his MyPad breaks. Homer is upset, but at the breakfast table the next day, Ned tells him of a tree in his garden that says "Hope", which Ned believes to be a miracle. Homer doubts this, but soon begins to believe in hope. Homer begins to spread the word about hope, and the tree in his garden. Kent Brockman decides to prove that there is not a miracle, and his team manages to film the tree overnight (from their helicopter) revealing someone painting "Hope" on the tree with syrup. The residents of Springfield feel cheated and Homer loses his joy of life again, but Marge explains to Homer that the important thing was that the hope he felt was genuine. Homer understands this, and they begin to discuss who wrote it, coming to the conclusion that it was someone who knows Homer needs hope most of all. During the night, Homer is shown sleepwalking, painting Hope on the tree while God watches him on his (God's) MyPad. God is then visited by Steve Mobs, who wants him to update the tablet.
Logomania
[
edit
]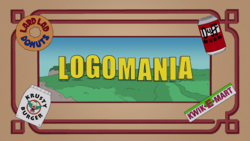 Malibu Stacy and Bubbles drive their cars and stop next to each other at a traffic light. Bubbles and Stacy try to have contact with each other but Burly runs at Bubble's Car and takes his place. Burly is on a date with Stacy and Bubbles feels alone when Funzo comes and starts destroying the city. Burly is hiding and Funzo kidnaps Stacy. Bubbles saves Stacy by taking out Funzo's batteries. Bubbles and Stacy fall in love and Burly leaves Stacy for another girl. Next scene is Bubbles and Stacy sitting in the same car and eating a Squishee.
Production
[
edit
]
Reception
[
edit
]
"A Tree Grows in Springfield" was nominated for a 2012 Annie Award for Outstanding Achievement for Writing in an Animated Television/Broadcast Production, but lost to "Jewpacabra" from South Park.[1]
International airdates
[
edit
]
Gallery
[
edit
]
References
[
edit
]