Prince
Wikisimpsons - The Simpsons Wiki
For Santa's Little Helper's puppy, see Greyhound puppies (first litter).
Prince
Character Information
Prince is an American guitarist and singer.
History
[
edit
]
When Comic Book Guy went online to find out who was going to star in the forthcoming Radioactive Man film, Prince was among the geeks who received his "Need know star RM pic" inquiry.[1]
Homer told the story of how Lisa got her saxophone. To place the story in its setting (in 1990), one of the pieces of background information he cited was "Back then, 'The Artist Formerly Known as Prince' was currently known as 'Prince'."[2]
Non-canon
[
edit
]
| | |
| --- | --- |
| | The contents of this article or section are considered to be non-canon and therefore may not have actually happened or existed. |
When Homer was killing celebrities, one of his victims was Prince, whom he beat and stabbed with his own guitar."[3]
Kang and Kodos hosted a television special where all the celebrity guests were killed and their bodies placed to spell out the episode title. Prince was the "S" in "TREEHOUSE OF HORROR XXV".[4]
Kirk Van Houten threw out a Prince album from his cupboard.[5]
Behind the Laughter
[
edit
]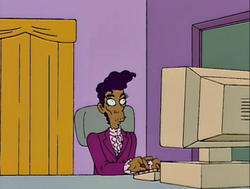 In 1993, due to a dispute with his record company, Prince changed his stage name to the "Love Symbol", which he explained as being a combination of the symbols for male and female. There was no pronunciation for the symbol, so in written and spoken discourse he was referred to as "The Artist Formerly Known as Prince", or simply "The Artist". The change lasted until 2000, when The Artist changed his stage name back to "Prince", so he was performing as the Love Symbol when "Lisa's Sax" originally aired, as referenced by Homer when he tells the story.
Prince was lined up to appear in an unproduced sequel to "Stark Raving Dad" as Leon Kompowsky. Although he initially accepted the role, it transpired that the script he received was not the one written by the staff. Prince subsequently declined to appear using the staff's script, and so the episode was never made.[6]
In real life, Prince passed away on April 21, 2016, aged 57.
Appearances
[
edit
]
References
[
edit
]
↑ "Lisa's Sax"
↑ Reiss, Mike. (2003). Easter Egg Commentary for "Stark Raving Dad", in The Simpsons: The Complete Third Season [DVD]. 20th Century Fox.
External links
[
edit
]