Bartman
Wikisimpsons - The Simpsons Wiki
This article is about the character. For comic book series, see Bartman (comic book series). For the comic story, see Bartman (comic book story).
Bartman (or "The Bartman") is Bart's alter-ego. His alias is Bart Simpson. His powers are grappling a hook, climbing walls, and gliding. He can also throw Bartarangs.
History
[
edit
]
When Bart and Lisa attended a comic book convention they didn't know they could get a discount for dressing as a superhero. Bart quickly ran into a phone booth and put on a mask and cape calling himself "Bartman", although he still had to pay full-price.[1] He also told a story of Bartman when trying to convince everyone that revenge is great, but in the story Bartman had a full suit and equipment.
Bart wore the mask when he entered KBBL's gross-out contest.[2]
Bartman Begins
[
edit
]
Bartman appeared in a story told by Bart. After leaving the Gotham City Opera House, Bart's parents are killed by someone with a snake tattoo in a dark alley. Bart's Father pleads to be avenged. Bart does as his father says and swears revenge on the man, giving birth to his superhero form, Bartman, with the help of his Grandfather, as he was once a "superhero". He flies around Gotham City, defeating villains on his way for justice. When Serpent (similar to Snake) attempts to steal the "Stealable Jewels of the Orient" from the Gotham Natural History Museum, Bartman arrives, saves the Jewels, and kills Serpent by impaling him on the fangs of a snake statue. In the end, a reporter (resembling Lisa), reminds Bartman that the Serpent's death will not revive his parents. Bartman agrees, but adds that he now feels better, plus, he's got zillions of dollars and no parents to tell him what to do.[3]
Non-canon
[
edit
]
| | |
| --- | --- |
| | The contents of this article or section are considered to be non-canon and therefore may not have actually happened or existed. |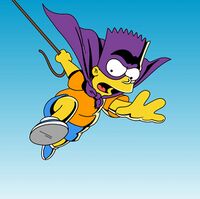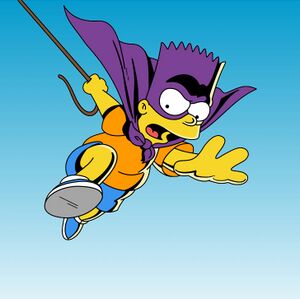 The Real Story
[
edit
]
In The Bartman comics, Bartman fights bullies and super villains who pop up in Springfield. This series ran for 6 issues in the 90s, but Bartman still frequently appears in the Simpsons Comic Universe.
Video Games
[
edit
]
In Bart vs. The World, Bart can find a power-up item that for a short time turns him into Bartman with the power to fly.
In Bartman Meets Radioactive Man, while reading comic books in his treehouse, Bart was surprised when Fallout Boy appeared and told him that Radioactive Man had been captured by villains. Bart became Bartman and travelled inside his comic book to save his hero. He and Houseboy later teamed up with Shelbyville's Fighting Owl and Four Eyes to defeat Squirrel Girl. Items can give him powers like laser vision and ice breath.
In The Simpsons Skateboarding, one of Bart's possible skateboards includes a picture of Bartman.
In The Simpsons: Hit & Run, Bartman is one of Bart's available costumes in Level 6.
In The Simpsons Game, Bart can transform into Bartman, which gives him the ability to fire his slingshot and glide with his cape. Later on, he can also fire grappling hooks at certain targets.
The Simpsons: Tapped Out
[
edit
]
This section is transcluded from The Simpsons: Tapped Out characters/Vigilantes. To edit it, please edit the transcluded page.

Permanent Tasks
Task
Time
Reward
Requires
Quest with the task
Animated?
Sneak an Ice Cream
30m
60, 15
Ice Cream Truck
To the Bart Cave!
60m
105, 26
Bartman Cave or
Bart's Treehouse
Test Gadgets
4h
260, 70
Go to School
6h
225, 55
Springfield Elementary
Discover Origin of Mystery Meat
8h
420, 105
Springfield Elementary
Attend Wizarding School
8h
275, 70
Magic Academy
Train for Future Conflict
10h
525, 135
Radioactive Man Statue
Go on Patrol
12h
600, 150
The Dark Knight's Inception Pt. 3
Use the Bart Phone
16h
750, 200
Bartman Cave
Brood
24h
1,000, 225
Bartman Cave or
Bart's Treehouse
The Dark Knight's Inception Pt. 6
Behind the Laughter
[
edit
]
Bartman is an obvious reference to Batman, in name, powers, and appearance.
Appearances
[
edit
]
References
[
edit
]
| | |
| --- | --- |
| | Wikisimpsons has a collection of images related to Bartman. |