Helter Shelter
Wikisimpsons - The Simpsons Wiki
For the location, see Helter Shelter (building).
"Helter Shelter"
Episode Information

"Helter Shelter" is the fifth episode of season 14 of The Simpsons and the two-hundred and ninety-sixth episode overall. It originally aired December 1, 2002. The episode was written by Brian Pollack and Mert Rich and directed by Mark Kirkland. It guest stars David Lander as Squiggy and Larry Holmes as himself.
Synopsis
[
edit
]
"The Simpsons attend a hockey game and Lisa brings home a souvenir hockey stick, but the stick has Russian termites, which quickly infest the whole house. When they learn that the house needs to be fumigated and will be uninhabitable for six months, the family look for another place to live and join a reality TV show where they must live like a family from 1895."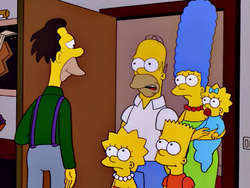 When Homer is injured at work, his compensation is the use of a luxury sky box at a Hockey Rink. The family enjoys the luxuries, but Lisa is bored and joins the masses rink side. She gives one of the players some score tying advice and is rewarded with a goal for the Ice-O-Topes and one of their players, Kozlov's, hockey "tree". The stick is mounted in Lisa's room where later that night termites break out of the stick and do much damage to the family home. Until the Russian no-wood-nick termites can be thoroughly exterminated, which will take six months, the Simpson family is left homeless.
The family tries a number of options like staying with Lenny and Comic Book Guy, but due to these men's strange lifestyles, they end up trying out for a home on a TV show where they are required to live as though they it was the year 1895. They pass the audition and face various hardships. However, they soon cooperate with each other and start living an ideal 19th century life. When the "1895 Challenge" sinks in the ratings, the producers try to stir things up by adding the character of Squiggy from Laverne and Shirley. When that also fails, they relocate the house to a river and watch it float downstream, without warning the Simpsons beforehand. (Squiggy is presumed lost.)
Eventually the house comes to shore and falls apart. The family finds themselves without food and shelter as the TV crew eats away. They encounter a tribe of lost people from another reality program and together they fight the TV crew and producers and return to civilization, where they believe they can find quality scripted television, which soon fails.
Production
[
edit
]