Handsome Pete
Wikisimpsons - The Simpsons Wiki
Handsome Pete is a strange, diminutive, small character who plays the concertina, and whose face resembles a distorted Krusty the Clown.
History
[
edit
]
When Bart was looking for Krusty, he blew up a balloon with Krusty's face on and asked the Sea Captain if he'd seen him. The Captain, on seeing the skewed image of Krusty on the balloon, answered, "Aye, that's Handsome Pete, he dances for nickels!" At that point Handsome began to dance and play his concertia.[1]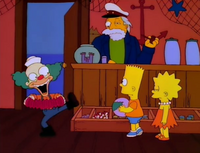 He was seen dancing at a street party started by Larry Burns.[2]
He was also seen watching Russ Cargill's speech when the Dome was placed on Springfield.[3]
Non-canon
[
edit
]
| | |
| --- | --- |
| | The contents of this article or section are considered to be non-canon and therefore may not have actually happened or existed. |
The Simpsons: Tapped Out
[
edit
]
This section is transcluded from The Simpsons: Tapped Out characters/Oddballs. To edit it, please edit the transcluded page.
Handsome Pete
Image
Cost
Unlock method
Unlock message
Yearbook
80
Level 17
Squidport Pt. 5
Premium

30
Action
Walks around the Squidport and plays his accordion
Appearances
[
edit
]
References
[
edit
]
| | |
| --- | --- |
| | Wikisimpsons has a collection of images related to Handsome Pete. |
Factfiles from Simpsons World the Ultimate Episode Guide: Seasons 1-20
Season 14
Rock Stars • Audrey McConnell, Third Grade Teacher • Dr. Velimirovic, Plastic Surgeon • Mitch Hartwell, the Reality Channel Producer • Junior (AKA Frank Grimes, Jr.) • Teacher of the Year Award Nominating Committee • Dexter Colt, Private Eye • The Mugger • Larry H. Lawyer, Jr. • Baby Stink-Breath • Booberella • Sara Sloane, Hollywood Movie Star • Cookie Kwan, Red Coat Realtor • Stark Richdale • Declan Desmond • Julio and Grady • Luke Stetson, Junior Wrangler • Suds McDuff, Spokesdog/Mascot for Duff Beer • Marriage Counselor • Jim Proudfoot • Don Castellaneta