Bart's Friend Falls in Love
Wikisimpsons - The Simpsons Wiki
058
"Bart's Friend Falls in Love"
"How could this happen? We started out like Romeo and Juliet but it ended up in tragedy!"
"Bart's Friend Falls in Love"
Episode Information

"Bart's Friend Falls in Love" is the twenty-third episode of season 3 of The Simpsons. It originally aired on May 7, 1992. The episode was written by Jay Kogen and Wallace Wolodarsky and directed by Jim Reardon. It guest stars Kimmy Robertson as Samantha Stanky and Phil Hartman as Troy McClure.
Synopsis
[
edit
]
"Milhouse's relationship with a new student in Springfield Elementary, Samantha Stankey, spend all of their free time together, him without spending time with Bart, much to his friend's irritation and their friendship becomes more distant in the process. Meanwhile, Homer tries to lose weight by listening to a subliminal tape."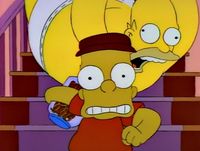 After a close encounter (Indiana Jones style), Bart manages to retrieve Homer's jar of change to take to school. Despite Homer's efforts Bart is able to get out of the house and board the school bus with the change jar, leaving Homer angrily shouting on the lawn. His best friend, Milhouse, has his Magic 8 ball with him. Bart asks the ball whether he and Milhouse will still be friends by the end of the day, and the ball predicts 'no'. Both are puzzled by how this could happen.
A new girl from Phoenix called Samantha Stanky starts at Springfield Elementary School, and Milhouse falls in love with her. To Bart's dismay and anger, Samantha reciprocates, and the couple spend all of their free time kissing in Bart's treehouse. They ignore Bart, leaving nothing for him to do but leave. In order to restore the previous status quo, Bart tells Samantha's father and lets him know what's happening; Mr. Stanky rushes to Bart's treehouse and takes her away before she can even explain. She is sent to Saint Sebastian's School for Wicked Girls, an all-girls convent school. Bart lets Milhouse know that he told on him and Samantha and they fight over Bart's actions and Milhouse's parents sees him very pleased to see already he feel better and ignore what he is doing to Bart. Bart manages to stop their fight by hitting Milhouse with the Magic 8 ball destroying it in the process. Milhouse visits Samantha at the convent school and Bart apologizes to her, but she say it's OK - she loves Saint Sebastian's. However, she still has feelings for Milhouse and gives him a goodbye kiss, despite her knowingly violating school rules.
Meanwhile, Lisa is watching a documentary on the health problems of obesity. She is fearful that Homer's obesity will lead to an early death. On Lisa's suggestion, Marge orders a subliminal weight-loss tape for Homer. Humorously enough, the company is out of the tapes and sends Homer a "Vocabulary Builder" tape instead. Homer ends up eating more than ever, but his vocabulary is through the roof. When he realizes that the tape is not helping him he gets rid of it, and his vocabulary quickly returns to normal.
In other languages
[
edit
]
| Language | Name | Translation |
| --- | --- | --- |
| Deutsch | "Liebe und Intrige" | Love and conspiracy |
| 日本語 | "ミルハウスの初恋" | Milhouse's First Love |