Jimi Hendrix
Wikisimpsons - The Simpsons Wiki
Jimi Hendrix
Character Information
Jimi Hendrix was an American guitarist and singer/songwriter. He performed at Woodstock.
History
[
edit
]
Homer once had a dream where he was talking with God in Heaven and they passed by Hendrix and Benjamin Franklin, who were playing air hockey. Franklin won the game.[1]
When Homer was at Animal Hospital he asked the veterinarian if he had any messages for Jimi Hendrix. The vet did: He wanted Hendrix to pick up his puppy.[2]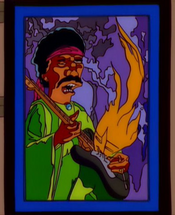 When Jimi Hendrix performed his electric-guitar solo of "
The Star-Spangled Banner
" at Woodstock, among the people in attendance were
Abraham Simpson
,
Mona Simpson
, young
Homer
, and Mona's hippie friends
Seth
and
Munchie
. Abe booed Hendrix, hollering "Bring on
Sha Na Na
!" Homer, however, thoroughly enjoyed Hendrix's performance. While Hendrix played, Homer danced naked in the mud, doing an
air guitar
jam and singing along with Hendrix's guitar licks. This didn't sit well with Abe, as he announced that he was going to give Homer a spanking and take him to an enlistment tent to sign him up for Vietnam. Years later, when Abe told Homer about their being at Woodstock, Homer decided to give the hippie lifestyle a try, inspired in part by Hendrix's performance.
[3]
While Jack Crowley was incarcerated at Waterville Prison, he painted a picture of Jimi Hendrix playing a flaming guitar. Homer and Marge admired the painting while Homer was being treated in the prison's infirmary for a back injury he sustained during the prison rodeo. Crowley said that since the prison wouldn't give the inmates art supplies, he did the painting with pudding.[4]
Non-canon
[
edit
]
| | |
| --- | --- |
| | The contents of this article or section are considered to be non-canon and therefore may not have actually happened or existed. |
His album The Feedback Sessions was given to Otto by Mr. Burns[5]
When Ned had a near-death experience, he went to Heaven where he met Jesus. Jesus was supposed to have guitar lessons with Jimi Hendrix but he hadn't been practicing because he lost the pick in the hole in his hand. Jimi Hendrix said he didn't care as he got paid either way.[6]
Appearances
[
edit
]
References
[
edit
]
External links
[
edit
]