Moe Goes from Rags to Riches
Wikisimpsons - The Simpsons Wiki
498
"Moe Goes from Rags to Riches"
"Moe Goes from Rags to Riches"
Episode Information

"Moe Goes from Rags to Riches" is the twelfth episode of season 23 of The Simpsons and the four-hundred and ninety-eighth episode overall. It originally aired on January 29, 2012. The episode was written by Tim Long and directed by Bob Anderson. It guest stars Jeremy Irons as Moe's bar rag.
Synopsis
[
edit
]
"Moe is laughed at as his bar rag is his best friend. The bar rag then begins to tell its tale of how it has crossed seas and continents to get to where it is today. Meanwhile, Bart and Milhouse have an argument."
There is a town meeting in Moe's Tavern as the Town Hall is being fumigated for bed bugs. After the meeting, people start talking about best friends, and then everyone realizes that Moe doesn't have any friends and laugh at him. Moe ends up getting upset over this. Meanwhile, Bart and Milhouse have an argument. Moe's bar rag then begins to tell its story.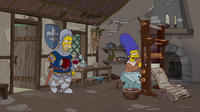 The rag was made in Ville de Springfield. Marageet is told by the duke to make him a tapestry about himself in 25 years for 2 copper coins. On the way out he kills all the family's sheep and the sheep start to expel demon wool. When Marageet is about to start, she is possessed by the wool to endlessly make a tapestry about the adventures of the cloth for 25 years. When the duke comes to collect it, he burns down the house, possibly also killing the family. The tapestry was then taken by the Duke de Springfield back to his castle. Along the way, the horse he was riding fell over and the duke and the tapestry fell off the edge, hanging the duke in the process. The citizens of the village then beat the duke, which was too horrible even for a rag made from demon wool to cope with.
The tapestry was then placed in a cathedral where he finds out they were the equivalent of rock stars in that day. Vikings then raided the cathedral with one Viking deciding to become an art thief. This Viking then rubbed the tapestry between his crotch before taking a bite out of it. This was the tapestry's first feeling of anguish.
Bart throws rocks at Milhouse's window and tries to say sorry but fails. Kirk is throwing rocks to get Luann's attention and one goes down her throat and she refuses to let him in to perform the Heinrich maneuver on her.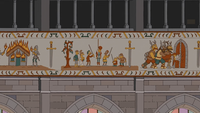 What was left of the tapestry was eventually traded for gold and jewels. It then fell into the hands of the Shahryār. After he was killed by his many wives, whom he demanded constant attention or else be thrown into a hole, the rag found its way to Spain where it was used as a blindfold for a man who was being shot with arrows then it was laid on an executioner's block. The victim was more scared of the rag than the axe. The rag eventually started going uphill again when it found its way to Michelangelo who painted Sistine Chapel ceiling with it. After the painting was finished though, it was tossed aside and soon forgotten about.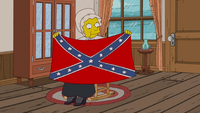 The rag then yelled out in pain as Lenny stepped on it. Lenny suggested Moe get a new rag but Moe declined. Bart then snuck into Milhouse's room and said sorry to Milhouse again, to no avail.
After this, the rag eventually became woven into one of the flags of the Confederate States of America. After the house it was in burned down, it was then used by a poor family to make rag soup. It was eventually turned into a flag that someone climbing Mt. Everest was using. However, he died again and the flag was picked up by a yeti, who gave the rag to his son, Moe Szyslak.
Bart saw Milhouse again in the morning and Bart said that he'd allow someone to punch him if he could be friends with him again. Milhouse asks Drederick Tatum to punch him, hurting Bart a lot, but they became friends again.
One night, when Moe was sleeping, someone took the rag, even though the rag liked it with Moe as it was boring but predictable, and put it in a washing machine. This turned out to be Marge Simpson who saw how much Moe loved that rag so she washed it for him. He was happy about this, but when Marge revealed that the whole family (and Milhouse), were his friends, he tossed the rag out of the window, not needing it any more. Here, it was picked up by Santa's Little Helper who loved it. The rag liked this life, except from the occasional fight Santa's Little Helper had with Maggie over him.
Production
[
edit
]
Reception
[
edit
]
"Moe Goes from Rags to Riches" was nominated for a 2012[1] Annie Award for Outstanding Achievement for Production Design in an Animated Television/Broadcast Production, but lost to "The Stranger" from TRON: Uprising.
Hank Azaria was nominated for a Primetime Emmy Award for Outstanding Voice-Over Performance in the 64th Primetime Emmy Awards for voicing Moe, Duffman, Mexican Duffman, Carl, Comic Book Guy, and Chief Wiggum in this episode, but he lost to Maurice LaMarche for Futurama.[2]
Promotional images
[
edit
]
References
[
edit
]