Thomas Jefferson
Wikisimpsons - The Simpsons Wiki
Thomas Jefferson
Character Information
Thomas Jefferson was the third President of the United States. He also served as Vice-President under the second President, John Adams.
History
[
edit
]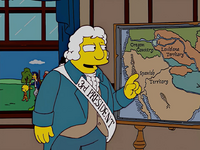 Bart had a dream where Thomas Jefferson was giving a speech to people. The speech was cut short when John Adams pointed out that it was snowing.[1]
When Lisa had a problem, she came to the Jefferson Memorial to talk to Jefferson. Jefferson then said that he knew her problem, that it was because the Lincoln Memorial was too crowded and that no one came to see him, despite his accomplishments like the Declaration of Independence, the Louisiana Purchase, and the dumbwaiter. Lisa then goes away, resulting in Jefferson shouting after her as he is too lonely.[2]
An animatronic of Thomas Jefferson was seen in the Hall of Vice Presidents at Kissimmee St. Nick Theme Park and Resort.[3]
Thomas Jefferson appeared in a story told by Marge. Jefferson sent Meriwether Lewis and William Clark on an expedition to the Pacific Ocean. After two years passed, Thomas Jefferson pointed at a map and told people that the explorers should be there by now. He then looked out the window and saw the expedition walking past and called them morons.[4]
Appearances
[
edit
]
References
[
edit
]
External links
[
edit
]