Radioactive Dog
Wikisimpsons - The Simpsons Wiki
Radioactive Dog
(Glowy)
Superhero Animal Information

Radioactive Dog, also known as Glowy, is Radioactive Man's dog.
History
[
edit
]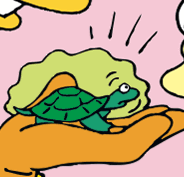 Glowy was originally a turtle. Radioactive Man brought the turtle to Bug Boy as a birthday present. In the lab, Bug Boy decided to test out a new atomic weapon on Radioactive Man. After the test, Radioactive Man picked up the turtle to give to Bug Boy. However, the fallout from the atomic ray caused the turtle to mutate into a dog. Since Bug Boy was allergic to canines, Radioactive Man adopted the dog and he became Glowy.[1]
Glowy attended the wedding of Larva Girl and Radioactive Man. When fighting broke out and Larva Girl took Gloria Grand hostage, Glowy bit Larva Girl freeing Gloria.[2]
Radioactive Man has a picture of Radioactive Dog in The Containment Dome.[3]
Substitute Earth version
[
edit
]
The Substitute Earth version of Glowy is owned by Radioactive Boy. When a young Claude Kane III was trying to save Glowy, they both got caught in an atomic explosion. Glowy joined the team in going the Betaverse to try and find the cause of the dimensional rifts. Whilst there, the heroes fought against Nega-Pneumatica. When Glowy noticed a man in a booth operating Nega-Pneumatica, he chased after him and ripped his pants. The heroes then knocked off Nega-Pneumatica's head which crushed Glowy, killing him. Radioactive Man then consoled Radioactive Boy over Glowy's death, saying it was the villain's fault and that some power greater than them would bring Glowy back before long.[4]
Appearances
[
edit
]
References
[
edit
]