Bongo Comics Group
Wikisimpsons - The Simpsons Wiki
"Bongo" redirects here. For Homer's dog, see Hendrix.
For Bongo in Life in Hell, see Bongo (Life in Hell).
For Bongo comic, see Bongo (comic book).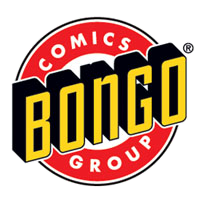 Bongo Comics Group is a comic book publisher founded in 1993 by Matt Groening, Bill Morrison, Steve Vance, and Cindy Vance. It is the publisher and producer of Simpsons Comics as well as various other Simpsons-related comics. A new logo was unveiled in 2012, with the first comic to use it being the UK release of Simpsons Super Spectacular #12 on January 5.
As of May 7, 2005, Bongo began releasing a yearly collection of free reprints for Free Comic Book Day. The collection is generally titled Bongo Comics Free-For-All (the 2005 release titled Bongo Comics: Gimmie-Gimmie-Giveaway!). Some releases contain Futurama comic stories within.
In October 2018, Bongo closed their comic book publishing label after the final issue of Simpsons Comics was released.
Single issue publications
[
edit
]
References to Bongo Comics in the Show
[
edit
]
External links
[
edit
]