A Serious Flanders (Part 1)
Wikisimpsons - The Simpsons Wiki
712
"A Serious Flanders (Part 1)"
This episode is considered non-canon and the events featured do not relate to the series and therefore may not have actually happened/existed.

The reason behind this decision is: .

If you dispute this, please bring it up on the episode's talk page.
"A Serious Flanders (Part 1)"
Episode Information

"A Serious Flanders (Part 1)" is the sixth episode of season 33 of The Simpsons and the seven-hundred and twelfth episode overall. It originally aired on November 7, 2021. The episode was written by Cesar Mazariegos and directed by Debbie Bruce Mahan. It guest stars Brian Cox as Kostas Becker, Joe Mantegna as Fat Tony, Cristin Milioti as Barbara Belfry, Chris O'Dowd as Seamus, Timothy Olyphant as Sheriff Flanders and Jessica Paré as Colette.
"A Serious Flanders (Part 1)" is the first part of a two-part episode of The Simpsons and was followed by part two.
Synopsis
[
edit
]
Cold opening
[
edit
]
At The Rich Texan's house, he's escaping from three debts collectors, their leader, Kostas Becker, Seamus, and Colette, but is caught in the end and tied in ropes and shot.
Chapter One: The Harder the Good
[
edit
]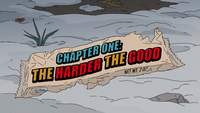 Ned Flanders is litter gathering in the snow and finds Homer doing community services because of telling the judge where to shove his parking tickets. Upon stumbling down a slope they find themselves stuck in a log with a bag full of money.
Bringing the bag home, Rod and Todd fight over what to do with the money, while Ned reminisces of what his grandfather, Sheriff Flanders, would do with them. In the past Ned identifies a thief and instead of arresting him he gave him money to buy the bread, to teach him and Ned a lesson.
At St. Giles Orphanage, Ned donates the money to them, telling them to honor his grandfather as the donator, however the press spins it so he's the donor. When Kostas finds out where Ned got the money, while chopping up The Rich Texan's body, he finds himself staying at Springfield to honor a debt.
Chapter Two: The Hippo's Conundrum
[
edit
]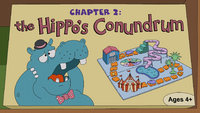 At The Android's Dungeon & Baseball Card Shop, Seamus and Colette pries the information on how to find Ned, threatening him, and after learning of his usual location, Comic Book Guy calls Fat Tony asking him why he wasn't protected like he pays for, and Fat Tony tells him he'll deal with him.
At the First Church of Springfield, the Simpson family praise Ned for his actions, before going back inside to get his Bible back, finding Kostas holding it, telling him he now has the debt on his name since he got the bag.
Barbara Belfry arrives with the orphans, saving him from Kostas but only temporarily, and invites him to a date at the Springfield Winter Markets opening, while Kostas finds Ned's home address from the Bible page he ripped.
At the Markets, Ned and Barbara are dating, but Homer interrupts them saying he bought their love, but all people boo him, and he gets thrown into the Drunk Rink. At home Marge gets angry at Homer for being selfish over wanting the money for himself, while Kostas' car is heading toward Flanders house, however Seamus loses the paper.
Arriving at 742 Evergreen Terrace, they find Ned's stuff in the garden, and thinking it was his house, they paralyze Homer after distracting him with The Rich Texan's face, thinking he was Ned.
Chapter Three: A Donut for the Devil
[
edit
]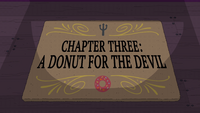 Barbara invites Ned in the house and they start kissing, however Ned finds out she's Sideshow Mel's wife, even though they've an arrangement on freedom of "fun", making Ned regret it and running away, to Mel's enjoyment.
At Kostas' place, Homer is tied up, but Kostas finds out he's the wrong man, calling Ned and threatening him he has 24 hours to give him the money or Homer would die. Marge shows up at his door, and he lies to her about his whereabouts to avoid her calling the cops, risking Homer's life otherwise.
Marge goes around searching for him, while at Lard Lad Donuts, Fat Tony and Kostas meet, with Tony threatening him to get out of town, or else. A gun fight starts, and Disco Stu, Mr. Burns, Fat Tony, Legs, Louie, Johnny Tightlips get killed. Snake Jailbird enters the store to rob it, finding out what happened, while Marge finds Homer's id card that Kostas dropped.
Production
[
edit
]
Originally, Kostas Becker was going to say "You've brought me the wrong man! (DARK) And you know the price for failure", snatching Seamus' hat, tried to tear it with his hands and mouth, before stomping on it sputtering "stupid...STUPID HAT!", but the scene was cut for time.[1]
Originally, it was Agnes Skinner that was shot instead of Mr. Burns, however it was changed because it was deemed too upsetting.[2]
Chapter two was going to be called "Chapter Two: The Spoils of Humility", with a scene preceding the chapter of a chef preparing blueberry muffins.
Gallery
[
edit
]
References
[
edit
]
Promo videos
[
edit
]