Coach Krupt
Wikisimpsons - The Simpsons Wiki
<!–-INFOLINKS_ON-–>
Coach Krupt
Character Information
Gender:

Male ♂

Status:

Alive

Hair:
Gray
Occupation:
Gym teacher
Relatives:
Wife: Unnamed
Son: Unnamed
Daughter: Unnamed
First Appearance:
"My Fair Laddy"
Voiced by:
Hank Azaria
Coach Krupt is a sadistic gym teacher at Springfield Elementary School who is obsessed with the game Bombardment.
Description
[
edit
]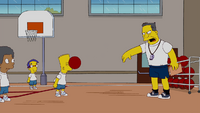 Krupt is obsessed with the game Bombardment, which consists of Krupt hitting students with dodgeballs thrown at full force. He is relentless in playing the game, even ignoring medical orders that would excuse his students from participating (and prevent him from assaulting them). Bart snuck a peek at Krupt's calendar and saw that Krupt had Bombardment scheduled for every day, with "Double Bombardment" on Christmas Day. Krupt also plays Bombardment with bread rolls in restaurants.[1]
Krupt even brings Bombardment into academics: When the entire school got involved in preparing for the Vice President's Assessment Test, Krupt drilled his students with test questions while he threw dodgeballs at them.[2]
Even when he's not playing Bombardment, Krupt still conforms to his sadistic ways, and finds other things to obsess over. One day in gym class, the scheduled activity was rope climbing and it was Milhouse's turn to climb, but the rope had disappeared. Krupt told Milhouse to climb anyway, forcing him to pantomime climbing a rope.[3]
He was bombarded with dodgeballs with Isabel Gutierrez's face on them.[4]
He was shown wearing a costume at Moe's Tavern during the superhero pub crawl.[5]
He was forced to teach dancing against his will.[6]
Biography
[
edit
]
Coach Krupt has a wife and two children, a boy and a girl. He came to Springfield Elementary as a substitute for Ms. Pommelhorst, who was taking a leave of absence to undergo sex reassignment surgery.[1] However, Ms. Pommelhorst was later seen at the school dressed for teaching gym,[7] so his current job status is unknown.
He is athletic and in good physical shape. When Bart tried to give him his comeuppance by throwing an iceball at him, he nimbly ducked out of the way and the iceball ended up flying out the gym window and destroying Groundskeeper Willie's shack.[8]
He once went to pick his daughter up from Smart Tykes before he attacked another one of the fathers who were there.[9]
Non-canon
[
edit
]
| | |
| --- | --- |
| | The contents of this article or section are considered to be non-canon and therefore may not have actually happened or existed. |
The Simpsons: Tapped Out
[
edit
]
This section is transcluded from The Simpsons: Tapped Out characters/School Workers. To edit it, please edit the transcluded page.

Coach Krupt's surname is derived from the word "corrupt".
Appearances
[
edit
]
References
[
edit
]
<!–-INFOLINKS_OFF-–>
---