MoneyBart
Wikisimpsons - The Simpsons Wiki
"Here's the bottom line: I need an extracurricular activity, and no one else will coach you lovable losers."
"MoneyBart"
Episode Information

"MoneyBart" is the third episode of season 22 of The Simpsons and the four-hundred and sixty-seventh episode overall. It originally aired on October 10, 2010. The episode was written by Tim Long and directed by Nancy Kruse. It guest stars Mike Scioscia as himself and Bill James as himself.
Synopsis
[
edit
]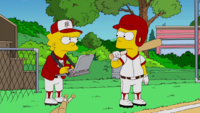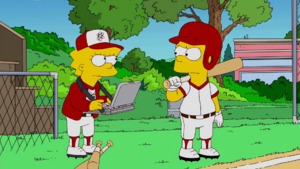 A visit by a Springfield Elementary alum-turned-Ivy-League student, Dahlia Brinkley, pushes Lisa to question her own go-getter attitude and reevaluate the scope of her extracurricular activities.
The same day, Ned Flanders visits the Simpsons to tell Bart he's resigning from the Springfield Isotots as a coach, since they haven't won any games in a long time. Bart goes to the Springfield Stadium, where he discovers Lisa took the job as a coach for the team. She doesn't know a lot about baseball, so she goes to Moe's Tavern to seek advice. Professor Frink, Doug, Benjamin, Gary and Bill James (on a video) tell Lisa about sabermatics, which are very useful for her to help the team to win.
Lisa uses probabilities and statistics to coach her team. Using those methods, she quickly takes the team to a winning streak. However, Bart is not very happy with Lisa because she's taking all of the fun out of the game. Lisa tells Bart not to hit the ball because the pitcher will fail. Bart doesn't listen to her and makes a home run that makes them win the game. Despite this, Lisa throws Bart out of the team because of insubordination.
This causes tension at the Simpson family. Homer sides with Lisa, thinking she has to do what is good for the team. Marge sides with Bart, thinking Lisa should reconsider that the family comes first. The team makes it to Capital City, but Bart goes with Marge to a rollercoaster instead of watching the game. While on the ride, Bart receives a phone call from Lisa, who pleads with him to come and play in Ralph's place because Ralph is "too juiced" (at which point, they show Ralph, surrounded by empty juice boxes, moaning "I didn't know what I was putting in to my body"). While on the rollercoaster, Mike Scioscia appears behind them and tells Bart that he should always listen to his manager, and that was what took him to victory. When the ride finishes, Bart goes to the game. The team is down 11-10, so Bart puts aside his differences with Lisa and offers to pinch-run from first base. He then ignores her signs and steals both second and third before declaring, "I'm stealing home!" Lisa says that the odds are vastly against him. However, she decides not to base her game on numbers and cheers Bart on. The Isotots lose the game, but the team cheers Bart and Lisa for resolving their differences.
Production
[
edit
]
Opening Sequence
[
edit
]
The opening sequence for this episode, created by British graffiti artist and political activist Banksy, is slightly changed in the beginning, with two "Banksy" graffiti on the billboard and the school.
The couch gag was also created by Banksy. It was elongated significantly, showing the process of animation at an Asian animating studio, where several tired and sickly workers draw animation cels of The Simpsons and make DVD's, dolls and several Simpsons merchandise. At the end, the camera zooms out to show the 20th Century Fox studio.
Creation
[
edit
]
Banksy is credited with creating the opening titles and couch gag for this episode, in what amounted to the first time that an artist has been invited to storyboard the show. Executive producer Al Jean first took note of Banksy after seeing his 2010 film Exit Through the Gift Shop. According to Jean, "The concept in my mind was, 'What if this graffiti artist came in and tagged our main titles?'" Simpsons casting director Bonnie Pietila was able to contact the artist through the film's producers, and asked if he would be interested in writing a main title for the show. Jean said Banksy "sent back boards for pretty much what you saw." Series creator Matt Groening gave the idea his blessing, and helped try to make the sequence as close to Banksy's original storyboards as possible. Fox's standards and practices department demanded a handful of changes, but, according to Jean, "95 percent of it is just the way he wanted."[1] Banksy told The Guardian that his opening sequence was influenced by The Simpsons long-running use of animation studios in Seoul, South Korea. The newspaper also reported that the creation of the sequence "is said to have been one of the most closely guarded secrets in US television – comparable to the concealment of Banksy's own identity."[2]
Response
[
edit
]
BBC News reported that "According to [Banksy], his storyboard led to delays, disputes over broadcast standards and a threatened walk out by the animation department." However, Al Jean disputed this, saying " [The animation department] didn't walk out. Obviously they didn't. We've depicted the conditions in a fanciful light before." Commenting on hiring Banksy to create the titles, Jean joked, "This is what you get when you outsource." Although conceding to the fact that The Simpsons is largely animated in South Korea, Jean went on to state that the scenes shown in titles are "very fanciful, far-fetched. None of the things he depicts are true. That statement should be self-evident, but I will emphatically state it."[1]
Despite that the episode is frequently stylized as MoneyBART, Al Jean confirmed on Twitter on December 3, 2014 that it is called MoneyBart, as with the book that inspired the title.[3]
Gallery
[
edit
]
References
[
edit
]
| | |
| --- | --- |
| | Wikisimpsons has a collection of images related to "MoneyBart". |