George Washington
Wikisimpsons - The Simpsons Wiki
George Washington was the first president of the United States.
History
[
edit
]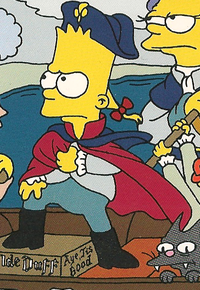 Ralph played him in a school play about the presidents of the United States on Presidents Day.[1]
When Marge was testing Bart to see if he was prepared for a history test, she asked Bart who George Washington Carver was. Bart told her that he was "the guy who chopped up George Washington".[2]
He was an enemy of Hans Sprungfeld, a.k.a. Jebediah Springfield. They shared a brief but intense fist fight where Jebediah almost killed him and ruined a part of a portrait being done of him. George Washington was forced to use fake teeth to pinch Jebediah. He stopped fighting after intervention by his wife who was making an American flag.[3]
George Washington, alongside Benjamin Franklin and Andrew Jackson, appears and convinces Homer to spend the money that Marge had been saving up as a nest egg.[4]
A picture of George Washington, holding a bottle of Cherry Buzz Cola, was seen in Springfield Elementary School.[5]
In a commercial for Mattress King, Moe Szyslak was dressed as George Washington.[6]
Non-canon
[
edit
]
| | |
| --- | --- |
| | The contents of this article or section are considered to be non-canon and therefore may not have actually happened or existed. |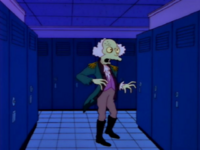 A zombie George Washington was seen around Springfield Elementary School. Homer shoots him, killing him again.[7]
A picture of George Washington hangs up in Donald Trump's bedroom, which he said came with the room.[8]
The Simpsons: Tapped Out
[
edit
]
This section is transcluded from The Simpsons: Tapped Out characters/4th of July. To edit it, please edit the transcluded page.

Permanent Tasks
| Task | Time | Reward | Requires | Quest with the task | Animated? |
| --- | --- | --- | --- | --- | --- |
| Get Fitted For a New Pair of Dentures | 60m | 105, 26 | Hibbert Family Practice | | |
| Write a Tell-All | 4h | 260, 70 | Simpson House | | |
| Overpay for Sex on the Beach | 4h | 260, 70 | Smooches on the Beach | | |
| Stay at the Swelldorado | 4h | 260, 70 | Swelldorado | | |
| Try to Win at Blackjack | 4h | 260, 70 | $ Casino | | |
| Drink and Babysit | 4h | 260, 70 | The Boiled Potato | | |
| Attend Parenting Seminars | 4h | 260, 70 | Universal Panacea | | |
| Plan an Invasion of Britain | 8h | 420, 105 | Simpson House | | |
| Dance the Señor Burns | 8h | 420, 105 | Chez Guevara | | |
| Try to Cut Down a Cherry Tree | 12h | 600, 150 | Ye Olde Cherry Tree | | |
| Hunt for Jebediah Springfield | 24h | 1,000, 225 | | Deceleration of Co-Dependence Pt. 1 | |
Appearances
[
edit
]
References
[
edit
]
---