George Washington
Wikisimpsons - The Simpsons Wiki
George Washington was the first president of the United States.
History
[
edit
]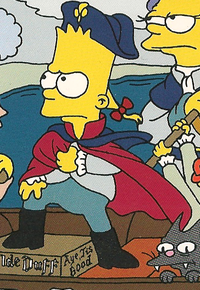 Ralph played him in a school play about the presidents of the United States on Presidents Day.[1]
When Marge was testing Bart to see if he was prepared for a history test, she asked Bart who George Washington Carver was. Bart told her that he was "the guy who chopped up George Washington".[2]
He was an enemy of Hans Sprungfeld, a.k.a. Jebediah Springfield. They shared a brief but intense fist fight where Jebediah almost killed him and ruined a part of a portrait being done of him. George Washington was forced to use fake teeth to pinch Jebediah. He stopped fighting after intervention by his wife who was making an American flag.[3]
George Washington, alongside Benjamin Franklin and Andrew Jackson, appears and convinces Homer to spend the money that Marge had been saving up as a nest egg.[4]
A picture of George Washington, holding a bottle of Cherry Buzz Cola, was seen in Springfield Elementary School.[5]
In a commercial for Mattress King, Moe Szyslak was dressed as George Washington.[6]
In a dream that Mr. Burns had, he was dancing with Washington on a one dollar bill. Washington then asked Burns if he fought alongside him in the war, to which Burns replied that they weren't on the same side. Burns then pushed Washington away and started dancing with Richard Nixon, which he said was better.[7]
George Washington's picture was on a captcha screen for 20th century dictators on the Wayz website. It was one of the pictures that Lisa didn't click.[8]
Non-canon
[
edit
]
| | |
| --- | --- |
| | The contents of this article or section are considered to be non-canon and therefore may not have actually happened or existed. |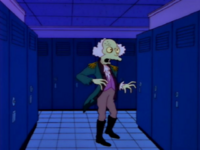 A zombie George Washington was seen around Springfield Elementary School. Homer shoots him, killing him again.[9]
A picture of George Washington hangs up in Donald Trump's bedroom, which he said came with the room.[10]
Lisa had a picture in the Oval Office that alternated between George Washington, Abraham Lincoln and Barack Obama. Washington was also seen on an altered picture of Mount Rushmore.[11]
The Simpsons: Tapped Out
[
edit
]
This section is transcluded from The Simpsons: Tapped Out characters/4th of July. To edit it, please edit the transcluded page.

Permanent Tasks
| Task | Time | Reward | Requires | Quest with the task | Animated? |
| --- | --- | --- | --- | --- | --- |
| Go Skating | 10m | 26, 7 | Simpsons' Skating Rink | | |
| Get Fitted For a New Pair of Dentures | 60m | 105, 26 | Hibbert Family Practice | | |
| Write a Tell-All | 4h | 260, 70 | Simpson House | | |
| Overpay for Sex on the Beach | 4h | 260, 70 | Smooches on the Beach | | |
| Stay at the Swelldorado | 4h | 260, 70 | Swelldorado | | |
| Try to Win at Blackjack | 4h | 260, 70 | $ Casino | | |
| Drink and Babysit | 4h | 260, 70 | The Boiled Potato | | |
| Attend Parenting Seminars | 4h | 260, 70 | Universal Panacea | | |
| Plan an Invasion of Britain | 8h | 420, 105 | Simpson House | | |
| Dance the Señor Burns | 8h | 420, 105 | Chez Guevara | | |
| Try to Cut Down a Cherry Tree | 12h | 600, 150 | Ye Olde Cherry Tree | | |
| Hunt for Jebediah Springfield | 24h | 1,000, 225 | | Deceleration of Co-Dependence Pt. 1 | |
Appearances
[
edit
]
References
[
edit
]