Eddie Muntz
Wikisimpsons - The Simpsons Wiki
Eddie Muntz
Character Information
Eddie Muntz[2] is Nelson's father. He has a motorbike and was once Nelson's soccer coach.[4] When his wife got hooked on cough drops, he took her gold tooth and left the family, saying that he was going to the store for a pack of cigarettes. Nelson missed his father and often believed he really went for cigarettes.
History
[
edit
]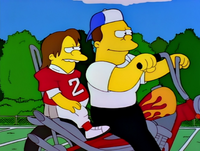 Bart found Mr. Muntz at a circus and brought him back. Mr. Muntz explained he never intended to leave his family. When he went for the cigarettes, he also bought a chocolate bar. Unfortunately, the bar contained peanuts, to which he was highly allergic. When Mr. Muntz bit into the chocolate bar, he had an anaphylactic reaction, and the swelling both made him look hideous and rendered him unable to talk. A man from a circus then took Mr. Muntz away and put him into a freak show, displaying him in a cage for people to see. The freak show patrons threw peanuts at him, which kept the anaphylactic reaction going and never allowed him to return to normal.[5]
He took part in the world's tallest human pyramid record attempt.[6]
At some stage, his wife gets remarried to a clown so he must have got divorced one way or another.[7]
Non-canon
[
edit
]
| | |
| --- | --- |
| | The contents of this article or section are considered to be non-canon and therefore may not have actually happened or existed. |
Nelson flew to Mars where Eddie was working on a secret project. Upon seeing his son, Eddie told him that he was going for some space cigarettes then took a rocket away.[8]
Behind the Laughter
[
edit
]
Appearances
[
edit
]
References
[
edit
]