Superior Squadron
Wikisimpsons - The Simpsons Wiki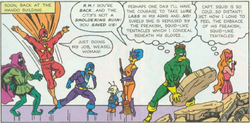 The Superior Squadron, also known as the Superior Squad, is a group of superheroes that fight crime.
History
[
edit
]
The Superior Squad teamed up with Radioactive Man to beat Hypno Head in Zenith City. After they won, they helped out with the cleanup.[1]
The Superior Squad got captured by Dr. Crab in his asteroid base. After Radioactive Man got killed by Dr. Crab's particle blaster, several of the heroes decided that they should be the one to lead the team. As the Superior Squad fought over who will lead the team, Dr. Crab's Crab-Bots attacked the Mando Building. The Superior Squad fought back against them. After Radioactive Man returned from the dead, now evil, the Superior Squad fought back against him but were defeated. Fallout Boy then managed to get the lightning bolt back into Radioactive Man's head, turning him good again.[2]
Members
[
edit
]
Former members
[
edit
]
Appearances
[
edit
]
This article or section is incomplete.


Please improve the article, or discuss the issue on the talk page.

References
[
edit
]