The Who
Wikisimpsons - The Simpsons Wiki
This article is about the characters. For the guest stars, see The Who.
The Who are an English rockband.
History
[
edit
]
KBBL Radio ran a competition to win tickets to see The Who. Homer assumed he had won, as the number they called was his. However, Mr. Burns picked up the phone as the Simpsons' area code had been changed. After Springfield split into New Springfield and Olde Springfield, The Who were to perform in Olde Springfield. Homer went to the Hotel Pillowmint where they were staying and got to meet The Who, asking them to perform at New Springfield instead. The Who then accepted.
The Who performed to the Simpsons on the wall separating the two towns, but were concerned as they were expecting a bigger crowd. Homer then gave them a list of songs to play, most of which were songs by Grand Funk Railroad. He then asked them to play "Pac-Man Fever" and started to play the song himself, next to The Who. As the people of Olde Springfield realize The Who are playing to New Springfield instead, they go to the wall and start to launch flaming garbage over it, at Homer. The Who stops them and helps the two groups bond again. They then help break down the wall by playing "Won't Get Fooled Again", rather than the songs Homer and the townspeople suggested.[1]
Look-alikes of The Who sang "Springfield Blows" alongside other celebrity look-alikes.[2]
Non-canon
[
edit
]
| | |
| --- | --- |
| | The contents of this article or section are considered to be non-canon and therefore may not have actually happened or existed. |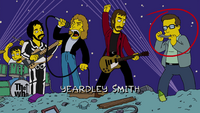 In a Chip Davis tribute, appears a photo where the late Chip, appears playing the harmonica with The Who destroying the wall separating "Olde Springfield" and "New Springfield".[3]
Behind the Laughter
[
edit
]
The non-speaking drummer is designed to look like Keith Moon, who was the band's original drummer before he died in 1978.
An archive image of The Who in concert was seen in the couch gag for "Looking for Mr. Goodbart".
Appearances
[
edit
]
References
[
edit
]