David Hasselhoff
Wikisimpsons - The Simpsons Wiki
David Hasselhoff
Character Information
David Hasselhoff is an American actor and singer.
History
[
edit
]
When Lisa started talking, Bart asked her if she could say "David Hasselhoff". She did, and Hasselhoff then became her third word. (To Homer's frustration, though, she still said "Homer" instead of "Daddy".)[1]
In "...Six Degrees of Homer Simpson ...sort of!" Homer connected Kid Rock and Joe C. to Scrappy-Doo. He did this through:
"I interrupted a Kid Rock and Joe C' concert in Florida during spring break."
"Kid Rock dated Pamela Anderson."
"Pamela Anderson starred in Baywatch with David Hasselhoff..."
"...who starred in Knightrider with K.I.T.T."
"K.I.T.T. is a crime-fighting vehicle not unlike The Mystery Machine from Scooby-Doo."
"Scooby-Doo jumped the shark with the addition of child star Scrappy-Doo!"[2]
Non-canon
[
edit
]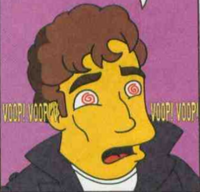 | | |
| --- | --- |
| | The contents of this article or section are considered to be non-canon and therefore may not have actually happened or existed. |
Kang and Kodos abducted Bart and brought him on board their ship. Bart was impressed with the aliens' technology and ran around pressing buttons and pulling levers, hoping to blow something up. One button apparently activated a mind-control signal, which zapped David Hasselhoff while he was at an Oktoberfest event performing "Hooked on a Feeling". As the signal hit him, Hasselhoff stopped singing, his eyes glazed over, and he said, "Return to the mothership? But world domination is only 95% complete."[3]
Behind the Laughter
[
edit
]
"Hooked on a Feeling" is a pop tune from the 1970s. In real life, Hassellhoff recorded a cover of it in 1997 for his album Hooked on a Feeling.
Appearances
[
edit
]
References
[
edit
]
External links
[
edit
]