Princess Penelope
Wikisimpsons - The Simpsons Wiki
"I have loved you since I was a twelve-year-old girl, in Mineola, Long Island, watching your show."
―Princess Penelope to Krusty
Penelope Mountbatten Hapsburg Hohenzollern Mulan-Pocahontas
Character Information
Penelope Mountbatten Hapsburg Hohenzollern Mulan-Pocahontas, more commonly known as Princess Penelope, is a television personality and singer. She was a new addition on The Krusty the Clown Show to get more female viewers.
History
[
edit
]
Childhood
[
edit
]
Penelope Mountbatten Hapsburg Hohenzollern Mulan-Pocahontas lived in Mineola, Long Island as a kid. She was a fan of The Krusty the Clown Show at the age of twelve and fell in love with Krusty. Penelope had a Krusty Klub ring and membership card, which she kept into her adult years. Penelope wasn't popular because she was more beautiful and friendly than other kids. But Penelope knew she had one friend whenever she looked at her Krusty Klub ring. Her father was the station manager at WDQT.
Adult life
[
edit
]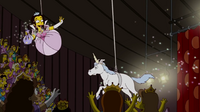 Due to a dwindling number of female viewers, executives for The Krusty the Clown Show brought in a new female co-star to get more girls to tune in. This turned out to be Princess Penelope, who proved to be an instant hit with girls. Princess Penelope's act didn't have comedy and mainly consisted of her singing on fantasy sets. This horrified the male viewers, such as Bart and Milhouse.
Eventually, the audience for The Krusty the Clown Show consisted solely of girls who were there to see Princess Penelope. The Krusty the Clown merchandise in the Krustylu Studio Store also got replaced with merchandise of Princess Penelope whilst Krusty felt like he was being kicked off his own show. When Krusty had enough of the way he was being treated on his show, he confronted Princess Penelope in her dressing room whilst she was on the phone. Princess Penelope quickly changed her accent to her stage accent as Krusty barged into the room and started to shout at her. Princess Penelope then told Krusty that she loved him and had done since she was a child. Penelope showed Krusty that she still had her Krusty Klub ring and membership card. Penelope then threw herself on Krusty and the two of them started to make out.
The next day, Krusty and Princess Penelope performed on stage together, with both of them singing. Krusty said that there would be no laughs, only hugs and cuddles on this show. During another performance, Krusty demanded that the music be stopped then proposed to Penelope, with her accepting. Bart and Milhouse then decided to ruin Krusty's wedding. At the wedding, Bart replaced Mr. Teeny as the ring bearer then revealed to Princess Penelope that Holly Hippie, who was Krusty's first wife, was in the room. Bart and Milhouse then showed a video of Eartha Kitt, which she made shortly before her death, where she complained about Krusty. These stories about Krusty didn't faze Princess Penelope and she still loved Krusty. However, Krusty realized that he wasn't good enough for Penelope and stopped the wedding as she deserved better.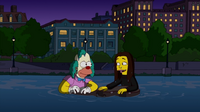 Penelope then moved to Paris where she performed "Moon River" to a small audience on the streets. As Penelope was looking over a bridge, she thought she saw Krusty. She then realized that Krusty was in the water, struggling to swim. Penelope then dived in after Krusty, who told Penelope that he had changed his mind. The two of them floated down the river on her guitar case together.[2]
She has her own handbag brand.[3]
Personality
[
edit
]
Princess Penelope's stage performances have her acting like a princess, living up to her stage name. She's upbeat and happy whilst singing and performing. This is also seen in her relationship with Krusty, where she acts very similar to her stage performances. However, she has a Long Island accent when she's not using her stage accent and can be a bit meaner when not on stage or around Krusty, as seen when she was on the phone with someone.
Non-canon
[
edit
]
| | |
| --- | --- |
| | The contents of this article or section are considered to be non-canon and therefore may not have actually happened or existed. |
The Simpsons: Tapped Out
[
edit
]
This section is transcluded from The Simpsons: Tapped Out characters/Helpful Guest Stars. To edit it, please edit the transcluded page.

Permanent Tasks
Task
Time
Reward
Requires
Quest with the task
Animated?
Go Skating
10m
17, 5
Simpsons' Skating Rink
Get Guitar Restrung
60m
70, 17
King Toot's
Eat a Tiny Salad With No Dressing
4h
175, 45
Luigi's
Overpay for Sex on the Beach
4h
260, 70
Smooches on the Beach
Stay at the Swelldorado
4h
260, 70
Swelldorado
Try to Win at Blackjack
4h
175, 45
$ Casino
Drink and Babysit
4h
175, 45
The Boiled Potato
Attend Coffee Meetup
4h
175, 45
Jittery Joe's Coffee
Get Guitar Restrung
8h
275, 70
King Toot's or
Shop
Dance the Señor Burns
8h
420, 105
Chez Guevara
Record a Princess Special
12h
600, 150
Krustylu Studios
Enjoy a Night at the Theater
12h
420, 100
Springfield Playhouse
Play Poker
24h
600, 150
Businessman's Social Club
Krustyland Tasks
| Task | Time | Reward | Requires | Quest with the task | Animated? |
| --- | --- | --- | --- | --- | --- |
| Play Acoustic Guitar | 60m | 21, 17 | | | |
| Greet Park Goers | 4h | 52, 45 | Krustyland Entrance | Pretty Princess Land | |
| Play A Princess Song | 8h | 82, 70 | | The Princess and the Pea-Brain Pt. 3 | |
| Eat Way Less Than One Plate | 12h | 180, 150 | One Plate Maximum Buffet | | |
| Sleep in the Penthouse with Two White Tigers | 24h | 180, 150 | Krustyland Hotel | | |
Her real voice is a Long Island accent, and her religion is Congregationalist.[2]
Behind the Laughter
[
edit
]
Her names imply that she is a real Princess, despite Kent Brockman saying she's not;
Mountbatten (formerly Battenberg) was the English branch of German dynasty. Queen Elizabeth II married Prince Philip, a Mountbatten.
Hohenzollern is a German dynasty which Germany and Romania, among other states.
Mulan and Pochohontas are historical figures that are commonly refer to as princesses and who had Disney movies based on their life story.
In 2010, Anne Hathaway won a Primetime Emmy Award for Outstanding Voice-Over Performance for voicing Princess Penelope.[4]
Appearances
[
edit
]
References
[
edit
]