Apocalypse Cow
Wikisimpsons - The Simpsons Wiki
"Apocalypse Cow"
Episode Information
| | |
| --- | --- |
| Episode number: | 417 |
| Season number: | S19 E17 |
| Production code: | KABF10 |
| Original airdate: | April 27, 2008 |
| Chalkboard gag: | A person's a person no matter how Ralph. |
| Couch gag: | A story is told through pictures on a medieval style scroll: The Flanders clan captures the Simpsons' couch and the Simpson clan crosses the open waters to do battle with the Flanders and take back their couch. The family rests triumphantly on their couch as Ned Flanders lays dismembered on the floor before them. This is an allusion to the Bayeux Tapestry, a 50 cm by 70 m embroidered cloth which explains the events leading up to the 1066 Norman invasion of England. |
| Guest star(s): | Zooey Deschanel as Mary Spuckler |
| Showrunner(s): | Al Jean |
| Written by: | Jeff Westbrook |
| Directed by: | Nancy Kruse |

"Apocalypse Cow" is the seventeenth episode of season 19 of The Simpsons and the four-hundred and seventeenth episode overall. It originally aired on April 27, 2008. The episode was written by Jeff Westbrook and directed by Nancy Kruse. It guest stars Zooey Deschanel as Mary Spuckler.
Synopsis
[
edit
]
"When Bart joins the 4-H Club, he unexpectedly falls in love with a cow named Lou. But when Bart finds out that Lou has been sold to a slaughterhouse, he becomes determined to save him. Bart and Lisa free Lou from the slaughterhouse, and Bart gives the cow to Mary, a fellow 4-H Club member. However, Mary's father mistakenly believes Bart is giving them the cow as a dowry for Mary's hand in marriage. When Homer and Marge hear of Bart's engagement, they devise a plan to save Lou and free Bart from his marriage."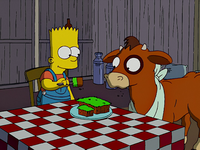 Homer and Bart go out to Shelbyville to refill their bean bag chairs, and they see Martin plowing fields for the 4-H club. When Homer realizes no parent participation is involved he immediately signs Bart up. When Bart joins 4-H, there is a contest to raise a cow, and at the end of the summer the best cow wins a ribbon. Bart is left with the runt, while Ralph gets a cardboard cutout, and is totally unaware of how to raise a cow, but with the help of Mary, one of Cletus's kids, they name him Lou, and raise him to be very big. Eventually Lou wins the contest, but Bart doesn't realize all that means is he'll get slaughtered first. Once Lou is sent off to be slaughtered, Lisa becomes to see Bart's affection for Lou, and tries to trick him into being a vegetarian by playing mooing sounds on a CD. However it doesn't work, and instead she helps him steal Lou from the compound.
Because Bart can't take care of Lou, he gives Lou to Mary, but her father tells Bart that to them, a cow it is a token of marriage. So, Homer and Marge must break the two up. After breaking up the wedding Marge tells Bart that she had a trick up her sleeve - instead of sending Lou back to the compound, she sends Homer in a cow suit. Marge, Bart and Lisa then go to Springfield Airport where they are greated by Apu who is aboard a cargo plane to India. Lou is put on the plane where Apu promises he will be "treated like a god" and receive "the kind of medical care that in America would go to humans". In the mean time, Homer, still dressed as a cow is brought to a slaughter house. Homer, thinking it's a "laughter house", due to the restricted view from the 'eye' of the suit, goes into the slaughterhouse, and almost gets killed, but Marge saves him just in time. That evening, Bart is in bed looking at a picture of him and Lou, stating that for once, he was glad he "had a cow, man."
Reception
[
edit
]
This episode gathered 7.69 million viewers. This episode cemented FOX in second position at 8:00, sitting only behind Extreme Makeover: Home Edition and in front of Big Brother and Monk.[1]
"Apocalypse Cow" won the 2009 Writers Guild of America award in Animation.[2]
References
[
edit
]