Martha Quimby
Wikisimpsons - The Simpsons Wiki
Martha Quimby
Character Information
Martha Quimby is the long-suffering wife of Mayor Quimby.
History
[
edit
]
Relationship with Mayor Quimby
[
edit
]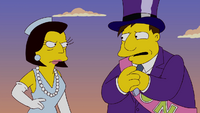 Martha is well aware that Mayor Quimby cheats on her; she only stays with him because she enjoys the power that goes with being the mayor's wife. Martha puts up a brave front of being all right with the mayor's cheating, but on one occasion she revealed her true feelings. Marge Simpson was visiting the Quimby house and talking to Martha in the mayor's home office. Martha accidentally pressed a button that transformed the office into a combination bar/strip joint, and broke down in tears at the sight of scantily clad women in cages being lowered from the ceiling.[1] Homer threw a Mardi Gras party, having invited most of the town. Joe speaks at the beginning of the party to say the party is open. But at the same time, this wife, Martha try to call Joe and he ask people to behave as if it were a conference in Zurich. At the same time, Martha came next to Quimby, and he says that he was disappointed and he had forgotten that she had come with him.[2]
First Lady of Springfield
[
edit
]
Martha is the first lady of Springfield. She often goes with Joe Quimby to events, for example in the annual Easter celebration at Mayor Quimby's mansion. After this, Martha Quimby goes on a tour of the mansion with housewives of Springfield, like Helen Lovejoy, Martha Quimby and Berenice Hibbert.
Relationship with other women of Springfield
[
edit
]
Martha Quimby is already seen in the church next to Joe. She doesn't was present with the group of housewives, with Agnes Skinner, Maude Flanders and Helen Lovejoy. She was seen with Cookie Kwan and Lindsey Naegle and Manjula Nahasapeemapetilon in competition to have a appointment with the new famous hairdresser in Springfield, Julio.[3]
Relatives
[
edit
]
Martha is related to actor Rainier Wolfcastle's wife, Maria.[4]
Non-canon
[
edit
]
In Lisa's dream, Mayor Quimby's New Year's Resolution was to spend more time with his wife. He did, but eventually she divorced him as she realised she didn't love him.[5]
The Simpsons: Tapped Out
[
edit
]
This section is transcluded from The Simpsons: Tapped Out characters/Civil Servants. To edit it, please edit the transcluded page.

Mrs. Quimby
Image
Cost
Unlock method
Unlock message
260,000
Level 53, Spiffany's
Higher Class of Politics Pt. 1
Permanent Tasks
Task
Time
Reward
Requires
Quest with the task
Animated?
Go Skating
10m
17, 5
Simpsons' Skating Rink
Give an Estate Tour
60m
70, 17
Quimby Compound
Give Joe an Earful
2h
220, 54
Town Hall
Quimby
Educate Children on Physical Fitness
4h
175, 45
Springfield Elementary
Overpay for Sex on the Beach
4h
260, 70
Smooches on the Beach
Stay at the Swelldorado
4h
260, 70
Swelldorado
Try to Win at Blackjack
4h
175, 45
$ Casino
Drink and Babysit
4h
175, 45
The Boiled Potato
Attend Coffee Meetup
4h
175, 45
Jittery Joe's Coffee
Hang at the Ha-Ha Spa
4h
260, 70
Klub Krusty Adult Retreat
Go Fancy Shopping
4h
175, 45
Carnaby Street
Go Shopping
8h
275, 70
Quimby Go Shopping
Higher Class of Politics Pt. 6
Dance the Señor Burns
8h
420, 105
Chez Guevara
Run City Government
12h
420, 100
Town Hall
Higher Class of Politics Pt. 2
Enjoy a Night at the Theater
12h
420, 100
Springfield Playhouse
Redecorate a Room
24h
600, 150
Quimby Compound
Behind the Laughter
[
edit
]
Like Sarah Wiggum and Bernice Hibbert, Martha is one of the less notable and more sane characters on the show. Also like Mrs. Wiggum and Mrs. Hibbert, Martha plays the role of the quiet housewife, the wife to a corrupted husband.
Martha often wears a pink suit and pillbox hat, a style similar to the one that Jacqueline Kennedy made famous.
Appearances
[
edit
]
References
[
edit
]