List of Itchy and Scratchy cartoons
Wikisimpsons - The Simpsons Wiki
This is a list of the Itchy and Scratchy cartoons shown on The Simpsons. Itchy & Scratchy cartoons in general are most likely a spoof of Tom and Jerry, but the individual cartoon shorts often spoof particular topics of their own.
Cartoons
[
edit
]
Untitled cartoons
[
edit
]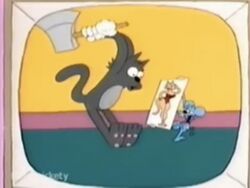 Scratchy chases Itchy with an ax until Itchy stops and shows Scratchy a picture of a female cat, which makes Scratchy distracted by the picture and, while getting distracted, Itchy puts a stick of dynamite inside Scratchy's mouth and it explodes, which makes Scratchy's head to be beheaded.
Shorts season: 3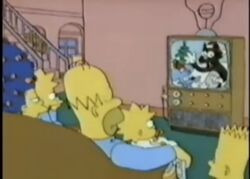 Despite not being shown entire, the episode is described by Bart as a sugary Christmas special. From what is seen on screen, Itchy and Scratchy are seen holding hands and waving happily in the snow whilst wearing santa hats.
Oddly this short appears to contain no violence or gore.
Shorts season: 3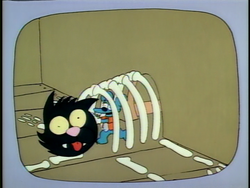 Scratchy chases Itchy into his mouse hole and gets his head stuck. Itchy then puts a bomb in Scratchy's mouth and it explodes. Scratchy's skeleton (arms, legs, tail and ribcage) remains outside the hole, with the ribcage forming an arch over the hole. Itchy is then seen rolling Scratchy's head through the ribcage.
Season: 1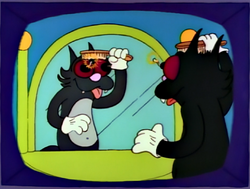 Itchy knocks Scratchy's eyes out with a sledge hammer, and Scratchy kneels and starts feeling around the floor for his eyes. Itchy produces two small bombs (with fuses lit) and puts them in front of Scratchy for him to find. Scratchy touches the bombs, thinks they are his eyes, and puts them in his eye sockets. Shortly after that, Scratchy is in front of a mirror combing his hair when he notices the bombs. Scratchy screams and the bombs explode.
Season: 2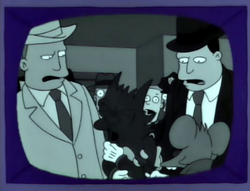 This cartoon was guest-directed by Oliver Stone, and parodies Jack Ruby's killing of Lee Harvey Oswald, the man charged with the assassination of John F. Kennedy. Here, a handcuffed Scratchy is being led through a crowd by two plainclothed law enforcement officials. Itchy leaps out from the crowd, draws a gun and shoots Scratchy. The screen freezes just as the bullet hits Scratchy, and we hear someone say, "Oh God, get his gun!"
Season: 4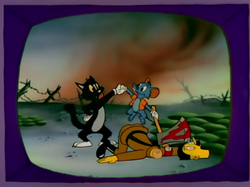 As part of an episode of Eye on Springfield, Kent Brockman takes a look at the history of Itchy & Scratchy, and shows a clip from this World War II-era cartoon. Here, Itchy and Scratchy pummel Adolf Hitler to a fine mess. When Scratchy tries to shake Itchy's hand, Itchy kills him too. President Franklin D. Roosevelt then appears and starts kicking the remains of Scratchy, while Itchy holds up a sign saying "save scrap iron".
Season: 4
The first new cartoon after Roger Myers Jr.'s studio is back in business. Itchy chases Scratchy in a desert-like landscape until Itchy notices a church and stops to pray. Scratchy meanwhile keeps running until he is squashes by God's foot and ends up in Hell, burning in the Lake of Fire. Meanwhile Itchy and God (who has the face of a mouse) are watching him from a cloud, shake hands and then wink at the camera.
Season: 7
Season: 8
Focus group cartoon
[
edit
]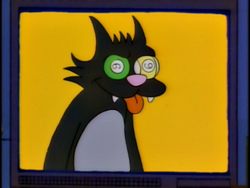 Ratings of The Itchy & Scratchy Show were sagging, so executives from the show had the kids watch several cartoon clips in order to find out what kids liked and in turn find out what they needed to do to improve the show. The focus group consisted of Bart Simpson, Lisa Simpson, Milhouse Van Houten, Ralph Wiggum. Nelson Muntz, and an unnamed girl about Bart's age.
During the plot, Itchy and Scratchy are playing pool. Itchy does a jump shot with the cue ball and hits Scratchy in the face, knocking out his eyes. Scratchy feels around the table for his eyes and finds the "6" and "9" pool balls, which he places into his eye sockets.
The kids found the cartoon to be very funny, but they liked everything they were shown. This presented the Itchy & Scratchy executives with a problem: with no information about what kids didn't like, they had no idea what changes they needed to make to the show. Roger Meyers, Jr., who was in the observation booth, became frustrated and turned on the lights, revealing himself to the kids. He then yelled at the kids, "Just tell me what's wrong with the freakin' show!" Lisa then explained that there was nothing wrong with the show, but perhaps the characters were losing some impact after so many years. That gave Meyers the idea of introducing a new character, which turned out to be Poochie.
Final Itchy & Scratchy & Poochie cartoon

[

edit

]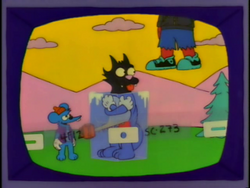 This is the last cartoon to feature the much despised character Poochie. During the background, the producers of The Itchy & Scratchy Show introduced Poochie to appeal to a newer audience. However, the move backfired and many viewers despised Poochie. As a result, the producers decided to kill off the character. Homer, the voice of Poochie, objected to the move. In the original script, Itchy was supposed to cut off Poochie's head with a rusty chainsaw. However, Homer refused to co-operate and asked to read his own script. June Bellamy, the voice of both Itchy and Scratchy, told producer Roger Meyers Jr. to allow Homer to try his lines. Meyers relented, and Homer read his own script:
"Hi, Poochie. You look like you've got something to say. Do you?"
―Itchy
"Yes, I certainly do! Hello there, Itchy. I know there's a lot of people who don't like me and wish I would go away. I think we got off on the wrong foot. I know I can come off a little proactive, and for that I'm sorry. But if everyone could find a place in their hearts for the little dog that nobody wanted, I know we can make them laugh and cry until we grow old together."
―Poochie
During the plot, Scratchy is part of an ice sculpture. Itchy starts sawing him with a chainsaw when Poochie appears. Itchy says that Poochie looks like he's got something to say, and Poochie replies (in Homer's voice) that he does. Poochie's mouth is then motionless while he says (in Roger Meyers' voice), "I have to go now. My planet needs me." The animation cel containing Poochie is crudely lifted up, making Poochie rise out of the picture. At the end of the episode, scrawled handwriting on the last frame says "Note: Poochie died on the way back to his home planet."
During the aftermath, the audience at The Krusty the Clown Show cheers the ending. Krusty happily declares "Poochie's dead!" and has the blue-haired lawyer read a sworn affidavit that declares that Poochie will never return. Homer is at first outraged that they changed the episode, but soon gets over it.
Main Itchy & Scratchy cartoon

[

edit

]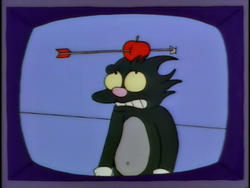 This cartoon is the first cartoon of the show to air following the disastrous introduction and much-cheered demise of Poochie. In this cartoon, Itchy is aiming a bow and arrow at Scratchy, who is standing with his back against a wall and an apple on his head. Itchy shoots the arrow and it hits the apple and goes into the wall. Scratchy sighs in relief that the arrow missed him, but the "wall" is revealed to be a tank of Carbolic Acid, which springs a leak as a result of having been pierced by the arrow. Acid pours onto Scratchy, who is burned to the bones. He is then seen running and screaming in pain. Bart declares the episode to be "classic Itchy & Scratchy", only for him and Lisa to decide to change the channel to see what else is on TV.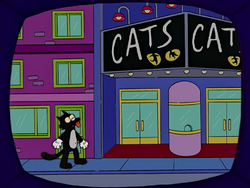 Scratchy buys a ticket to see the musical Cats. Usher Itchy seats Scratchy in the front row. After only a few seconds, Scratchy becomes bored and shoots himself, blowing his head off. The audience member next to him, a matronly dog, is covered in blood and shushes Scratchy's headless corpse.
Season: 17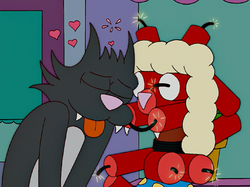 Due to large cutbacks at the network, the normal voice actors quit, and Krusty was pressed into service to dub his voice over the cartoon. During the plot, Scratchy is walking down the street and notices a lady cat made out of dynamite. He kisses her, and the lady cat explodes, blowing Scratchy into pieces. Itchy walks out of a shop and starts juggling Scratchy's body parts in front of an audience of animals. Following that, Krusty's performance was very uninspired, as he sounded very uninterested in the cartoon—mainly due to annoyance at the fact that he was affected by the network's being fined $10,000,000 because of Kent Brockman's swearing on the air. Krusty reckoned that Itchy killed Scratchy because Scratchy was messing with his wife.
Season: 18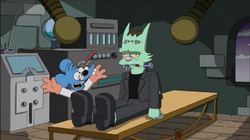 Itchy is a mad scientist working in his lab. Lying on the operating table is a large green-skinned corpse, his monster Scratchy. Itchy throws a switch, sending a charge of electricity into Scratchy. Itchy triumphantly cries, "It's alive!" as Scratchy slowly sits up. Itchy fires a shotgun at Scratchy, blowing the top of his head open, and Scratchy collapses back onto the table, dead again. Itchy then puts another brain into Scratchy's head, sews his head back up, and throws the switch again. Once again, Itchy cries, "It's alive!" as Scratchy sits up, and again, Itchy fires his shotgun at Scratchy. This time, however, Scratchy's head is blown clean off and goes flying out a window. Scratchy's head comes to rest in a sunlit field by a lake, near a little mouse girl picking daisies. Scratchy looks up at the girl and shyly says, "Friend?" The mouse girl smiles and holds out two daisies to Scratchy, but then quickly jams them into his eyes. Scratchy screams as blood pours from his eyes, and letters spelling "THE END" are seen on the petals of the daisies.
Season: 23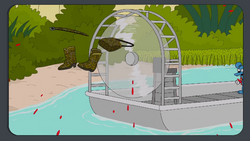 Itchy and Scratchy are riding on a fan boat when a crocodile eats Scratchy. Itchy uses the fan to cut down the crocodile that produces on the beach a crocodile belt, a pair of crocodile boots and a crocodile purse. The crocodile scream is then heard when Itchy opens the purse.
Season: 32
The Itchy & Scratchy Movie

[

edit

]
Nazi Supermen are our Superiors
[
edit
]
Synopsis: While it's unsure if it's an Itchy & Scratchy cartoon, it is known that Roger Meyers, Sr. produced it in 1938, and it was the one exception to his being "beloved by the world".
Episode: "Itchy & Scratchy Land" (referenced)
See also
[
edit
]