Summer of 4 Ft. 2
Wikisimpsons - The Simpsons Wiki
"Like, you know, whatever. Like, you know, whatever."
―Lisa
"Summer of 4 Ft. 2"
Episode Information

"Summer of 4 Ft. 2" is the twenty-fifth and final episode of season 7 of The Simpsons and the one-hundred and fifty-third episode overall. It originally aired on May 19, 1996. The episode was written by Dan Greaney and directed by Mark Kirkland. It guest stars Christina Ricci as Erin.
Synopsis
[
edit
]
"In the hopes of making friends on the latest family vacation trip, Lisa packs an empty suitcase, determined to leave her 'nerdy' self behind."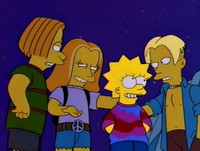 It's the end of another school year at Springfield Elementary School. While Bart and Milhouse discuss their plans for the summer, Lisa is taking care of the distribution of yearbooks, Retrospecticus. However, even with her academic track record and accolades in the yearbook (she edited the whole thing after Mr. Estes died), she becomes very disappointed when nobody wants to sign her yearbook. Later that day, Flanders makes a deal with Homer to watch over his beach house in Little Pwagmattasquarmsettport while he serves jury duty. The Simpson family head out to the beach house, taking Milhouse along with them.
Seeing this as a chance for a new beginning, Lisa abandons her old, nerdy image, and tries to develop a new persona. She gets a cool new look for the beach, and finds some new cool friends: Erin, Dean, Rick and Ben. Trying her best to fit in, she tells the other kids that Bart is her nerdy brother. Jealous that Lisa got new friends and he only has Milhouse, Bart tries his best to win them over, but fails. Whilst Lisa gets closer to her new friends, hanging out and planning parties, Bart gets increasingly jealous. When Lisa and her friends have a party on the beach, Bart shows them Lisa's yearbook, showing her friends that Lisa lied and she is a nerd. Upset at this, Lisa runs off crying.
The next day, the family attends a carnival, where Bart and Lisa continue to fight over the previous night's events. Finally having had enough of her brother's torment, Lisa dejectedly walks back to the beach house. Once she arrives, she discovers her friends have decorated the family car with seashells, with "Lisa Rules" written on the side. When Lisa asks why they would do such a thing for her, they let her know that her yearbook reputation doesn't matter. To them, she's still a great person who taught them about nature.
As the family leaves the next day in their car, Bart returns Lisa's yearbook. He reveals to her that before they left he showed it to her new friends, who all signed little messages inside. Lisa smiles and thanks Bart for the kind gesture, as the Simpsons head home, with seagulls following and attacking the car as the kids didn't wash the shells.
Production
[
edit
]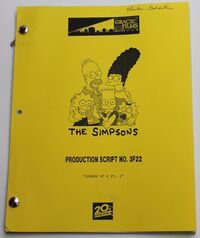 The producers of the episode wanted to do a Summer episode because there's so much that could be done. However, television seasons end before Summer so they had to make it the season finale.[1] At the dinner table, everyone was sat on the same side, and the room was made wider than usual, just to give a bigger sense of Lisa's loneliness.[2]
Little Pwagmattasquarmsettport is based on Cape Cod and a lot of writers spent time there.[3] The animators looked at a lot of photos of Cape Cod to get the design down, and Lance Wilder was from the area so he helped out. The episode was also difficult to design as they had so many new backgrounds to make since the episode wasn't set in Springfield.[2]
Christina Ricci wasn't in the city at the time they needed her to record her lines so she recorded them over the phone.[1] Yeardley Smith said that the line "like, you know, whatever" took a lot of work to get right.[4] Ian Maxtone-Graham wrote the scene where Marge comes into the room with Lisa and the cool kids only to walk out immediately.[1] Character layout artist Alex Ruiz did the animation sequence of Homer trying to dispose of the firework.[2]
Reception
[
edit
]
Voice actress Yeardley Smith says that "Summer of 4 Ft. 2" is one of her favorite episodes.[5][6] The episode is also considered one of the writers favorite episodes.[1]
Dennis Perkins of The A.V. Club said that the episode is "one of the most emotionally resonant Simpsons ever", whilst also praising its jokes. He praised the scene where Lisa turns on Bart at the breakfast table, saying that "Yeardley Smith's performance couples with the animation to make the moment downright chilling."[7]
As of December 2019, the episode has an 8.4 rating on IMDb[8] and an 8.9 rating on TV.com.[9]
References
[
edit
]