Mapple Store
Wikisimpsons - The Simpsons Wiki
Mapple Store
Location Information
The Mapple Store is a chain of retail stores owned and operated by Mapple.
Description
[
edit
]
The stores sell Mapple's products and services, including MyPods, MyPhones, MyCubes, MyPhonies and MyTunes. The stores also have a Brainiac Bar for in-store technical support for Mapple products and services.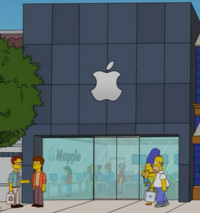 Mapple Stores can be found in a wide variety of locations, including Springfield Mall. The store in Springfield Mall is cube-shaped and features blue walls that are made up of video projection screens. The screens can project many small images or be combined to make one large image (as when Steve Mobbs makes a company-wide announcement, for example). The Springfield Mall store was destroyed by Comic Book Guy after a prank by Bart made everyone believe that Steve Mobbs thought all of his customers were losers. Heartbroken, Comic Book Guy called Mobbs a traitor and hurled a large hammer into the video screen, shattering an entire wall of the store. One employee demanded to know who was questioning Mobbs, and Lisa quickly ratted out Bart. The angry mob of employees and customers then chased Bart out of the store.[1]
A Mapple Store is also seen in Towne Centre at Springfielde Glenne. Homer and Marge went inside and Homer bought a Mapple Void from here.[2]
Non-canon
[
edit
]
| | |
| --- | --- |
| | The contents of this article or section are considered to be non-canon and therefore may not have actually happened or existed. |
The Simpsons: Tapped Out
[
edit
]
This section is transcluded from The Simpsons: Tapped Out buildings/Shops (premium). To edit it, please edit the transcluded page.

Mapple Store
Image
Cost
Build time
Reward
Sell price
Conformity increase
Availability
Unique?
Dimensions -

D

x

W

Yearbook
150
24h
90
Consumerism +10
Christmas 2012
5 x 5

30
90
6s
Monorail, Season Premiere 2016 and Game of Games
Premium
70
6s
Secret Agents
Premium (Mystery Drop Box)
50
6s
This Thanksgiving's Gone to the Birds!, Thanksgiving 2018, All American Auction, Blargsgiving, Northward Bound and The Atom Smasher
Premium (Retail Mystery Box)
1
6s
Holiday Whodunnit
Holiday Whodunnit Mystery Box
Task
Time
Reward
/h
/h
Putting M's In Front Of Product Names
12h
300, 30
25
2.5
Behind the Laughter
[
edit
]
Mapple Stores are a parody of the Apple Store chain owned and operated by Apple.
The Brainiac Bar is a parody of the Genius Bar found in Apple Stores.
Appearances
[
edit
]
References
[
edit
]
This article is covered by multiple navigation templates. Click "show" to view.