Dude, Where's My Ranch?
Wikisimpsons - The Simpsons Wiki
309
"Dude, Where's My Ranch?"
"Dude, Where's My Ranch?"
Episode Information

"Dude, Where's My Ranch?" is the eighteenth episode of season 14 of The Simpsons and the three-hundred and ninth episode overall. It originally aired on April 27, 2003. The episode was written by Ian Maxtone-Graham and directed by Chris Clements. It guest stars David Byrne as himself, Jonathan Taylor Thomas as Luke Stetson and Andy Serkis as Cleanie.
Synopsis
[
edit
]
"Homer's song, "Everybody Hates Ned Flanders", becomes a hit in Springfield, but the family leaves Springfield to live a couple of weeks in a ranch to escape Homer's song."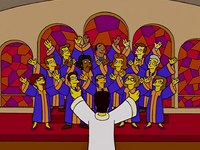 The Simpsons go around Springfield Christmas caroling one night when they visit the blue-haired lawyer. The lawyer tells them to stop caroling because they are forbidden from performing the song without paying royalties to the copyright owner. Homer gets annoyed at this and decides that he can write his own Christmas carol. He goes back home and starts to write a song, but Ned Flanders interrupts him and tries to add his own lyrics to Homer's song. Homer kicks Ned out of the house then starts to write a new song, "Flanders Is His Name".
When Homer, Lenny, and Carl perform the song in Moe's, David Byrne walks in, having heard the song. He offers to produce and perform the song with Homer. "Everybody Hates Ned Flanders" is recorded and becomes an instant hit around Springfield, with many people in the town listening to it and singing along to it. Due to the popularity of the song, it is repeatedly played on the radio and covers of the song are made, including a cover by William Shatner. Homer decides that he hates his own creation and the family decide to go on holiday to get away from the song. They settle on the Lazy I Ranch since it doesn't have radio or television. On the way to the ranch, David Byrne catches up with them in his car to play them the extended salsa mix of the song, "El Hombre Estupido". As he dances on his car, he falls off and lands in Moe's car. Moe then kidnaps David Byrne.
When the Simpsons arrive at the ranch, Lisa starts to hate it due to the attitude of the people towards animals and nature. She then meets Luke Stetson, who is a lot like Lisa. Luke starts to show Lisa around the ranch and Lisa becomes smitten with him due to how he treats nature. Meanwhile, Marge begins to bond with one of the ranchers, Cookie and Homer and Bart meet up with the Native Indians, who lost their land due to beavers flooding it by making a dam. Homer and Bart decide that they will break apart the dam to give the Native Indians their land back, so they could make a casino on the land.
Marge starts to become worried about how fast the kids are growing up when she sees how Lisa is around Luke. Homer dismisses her worries whilst he works out a plan to get rid of the beavers and the dam. The final night of the Simpsons' stay at the ranch was to have a square dance, which excited Lisa as she could dance with Luke. Lisa then overhears Luke on the phone talking to someone called Clara, who would be at the dance that night too. Lisa gets upset, thinking that Clara was Luke's girlfriend. When Lisa is out walking, she meets up with Clara and sends her the wrong way, into the darker parts of the surrounding forest. Meanwhile, Homer and Bart successfully manage to destroy the dam and the Native Indians claim their land back.
When the dance comes around, Luke is worried that Clara hasn't arrived yet. When Lisa finds out that Clara is Luke's sister, not his girlfriend, Lisa grabs Bart and they go and look for Clara. When they find her, Lisa is shocked that the trail has now become flooded, due to the beaver dam being destroyed. Bart coaxes the beavers to cut down a tree so they can use it to get Clara to safety. Clara tells Lisa that there are more important things in the world than boys.
The next morning, the Simpsons get ready to leave. Luke comes to say goodbye to Lisa and thank Lisa for saving Clara, but Clara never told Luke that it was Lisa who sent Clara the wrong way in the first place. Lisa tells Luke what happened, and Luke gets disgusted by Lisa, breaking her heart. As the family goes home, they decide to turn on the radio to see if Homer's song has stopped playing now. Instead, "Moe, Moe, Moe" by Moe plays, so the family decides to go back to the ranch for another week.
Production
[
edit
]
Episode writer Ian Maxtone-Graham originally pitched the episode to have Homer write a novelty song. However, he couldn't come up with the lyrics so he went to Ken Keeler, who ended up writing a majority of the song, with Maxtone-Graham putting in some jokes. Homer's original Christmas song was pitched by producer Brian Kelley. David Byrne recorded his lines at the studio, but had to re-record some of his lines from New York.[1]
Andy Serkis' role came around because he was visiting the show as a fan. Matt Selman "forced" him to record a role for the episode.[2] Shia LaBeouf was auditioned for the role of Luke Stetson, but they decided against him.[1]
The instruments used in the music for "Everybody Hates Ned Flanders" were all the same instruments used on the David Byrne album Uh-Oh because composer Alf Clausen wanted to give the song a "David Byrne feel".[1]
Reception
[
edit
]
In 2003, "Dude, Where's My Ranch?" won an award in the 31st Annual Annie Awards for Music in an Animated Television Production.[3] The song "Everybody Hates Ned Flanders" was nominated for a Primetime Emmy Award for Outstanding Original Music and Lyrics in the 55th Primetime Emmy Awards. However, it lost to "Aren't They All Our Children" from The Concert for World Children's Day.[4]
As of November 2022, "Dude, Where's My Ranch?" has a 6.9 rating on IMDb.[5]
References
[
edit
]