Das Bus
Wikisimpsons - The Simpsons Wiki

"Das Bus" is the fourteenth episode of season 9. It originally aired on February 15, 1998, and was written by David X. Cohen.
Synopsis
[
edit
]
"Homer incurs the full wrath of computer supremo Bill Gates with his very own dot com enterprise, while Lisa and Bart undergo a 'Lord of the Flies'-style scenario when they are stranded on a desert island with their schoolfellows."
While Springfield Elementary School goes on a field trip for the Model U.N. Club, the kids on the bus have a fruit race. Milhouse's grapefruit wins, but it gets caught under the brake. Otto presses it and gets blinded by the juice from it and the bus drives off the road and into the ocean. The kids all end up on an island with no sign of getting home. Otto gets captured by Chinese fisherman in search of slave laborers.
While on the island, the kids have nothing to eat. Bart remembers the cooler full of food in the bus and swims to the ocean bottom to get it. They all eat some of it and save the rest for the next day. When they wake up, they find out all the food has been eaten, and evidence has been left near Milhouse. Everyone turns against him.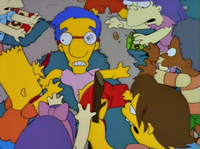 They then find out it was a warthog who ate their food. Lisa tells them that they should eat what the warthog has been eating, slime on the rocks.
The kids then kill the warthog and cook and eat it while Lisa eats the slime. The narrator tells us that the kids were saved by Moe.
Meanwhile, Homer starts his own Internet company, but he has no clue of what he was doing. He is soon bankrupted by Bill Gates.
Production
[
edit
]
A deleted scene had Homer buying anti-stress instruments. He uses them all and gets stressed. According to Mike Scully, this scene was regrettably deleted due to the episode being too long.[1]
Reception
[
edit
]
In a 2006 article in USA Today, "Das Bus" was highlighted among the six best episodes of season 9, along with others including "Trash of the Titans," "The Last Temptation of Krust," "The Cartridge Family," "Dumbbell Indemnity," and "The Joy of Sect".[2]
References
[
edit
]
| | |
| --- | --- |
| | Wikisimpsons has a collection of images related to "Das Bus". |
↑ Scully, Mike. (2006). The Simpsons The Complete Ninth Season DVD commentary for the Deleted Scenes [DVD]. 20th Century Fox.
↑ Clark, Mike. "New on DVD", USA Today, Gannett Co. Inc.,. Retrieved on 2007-10-24.

 
---