Dwight D. Eisenhower
Wikisimpsons - The Simpsons Wiki
Dwight D. Eisenhower (nicknamed "Ike") was the 34th President of the United States, serving from 1953 to 1961. Prior to his time as President, Eisenhower held the rank of five-star general in the United States Army during World War II and served as the Supreme Commander of the Allied Forces in Europe.
History
[
edit
]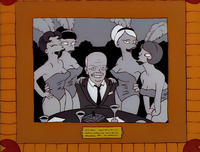 Marge and Homer once listened to a book on tape titled Mr. and Mrs. Erotic American for advice on spicing up their marriage. One piece of advice from the book, "Double your pleasure with a bath ... together!", was attributed to Dwight and Mamie Eisenhower.[1]
When Sideshow Bob forced all the TV stations in Springfield to close down, Krusty got back on the air by taking over the Emergency Broadcast System's facility. As he frantically rummaged around the building, he announced that he would bring hours of comedy featuring "Professor Gas Can" and "former President Ike Eisenhower", holding up a gas can and a photo of Eisenhower to the camera.[2]
During his tenure as President, Eisenhower visited the Maison Derrière in Springfield to celebrate his 40th wedding anniversary. The visit was recorded via a photograph; Mrs. Eisenhower was not in the picture.[3]
Martin once drew a picture of Louis St. Laurent with US president Dwight D. Eisenhower, commenting that their relationship was "frosty at best".[4]
When the family left Grampa home while they went on a walk, they kept Grampa occupied with a DVD of Dwight Eisenhower talking about golf and comparing the game to World War II battles in which he had participated.[5]
A picture of Eisenhower, along with the other U.S. Presidents, was seen in a book that Superintendent Chalmers showed Bart, before Bart developed an interest in Theodore Roosevelt. Bart was only able to identify a few of the Presidents, and Eisenhower was not among them.[6]
Non-canon
[
edit
]
| | |
| --- | --- |
| | The contents of this article or section are considered to be non-canon and therefore may not have actually happened or existed. |
The Simpsons: Tapped Out
[
edit
]
This section is transcluded from The Simpsons: Tapped Out characters/4th of July. To edit it, please edit the transcluded page.

Behind the Laughter
[
edit
]
Dwight and Mamie Eisenhower were married in 1916, so Ike's 40th-anniversary visit to the Maison Derrière would have taken place in 1956, during his first term as President.
In real life, Eisenhower was an avid golfer.
Appearances
[
edit
]
References
[
edit
]
External links
[
edit
]