Itchy & Scratchy Land
Wikisimpsons - The Simpsons Wiki
Itchy & Scratchy Land
Location Information
Itchy & Scratchy Land is an Itchy and Scratchy-themed amusement park owned by Itchy and Scratchy International.
History
[
edit
]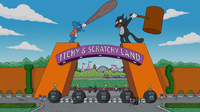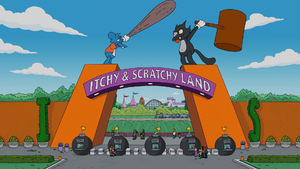 After seeing The Itchy & Scratchy Show episode "The Last Traction Hero", which advertised Itchy & Scratchy Land, Bart and Lisa started to pester Homer and Marge to take them there. Eventually, they caved in and the family went to Itchy & Scratchy Land. The family then went on the rides and visited a restaurant before seeing the animatronic parade. After getting sick of the rides in the park, Homer and Marge headed to Parents' Island for a while, leaving Bart and Lisa on their own.
During the course of their visit, Bart and Homer managed to get arrested in the park for attacking the mascots. Meanwhile, Professor Frink came by the science labs in the park to tell them that the robots would go berserk within twenty four hours. He then realized he forgot to carry the one in his equation and then the robots started to attack everyone. After getting Homer and Bart out of security, the Simpsons realized that the robots were attacking. They then made a run for the last helicopter but one of the mascots was on it and refused to let them on, leaving the Simpsons alone in the park. Backed into a corner, Homer started to throw everything he had at the robots, eventually throwing a flash photography camera, which shut down some of the robots. Upon realizing this, everyone started to take photos of the robots, with Bart smashing up a shop to get some more. Eventually, they destroyed all the robots and Roger Meyers, Jr. thanked them for their help and gave them two free passes to the park.
A European counterpart opened in France called Euro-Itchy & Scratchy Land, though it suffered a very poor attendance rate.[1]
When Homer was hypnotized into thinking he was ten years old by Sven Golly, Bart struck up a friendship with him. When Sven Golly came back to reverse his hypnotism on Homer, Bart ran away with Homer and they went to Itchy & Scratchy Land together. Chief Wiggum arrived at Itchy & Scratchy Land with Sven Golly and Marge where Sven Golly reversed his hypnotism and put Homer back to normal.[2]
When Bart was hanging out with Kirk and Milhouse was hanging out with Homer, Homer and Milhouse and Kirk and Bart went to Itchy & Scratchy Land together. They went on the ride Itchy & Scratchy's Injury 500 together where Homer and Milhouse tried to get away from Kirk and Bart. Bart got launched out of the car and hit his head and Homer immediately rushed to Bart's aid and the two of them make up, with Kirk and Milhouse also making up.[3]
When Homer got stuck in the Pedalon exercise bike, Bart stole his wallet and went to Itchy & Scratchy Land.[4]
Description
[
edit
]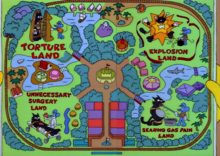 Like the TV Show, Itchy & Scratchy Land contains a huge amount of simulated violence, and the park was noted as the "Violentest Place on Earth." According to theme park associates, this was supposedly to educate children about the consequences of deadly mayhem.
Itchy & Scratchy Land sits on an island with the faces of Itchy and Scratchy carved onto the rock, and the theme park on top. Guests access the park by helicopter after parking their cars at a car park in the mainland (the car park has two sections: the Itchy section and a Scratchy section).[1]
Attractions
[
edit
]
The park is made out of four "lands": Torture Land, Explosion Land, Searing Gas Pain Land, and Unnecessary Surgery Land. Rides and attractions include:
The Head Basher
Blood Bath
Mangler
The Nauseator
There is an attraction called The Roger Meyers Story, detailing the story of Roger Meyers Sr., the creator of Itchy and Scratchy. The park also contains a "Parents Island" exclusively for parents, where parents can "consume alcoholic beverages, learn new recipes, hammock-loafing, watch hours of television, or delude themselves into living in the 70's again". The island contains a 70's Disco and T.G.I. McScratchy's Goodtime Foodrinkery, where parents can relive New Year's Eve over and over. There was also an attraction called Itchy's Mine Field.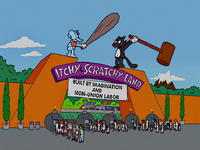 The park has a restaurant with all the menu choices in the form of violent names. For example, the cheeseburger is called the "Brain Burger" and the "Baby Guts" is another name for veal. Shops in the park include a gift shop selling "Bort" license plates, a penny arcade, and a camera shop. The park also has a daycare center with a large ball pit, and its own fire station. It is reported that the park contains the "finest Amusement-Park-run ER and triage center" in the state, with a 95% survival rate.[1]
There is a 12 noon "Robot Parade" with animatronic replicas of Itchy and Scratchy, anthropomorphic bombs and weapons and costumed characters. The robotic Itchy and Scratchy's are programmed to attack each other while not harming the guests, instead spraying fake blood at them. The animatronics are extremely sensitive to flash photography.[1]
Backstage
[
edit
]
All park operations are controlled at a command center deep underground. The underground complex contains a detention center and a repair center for the animatronic robots. There is also a security area with holding cells for troublesome guests.[1]
Gift shop
[
edit
]
The park also has a gift shop which includes license plates with names on (they have Bort but not Bart) and stuffed dolls of characters from The Itchy & Scratchy and Friends Hour, including Disgruntled Goat, Uncle Ant and Klu Klux Clam. Also in the shop is toy weapons, mugs, posters and clothing.[1]
Non-canon
[
edit
]
Renovation
[
edit
]
| | |
| --- | --- |
| | The contents of this article or section are considered to be non-canon and therefore may not have actually happened or existed. |
The park was renovated into a Halloween-themed attraction, where people were dressed in costumes as werewolves and vampires. An A ticket would get a person into a baby ride, while an E ticket would get a person into one of the scariest rides. There are different parts of the park, Horror World, Terror World, Ghost World and Michael Jackson World.[5]
Attractions
[
edit
]
Video games
[
edit
]
In The Simpsons Skateboarding, the park is a playable level.
Attractions:
The Simpsons: Tapped Out
[
edit
]
This section is transcluded from The Simpsons: Tapped Out decorations/Itchy & Scratchy Land. To edit it, please edit the transcluded page.

Itchy & Scratchy Land Gate
Image
Cost
Reward
Sell price
Conformity increase
Availability
Unique?
Dimensions -

D

x

W

FREE
N/A
Consumerism +5
Itchy & Scratchy Land
The Itchy-Est Place on Earth Pt. 2
5 x 15
Behind the Laughter
[
edit
]
Itchy & Scratchy Land is a parody of Disneyland, complete with a similar park layout and similar attractions, and the fact that its European counterpart fails to attract the expected number of customers.
Appearances
[
edit
]
References
[
edit
]