Eddie
Wikisimpsons - The Simpsons Wiki
This article is about the police. For the Radioactive Man fan, see Eddie (The Radioactive Manqués!).
Eddie
Character Information
Eddie is one of the two police officers who aid Chief Wiggum on almost every mission. Unlike Lou, he is rather unintelligent, but still not as dumb as Wiggum.
Biography
[
edit
]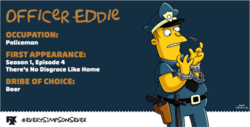 Eddie is quite quiet, though he is always there at every case with Lou and Chief Wiggum. Eddie used to be a bit more chopsier and talked more than he does now.
History
[
edit
]
He has been seen in Moe's Tavern to get a drink with Lou. Also, he gave Bart a ride in the police car and gave him a pistol in case a thief appeared.[2] He was once promoted to Lou's position and asked Wiggum who will take his position, to which Wiggum replied with a simple "nobody".[3]
Characteristics
[
edit
]
Eddie loves being a cop because it makes him feel like he is "making a difference".[2] It has been implied Eddie was gay, due to his unusual body movements and Chief Wiggum's comment of "It's a wonder why he can't get a girlfriend". Yet it's mentioned that he was sleeping with Lou's ex-wife Amy.[4]
Non-canon
[
edit
]
| | |
| --- | --- |
| | The contents of this article or section are considered to be non-canon and therefore may not have actually happened or existed. |
He was revealed to be Ralph's real father, due to his similar hair and non-sequiturs.[5]
He will be a robo-cop along with Lou and Wiggum.[6]
Treehouse of Horror XV
[
edit
]
When Wiggum was discovered to be a so-called Muttonchop Murderer, he said "Why can't you be more like Eddie?", Lou then replied with "Because you cut his tongue out." To which Eddie said "He's right chief", with much difficulty in pronouncing the words without his tongue.[7]
The Simpsons: Tapped Out
[
edit
]
This section is transcluded from The Simpsons: Tapped Out characters/Civil Servants. To edit it, please edit the transcluded page.

Permanent Tasks
| Task | Time | Reward | Requires | Quest with the task | Animated? |
| --- | --- | --- | --- | --- | --- |
| Trip to Lard Lad | 5m | 15, 5 | Lard Lad Donuts | | |
| Go Skating | 10m | 17, 5 | Simpsons' Skating Rink | | |
| Target Practice | 60m | 70, 17 | Police Station | | |
| Trip to New Lard Lads | 60m | 70, 17 | New Lard Lad | | |
| Track Down Criminals | 4h | 175, 45 | | Unusual Suspects Pt. 2 | |
| Drink Colorful Booze | 4h | 175, 45 | Ye Olde Magick Shoppe | | |
| Drink at Moe's Brewing Co. | 4h | 175, 45 | Moe's Brewing Co. | | |
| Overpay for Sex on the Beach | 4h | 260, 70 | Smooches on the Beach | | |
| Stay at the Swelldorado | 4h | 260, 70 | Swelldorado | | |
| Try to Win at Blackjack | 4h | 175, 45 | $ Casino | | |
| Drink and Babysit | 4h | 175, 45 | The Boiled Potato | | |
| Attend Parenting Seminars | 4h | 260, 70 | Universal Panacea | | |
| Drink at Moe's | 8h | 275, 70 | Moe's Tavern | | |
| Dance the Señor Burns | 8h | 420, 105 | Chez Guevara | | |
| Train for Action | 12h | 420, 100 | Training Wall | Bad Cops Pt. 3 | |
| Set Baton to Twirl | 24h | 600, 150 | | | |
Behind the Laughter
[
edit
]
Foreign dubs
[
edit
]
Appearances
[
edit
]
References
[
edit
]
| | |
| --- | --- |
| | Wikisimpsons has a collection of images related to Eddie. |
Factfiles from Simpsons World the Ultimate Episode Guide: Seasons 1-20
Season 14
Rock Stars • Audrey McConnell, Third Grade Teacher • Dr. Velimirovic, Plastic Surgeon • Mitch Hartwell, the Reality Channel Producer • Junior (AKA Frank Grimes, Jr.) • Teacher of the Year Award Nominating Committee • Dexter Colt, Private Eye • The Mugger • Larry H. Lawyer, Jr. • Baby Stink-Breath • Booberella • Sara Sloane, Hollywood Movie Star • Cookie Kwan, Red Coat Realtor • Stark Richdale • Declan Desmond • Julio and Grady • Luke Stetson, Junior Wrangler • Suds McDuff, Spokesdog/Mascot for Duff Beer • Marriage Counselor • Jim Proudfoot • Don Castellaneta