Homer Simpson
Wikisimpsons - The Simpsons Wiki
| | |
| --- | --- |
| | The contents of this article or section are considered to be non-canon and therefore may not have actually happened or existed. |
For the main Homer Simpson, see Homer Simpson.
Homer Simpson
Character Information

Homer Simpson is a resident of Kingfield and owner of D'ohs.
History
[
edit
]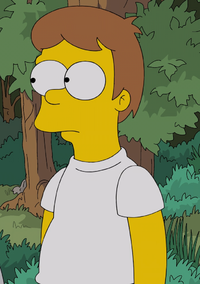 When Homer was young, his friend Barney Gumble went missing. After putting up missing posters for Barney, Homer was attacked by the local bullies. Homer then saw Krusto watching them in the bushes. Homer managed to escape from the bullies and rolled down the hill, with the bullies chasing him. As they approached Homer again, a group of kids stopped them and chased the bullies off. These kids included Moe, Carl, Comic Book Guy, and Marge. Homer immediately became smitten with Marge, who showed concern for Homer's injuries, and the gang took Homer back to their clubhouse. Outside the clubhouse, Comic Book Guy warned Homer to stay away from Marge as he had called dibs on her.
When Homer told the gang about seeing Krusto, they all believed him as they had also seen Krusto. They decided that they needed to stop Krusto so they went to the Kingfield Clown Archives to do research on him. At the archives, Homer wrote a love poem for Marge and snuck it into her backpack. Marge then found out who Krusto was and she and Homer went to show the rest of the gang a clip from Krusto's TV show, The Yuk-Yuk Hour with Krusto! Whilst watching the show, Krusto came out of the television at them and tried to kill Comic Book Guy. Marge threw Homer some garden shears, which he used to attack Krusto with, hurting him. Marge then shut off the television, temporarily defeating him. The gang then armed themselves to go and fight against Krusto at Channel 14. As they were arming themselves, Comic Book Guy found Homer's love note and took it himself.
When the kids got to Channel 14, they found a box that said "Free Candy" on. Homer excitedly opened it up, revealing Krusto to have been hidden inside. The gang then tried to fight Krusto with their weapons, but they were ineffective. Krusto slipped on some marbles and went through a slapstick comedy routine, which caused the kids to laugh. Seeing this, Krusto continued to hurt himself for laughs until Marge gave him Li'l Stinker Cherry Bombs. Krusto swallowed the cherry bombs and exploded, defeating him. Afterwards, the gang made a pact to all come together again to defeat Krusto if he should return. Homer was then dejected to see Marge making out with Comic Book Guy, who had given Marge Homer's love poem and claimed it as his own.
27 years later, Homer had become the owner of D'ohs tavern. When he saw on the news that the town bullies had been killed, he realized that Krusto had returned. He then called up his old gang and told them to come back to Kingfield to defeat him once more. Everyone except Comic Book Guy returned, due to him not wanting to deal with Krusto again as it was no longer his problem. The gang met up in D'ohs and Homer went to tell Marge that he was the one who wrote the poem, only to be interrupted by Bert and Lizzie, Marge and Comic Book Guy's kids. Comic Book Guy also showed up, wanting to take Marge back home. As Comic Book Guy and Marge argued, Bert and Lizzie were taken by Krusto. Krusto then appeared on the gang's phones to tell them this.
The gang went back to Channel 14 to confront Krusto once more. They told Krusto that they had gotten over their childhood fears so he no longer had power over them. Krusto then told the gang that they had something worse than fears as adults, anxieties. Krusto also revealed to the gang that Comic Book Guy didn't write the love poem to Marge. As the adults were attacked by their anxieties, the ghosts of the dead children laughed, which gave Krusto more power. Bert and Lizzie realized that the laughter audience sign was what was giving Krusto his powers and told the adults to destroy it. Homer found a rock and handed it to Marge to throw at the sign. As she got ready to do so, Krusto attacked her, but Comic Book Guy jumped in the way and got bitten. Marge threw the rock anyway and destroyed the sign, releasing the children's ghosts and defeating Krusto. As Marge looked over her dying husband, Homer put a hand on her shoulder. Marge told Comic Book Guy that she wouldn't forgive him, and Homer did a fist pump in response.
Appearances
[
edit
]
Simpson family
Main family

Homer Simpson
•

Marge Simpson
•

Bart Simpson
•

Lisa Simpson
•

Maggie Simpson

Santa's Little Helper
•

Snowball II