Eight Misbehavin'
Wikisimpsons - The Simpsons Wiki
"Kids are the best, Apu. You can teach them to hate the things you hate. And they practically raise themselves, what with the Internet and all."
"Eight Misbehavin'"
Episode Information

"Eight Misbehavin'" is the seventh episode of season 11 of The Simpsons and the two-hundred and thirty-third episode overall. It originally aired on November 21, 1999. The episode was written by Matt Selman and directed by Steven Dean Moore. It guest stars Butch Patrick as himself, Garry Marshall as Larry Kidkill, Jan Hooks as Manjula Nahasapeemapetilon and Frank Welker as animals.
Synopsis
[
edit
]
"Apu's wife Manjula gives birth to octuplets. Everyone in Springfield soon pitches in to help, until a couple in Shelbyville gives birth to nine, causing everyone to forget about Apu and Manjula."
The Simpson family go to visit Shøp and go furniture shopping. They then go to the food court to eat where Apu and Manjula meet up with them. Marge asks them if they have considered having kids. After giving it some thought, they decide to try for kids. Apu and Manjula then try, and fail, to conceive kids multiple times. Apu then asks Homer for his help with conceiving and Homer sets them up in a roleplaying situation. After this, they take the Pee 'N' See pregnancy test again and find out that Manjula has finally conceived.
Nine months later, Manjula's water breaks and everyone goes to the hospital to wait for the baby. Marge then invites Apu and the rest of her family into the room to meet the new baby. Dr. Hibbert then reveals the other seven children, much to Apu's shock. Everyone then admits to slipping Manjula fertility drugs to help her conceive, which is what caused her to have octuplets. The birth of the octuplets causes a media frenzy, with reporters interviewing them and companies giving them free stuff. In Apu's apartment, many companies are delivering products to the family. Apu then turns on his new TV where a report about a family in Shelbyville having nonuplets. Upon hearing this, all the delivery men took their products to this Shelbyville family instead, leaving Apu and Manjula struggling with their babies.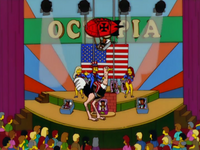 The octuplets start to drive Apu and Manjula crazy, which isn't helped by friends of the family like Ned Flanders being very positive and upbeat about the octuplets. Homer and Marge then go to visit Apu and Manjula to see that they are really struggling and have become jerks due to the lack of sleep and stress. A businessman, named Larry Kidkill, then shows up and takes Apu to the Springfield City Zoo to offer him and his family a place in an exhibit there, in exchange for childcare. Butch Patrick shows up and supports Kidkill's case. Apu then goes home again to talk it over with Manjula. They then agree and sign the document and their babies get placed in the zoo.
The extra help they got at the zoo left Apu and Manjula more relaxed and helped them cope with the babies. However, it was then revealed that the octuplets were the stars of a stage show, which Apu and Manjula hated. After the first stage show, Apu and Manjula were horrified by it and attempted to get them out of the contract. They were then removed from the zoo in response. After this, Homer and Apu snuck into the zoo at night and took the octuplets back. Larry Kidkill and his goons then showed up at the Simpson house and demanded they hand the octuplets back. Homer then offered himself as a replacement to the octuplets. He then took part in a stage show with Butch Patrick, riding around on a small bicycle whilst cobras bit at them.
Production
[
edit
]
George Meyer is the person who came up with the name "Larry Kidkill". Matt Selman came up with the story of the episode after reading about quintuplets being born recently.[1] Larry Kidkill's role was written without Garry Marshall in mind to play him. His name was then thrown about to voice him and everyone was on board with that.[2] It was a challenge to come up with eight different designs for the babies to make them all distinct.[3]
The writers wanted to explore what the media's reaction would be when the next big thing comes along, and how that would leave Apu and the Octuplets. Selman choose the named of the Octuplets. He went to a website of Indian names and chose the eight silliest ones.[1] There was a line that was cut during the Octopia show where Bart says "Go back to Germanistan!".[4]
Reception
[
edit
]
The episode has become study material for sociology courses at University of California Berkeley, where it is used to "examine issues of the production and reception of cultural objects, in this case, a satirical cartoon show", and to figure out what it is "trying to tell audiences about aspects primarily of American society, and, to a lesser extent, about other societies."[5] In August 2007, the quote "Kids are the best, Apu. You can teach them to hate the things you hate. And they practically raise themselves, what with the Internet and all." entered The Oxford Dictionary of Modern Quotations.[6]
As of August 2018, the episode has a 7.1 rating on IMDb[7] and a 7.7 rating on TV.com.[8]
References
[
edit
]