Homerpalooza
Wikisimpsons - The Simpsons Wiki
"I used to rock and roll all night and party ev-a-ry day. Then it was every other day. Now I'm lucky if I can find half an hour a week in which to get funky. I've got to get out of this rut and back into the groove!"
"Homerpalooza"
Episode Information

"Homerpalooza" is the twenty-fourth episode of season 7 of The Simpsons and the one-hundred and fifty-second episode overall. It originally aired on May 19, 1996. The episode was written by Brent Forrester and directed by Wes Archer. It guest stars Peter Frampton as himself, Cypress Hill as themselves, The Smashing Pumpkins as themselves and Sonic Youth as themselves.
Synopsis
[
edit
]
"After Bart and Lisa inform Homer that his taste in music has become old, he decides to get into the current music scene and takes the kids to a music festival, Hullabalooza, where he accidentally discovers he has a talent for taking a canon ball to the gut. Soon Homer finds himself traveling with the festival and putting his health in danger as he continues performing his amazing feat for cheering crowds."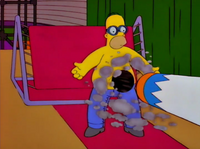 Otto dreams about accepting an award for being the safest bus driver in the school district whilst driving the bus. Milhouse then yells at him to wake up. Otto wakes up, narrowly missing Jasper on the road and crashes through the gates to the Auto Wrecking Yard. The bus is then crushed as the kids and Otto escape it. After this incident, Homer starts taking kids to school in a carpool. However, the kids dislike Homer's taste in music, having never heard of the bands Homer listens to, to Homer's shock. Homer goes to Suicide Notes and finds that modern, popular music is not to his liking and he's never heard of the bands. Homer then finds out about the Hullabalooza festival from the shop employee.
Homer feels sad as he walks home and flashbacks to when he was in Springfield High School and was "cool". He remembers approaching a group of teens listening to music in their van, before being rejected by them. And he remembers being told by Sandra that he was cool. He then talks about the music, and flashbacks to when he was singing "You Make Me Feel Like Dancing" with Barney. When Grampa asks them what they're doing, Homer says that he wouldn't understand as he wasn't cool. Grampa said that he used to be with "it", but then what "it" was changed. He then says that it'll happen to Homer too.
At home, Homer finishes telling this to Marge he realizes that he needs to get out of his rut and back into the groove. Marge tells him to take Bart and Lisa with him. The next day, Homer takes Bart and Lisa to Hullabalooza, having gotten three tickets to the festival, which was being held in Capitol City. At the festival, Cypress Hill put on a show. Meanwhile, Homer buys a Rastafarian hat, which annoys the attendees so much that they throw him to the back of the crowd. After Cypress Hill, The Smashing Pumpkins perform their bleak music, which Lisa says really gets to the crowd. As Homer walks away from the crowd, he sadly kicks a cannon which shoots an inflatable pig into his stomach, which was for Peter Frampton's big finale. Homer, however, was completely fine and he was hired by the Hullabalooza manager to be shot at with a cannon, which he accepted.
Homer begins going on the tour with the bands and other freaks and becomes a huge hit, signing cannonballs for kids. He then meets the Smashing Pumpkins and becomes friends with them. Eventually, the festival goes to Springfield. However, Homer started to feel unwell, with his stomach making weird noises when he eats and drinks. The manager sends Homer to the Animal Hospital to get checked out. The vet tells Homer that he can't get shot again or he will die. Homer acts confident, saying that he doesn't mind if he dies as it would be a groove. Meanwhile, at home, Bart asks Homer several questions as he was doing a report on someone he admires the most.
The day of Hullabalooza in Springfield comes, and the London Symphony Orchestra shows up, which Cypress Hill says they ordered for their show. Peter Frampton then performs as many Springfielders watch. At the end of Frampton's performance, he tries to activate the inflatable pig, but it's broken. He then complains at Sonic Youth for stealing from his cooler. After Frampton's show, Homer is brought on stage for the cannonball performance. As the cannonball shoots towards Homer, he jumps out of the way at the last second, which gets him boos from the crowd. Marge then gives Homer a club sandwich from Frampton's cooler and is then asked to resign from the show. Homer says goodbye to the Smashing Pumpkins as they go off to buy fur coats. As the family drives home, the kids agree that Homer and Marge are both uncool, as Homer and Marge wonder how you can be cool.
Production
[
edit
]
The early working title for the episode was "Homer Simpson in: Let Your Freak Flag Fly!".[1][2]
The story for the episode was created by David X. Cohen, although he went uncredited. Brent Forrester wrote the script for the episode. Brent Forrester went to the music festival Lollapalooza to research for the episode. Forrester had a bad time at the event, being made to throw out his camera and batteries, and someone referred to him as a "narc" as he had a recorder to record his notes on. These experiences made it into the episode.[3] Bill Oakley chose to put the song "Shinin' On" by Grand Funk Railroad in the episode as it was his favorite song. Grand Funk Railroad asked if they would use the song "We're an American Band" instead, but Oakley insisted on "Shinin' On". Oakley later found out they didn't receive royalties from the song so felt bad.[4]
When Homer was in Suicide Notes, a line was changed. The employee originally asked "what's a record?" whilst holding a CD, but it got changed to him questioning what Apple computers were.[3] Primus were originally brought up as a possible band for the episode, with their album Pork Soda being mentioned. However, they never made the cut in the end.[4] The producers originally wanted Bob Dylan to guest star, but ended up getting Peter Frampton instead. Weinstein thought he was the best actor of the guest stars.[5] David Cohen wanted Cypress Hill to guest star in the episode.[3]
The band No Doubt was drawn in the crowd as either Eric Stefani, who was part of the band, or Eric Keyes, who was friends with Stefani, drew them in.[6] Originally Courtney Love was wanted as a guest star and James L. Brooks was doing a movie with her. Brooks asked her about guest starring but she never called back about it. The joke involving her would have had her introducing herself to Homer, to which Homer replies "Homer Grateful". This joke got replaced with Billy Corgan's line. Ken Keeler wrote a song for the episode which got cut from the final version.[7] After Homer jumps out of the way of the cannonball, the cannonball was supposed to hit a bunch of outhouses and Principal Skinner comes out of one. However, this scene got cut, leading to a sort of awkward cut between scenes of Homer dodging the cannonball and jumping off the stage.[4]
Reception
[
edit
]
In January 1998, TV Guide listed the episode as number 3 in the dozen best Simpsons episodes.[8] In 2019, Consequence of Sound listed the episode as number 3 in its Top 30 Episodes list.[9]
The producers call the Rover Hendrix one of the worst jokes they've done on the show.[3][5]
Todd Gilchrist of IGN called "Homerpalooza" one of his favorite episodes of the season.[10]
As of January 2020, the episode has an 8.0 rating on IMDb[11] and an 8.4 rating on TV.com.[12]
References
[
edit
]
| | |
| --- | --- |
| | Wikisimpsons has a collection of images related to "Homerpalooza". |