Rita LaFleur
Wikisimpsons - The Simpsons Wiki
Rita LaFleur is a former restaurant singer. She was in a relationship with Abraham Simpson.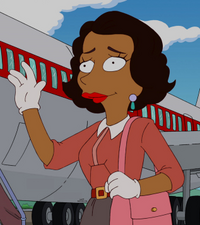 History
[
edit
]
When Abe escaped from the Springfield Retirement Castle, Homer and Marge search his past and discover that he worked with Marvin Hamlisch in a local restaurant and that he fell in love with the restaurant's singer, Rita LaFleur. Although they were in love, Abe couldn't go to Europe with Rita because he was concerned young Homer would die from a 220 volt electrical socket.
Non-canon
[
edit
]
| | |
| --- | --- |
| | The contents of this article or section are considered to be non-canon and therefore may not have actually happened or existed. |
The Simpsons: Tapped Out
[
edit
]
This section is transcluded from The Simpsons: Tapped Out characters/Abe's in Toyland. To edit it, please edit the transcluded page.

Permanent Tasks
Task
Time
Reward
Requires
Quest with the task
Animated?
Go Skating
10m
17, 5
Simpsons' Skating Rink
Visit Ex-Husband
60m
70, 17
Retirement Castle
Overpay for Sex on the Beach
4h
260, 70
Smooches on the Beach
Stay at the Swelldorado
4h
260, 70
Swelldorado
Try to Win at Blackjack
4h
175, 45
$ Casino
Drink and Babysit
4h
175, 45
The Boiled Potato
Attend Coffee Meetup
4h
175, 45
Jittery Joe's Coffee
Perform Scat Solo
4h
175, 45
Fallen Diva Apartments
Food for the Soul Pt. 3
Dance the Señor Burns
8h
420, 105
Chez Guevara
Practice Playing Piano With Toes
8h
275, 70
Fallen Diva Apartments
Play Romantic Tune
12h
840, 200
Fallen Diva Apartments
Grampa
Food for the Soul Pt. 2
Tune a Piano
12h
420, 100
Fallen Diva Apartments or
Home Visitable
Sleep in Front of TV
24h
600, 150
Fallen Diva Apartments
Appearances
[
edit
]