Yodelin' Zeke
Wikisimpsons - The Simpsons Wiki
Yodelin' Zeke
Character Information
Yodelin' Zeke is a country-western singer.
History
[
edit
]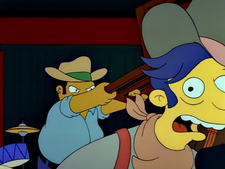 Yodelin' Zeke's musical trademark, unsurprisingly, is that he yodels while country music plays in the background. Not everyone appreciates this blend of musical styles, however. During a live show at
The Beer -N- Brawl
, Zeke was only able to sing a few phrases of his song before a bar patron came up behind Zeke and hit him over the head with a chair, knocking him out. (Apparently, that wasn't the first time he had been attacked while performing at The Beer -N- Brawl, as the announcer introduced him as "all healed up and back for more".) Two bar employees then dragged an unconscious Zeke off of the stage while the band continued playing. He was followed by
Lurleen Lumpkin
, who had much better luck with the unruly crowd.
Yodelin' Zeke is also a regular cast member on the country-western-themed variety show Ya Hoo! The episode where Lurleen appeared as a guest was evidently taped shortly after the chair incident at The Beer -N- Brawl, as Zeke had bandages on his head when he was introduced during the opening credits.[1]
A Yodelin' Zeke poster was seen outside of Li'l Nicer Cabaret.[2]
Appearances
[
edit
]
References
[
edit
]