Ludwig van Beethoven
Wikisimpsons - The Simpsons Wiki
Ludwig van Beethoven was a composer in the 18th century.
History
[
edit
]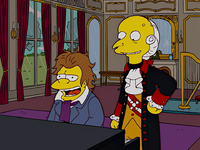 Beethoven appeared in a story told by Marge. After Wolfgang Amadeus Mozart died, Sally Salieri went to visit Emperor Joseph II as she considered herself the greatest composer alive. However, she was told to wait as the Emperor was in with Ludwig van Beethoven at the time.[1]
When Bart Simpson was playing piano, the ghosts of Mozart and Beethoven appeared.[2]
A bust of Beethoven was thrown at Professor Frink.[3]
Non-canon
[
edit
]
| | |
| --- | --- |
| | The contents of this article or section are considered to be non-canon and therefore may not have actually happened or existed. |
Beethoven and Tupac Shakur took part in an "Ultimate Def Jam" contest with each other in Heaven.[4]
The Simpsons: Tapped Out
[
edit
]
This section is transcluded from The Simpsons: Tapped Out characters/Heaven Won't Wait. To edit it, please edit the transcluded page.

Permanent Tasks
Task
Time
Reward
Requires
Quest with the task
Animated?
Go Skating
10m
26, 7
Simpsons' Skating Rink
Get His Piano Tuned
60m
105, 26
Heavenly Deaf Jam
Record Hot Takes
4h
260, 70
Overpay for Sex on the Beach
4h
260, 70
Smooches on the Beach
Stay at the Swelldorado
4h
260, 70
Swelldorado
Try to Win at Blackjack
4h
260, 70
$ Casino
Drink and Babysit
4h
260, 70
The Boiled Potato
Attend Parenting Seminars
4h
260, 70
Universal Panacea
Dance the Señor Burns
8h
420, 105
Chez Guevara
Pretend He Doesn't Like Giving Autographs
8h
420, 105
All Sales Vinyl or
King Toot's or
Groovetone Records or
Shop
Jam Divinely
12h
600, 150
Heavenly Deaf Jam
Enjoy a Night at the Theater
12h
600, 150
Springfield Playhouse
Secretly Enjoy Modern Music
24h
1,000, 225
Heavenly Deaf Jam
Appearances
[
edit
]
References
[
edit
]
External links
[
edit
]