I'm Goin' to Praiseland
Wikisimpsons - The Simpsons Wiki
267
"I'm Goin' to Praiseland"
"Well, what the heck. Who's ready to build an amusement park?"
"I'm Goin' to Praiseland"
Episode Information

"I'm Goin' to Praiseland" is the nineteenth episode of season 12 of The Simpsons and the two-hundred and sixty-seventh episode overall. It originally aired on May 6, 2001. The episode was written by Julie Thacker and directed by Chuck Sheetz. It guest stars Shawn Colvin as Rachel Jordan.
Synopsis
[
edit
]
"When Ned Flanders can't stop thinking about his late wife, the Simpsons offer to help remove all traces of her from his house. Ned then discovers Maude's old sketch book and decides to build her last wish, a Christian amusement park called Praiseland."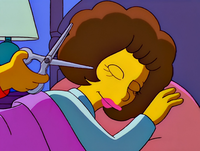 At the First Church of Springfield Ice Cream Social, Rachel Jordan has returned to Springfield where she performs "Jesus Loves Me". This surprises Ned, as he has a crush on Rachel and didn't know she was back in town. After Rachel has finished her song, Homer pushes Ned into her so that the two of them can reconnect. Rachel offers to go out for coffee with Ned, who initially says that he can't as he's busy the next day. When Rachel says that she needs to book into a hotel for the night, Homer suggests that Rachel stay at Ned's house, which they both agree on. At Ned's house, Rachel is shocked to see that Ned has pictures of Maude all over the house still. When she goes to sleep in Ned's bed, with Ned taking the couch, Ned asks Rachel not to sleep on Maude's side of the bed, as he's preserving Maude's indentation. As Rachel sleeps, Ned sneaks into the room and cuts her hair to match Maude's, which horrifies Rachel. Rachel then leaves the house and gets a taxi away.
The next day, the Simpsons offer to remove all traces of Maude from Ned's house so he's not reminded of her all the time. When Homer gets tired of trying to break all of Maude's things, he gets a woodchipper in to make it easier. When Ned returns, he finds that everything of Maude's is now gone, except her sketch book. As Ned looks through the sketch book, he finds drawings of Praiseland, a Christian amusement park that Maude wanted to make. Rod, Todd and the Simpsons then convince Ned to make Maude's last wish a reality.
Ned goes to the old Storytime Village, which is owned by The Rich Texan, and asks him to sell it to him. The Rich Texan is initially reluctant but ends up giving it to Ned as a tax write off. Ned and the Simpsons then get to work transforming the park into Praiseland. When Ned starts to run low on money for the park, he and Homer go to the citizens of Springfield to get donations to help set the park up.
Eventually, the opening day of Praiseland comes along. People flock to the amusement park to enjoy the attractions. However, everyone seems to hate how bland and boring it is, with the rides being educational. As everyone starts to leave Praiseland, Ned gets upset and talks to a mask of Maude. He drops the mask and it begins floating in front of the statue of Maude, which surprises everyone. Principal Skinner then has a vision of his version of Heaven in front of the statue. Everyone assumes that it's a divine message from God and people start lining up to see their own Heaven visions, with Ned donating the money to the local orphanage.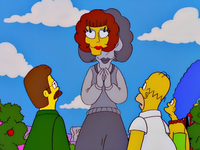 Eventually, Ned figures out that the visions aren't a message from God, but are hallucinations caused by a leaking gas pipe. Homer tries to convince Ned to leave it be as it's helping the orphans. However, they then see Patches and Poor Violet about to light candles over the gas leak. Homer and Ned tackle the orphans away from the gas before it can explode. However, this gives them and the park a bad name because they attacked orphans. Praiseland is then shut down for good.
As Ned and Homer are locking up Praiseland, Rachel Jordan drives by and tells Ned that she read about what happened to Praiseland. She then reveals that she's wearing a wig after what Ned did to her hair, and that she doesn't want to speak about it again. Ned then offers to take Rachel out to coffee so that he can explain what happened to Praiseland. Later, Ned and Rachel remove Maude's indentation from Ned's bed and Ned offers to take Rachel out for a movie.
Production
[
edit
]
Praiseland, and the basis of the episode, is based on Heritage USA. This was also the first Ned Flanders episode since Maude died.[1] The idea for Rachel was to have Ned get back with a regular girlfriend. However, the producers later decided that it would be more interesting for Ned to date different women and not be tied down again right away.[2]
The gas leak at Praiseland is a reference to a similar thing that happened at the opening of Disney World.[3] At one point, the explanation behind the visions was to be that a criminal called the Mutton Chop Murderer had died where the Maude statue was. Wiggum was to then celebrate figuring out the reason behind the visions with a celebratory cigar, which caused the park to explode. However, only Ned Flanders was injured.[4] However, they didn't drop any clues about this throughout the episode so they changed it.[1] The bible gum flavor ice cream at the Ice Cream Social was a real product and the show was sued because they used the product's name.[1]
Reception
[
edit
]
As of August 2021, "I'm Goin' to Praiseland" has a 7.2 rating on IMDb.[5]
References
[
edit
]