Elementary School Musical
Wikisimpsons - The Simpsons Wiki
465
"Elementary School Musical"
"Goodbye, Lisa! I'll miss you a lot, then a little, then not too much!"
"Elementary School Musical"
Episode Information

"Elementary School Musical" is the first episode of season 22 of The Simpsons and the four-hundred and sixty-fifth episode overall. It originally aired on September 26, 2010. The episode was written by Tim Long and directed by Mark Kirkland. It guest stars Bret McKenzie as Kurt Hardwick, Jemaine Clement as Ethan, Lea Michele as Sarah, Cory Monteith as Flynn, Amber Riley as Aiesha, Ira Glass as himself and Stephen Hawking as himself.
Synopsis
[
edit
]
"Marge sends Lisa to a performing arts camp where artsy counsellors (guest voices Jemaine Clement and Bret McKenzie of Flight of the Conchords) and fellow musically inclined campers (guest voices Lea Michele, Cory Monteith and Amber Riley of Glee) inspire her to embrace her creative side. After she returns to Springfield, Lisa becomes restless with her ho-hum suburban lifestyle and catches the first bus to Sprooklyn in hopes of reconnecting with her inner hipster."
When the announcements for the Nobel Prize winners is on early in the morning, about 4:00 AM, Homer comes down and asks why Lisa and some of her and Bart's friends are still up. It turns out that Krusty has won the Nobel Peace Prize. At the announcement in front of Springfield Town Hall, Mayor Quimby announces to the rest of the town that Krusty has won. As Krusty cracks jokes, Homer is the only one who laughs at them. Krusty then takes Homer to his limo. In the limo, Krusty tells Homer that he wants Homer to go with him to Oslo, Norway to collect the prize as he always laughs at Krusty's jokes. Homer asks if he can take Bart with him, to which Krusty agrees.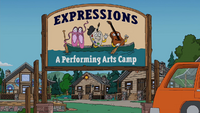 As they board the Peace Prize One, Lisa gets upset that she never goes anywhere fun. Marge then doesn't go back home but instead takes Lisa to Expressions, a performing arts camp run by counsellors Kurt Hardwick and Ethan. Here, she meets fellow campers Aiesha, Sarah and Flynn. They instantly get along through song.
As the plane lands, Krusty, Homer and Bart get off to find that they are not in Oslo at all but they were in The Hague, The Netherlands. A Dutch policeman tells them that Krusty is to be arrested and tried at the International Court of Justice for his bad behavior in Western Europe. The only way for him to be freed was if there is evidence suggesting that Krusty has helped Western culture. Homer and Bart search for evidence.
Lisa really loves life in Expressions. They sing a lot of songs and even had Stephen Hawking join in. Marge eventually comes to pick Lisa up and tells her that her time at camp is over. Lisa looks through her camera at all the photos to realise that Marge was right and it has been a week. They then return home.
Bart and Homer desperately search for evidence on the Internet and only find Krusty's bad behavior. They then find something they feel would get Krusty free. At the court, they show the evidence that Krusty inadvertently helped out in one of his bad moods, by telling the band to play vuvuzelas which led to Nelson Mandela being freed. The World Court Judge decides to free him.
Meanwhile, Lisa runs away to Sprooklyn to find Ethan and Kurt, thinking that it was the glamorous place they made it out to be. Instead, she finds a place full of vandalism, falling down buildings and tramps. She finds Kurt's flat, 652 8th Avenue, and finds that it is a run down place too. It turns out that they work in the sandwich shop, Sprubway, and that they are low on money as artists don't get a lot. Lisa eventually calls Marge to come and get her as she decides she hates Sprooklyn.
Marge picks Lisa up outside Dregs, where musicians can play music. Kurt and Ethan reveal that they have left Lisa a surprise as she leaves Sprooklyn. As she leaves, one of the buildings has a mural of Lisa on with Kurt and Ethan on top of the building. They ask each other how they got up there so quick as they were outside their flat a minute ago. They then reveal that they have magic powers and fly off.
Production
[
edit
]
Reception
[
edit
]
"Elementary School Musical" was viewed by 7.8 million households. The rating was down 14% from the previous season's premiere.[1]
The A.V. Club gave the episode a C+, and wrote, "I liked many of the elements of the season premiere [...] I have no idea if the writers wrote new songs for the two guys in Flight of the Conchords to sing (as Lisa's arts camp counselors), but the songs they sang were pretty weak. Similarly, bringing in the Glee kids to sing a take on "Good Vibrations" that was, frankly, awful mostly just felt like an attempt to have guest stars in nothing parts so they could be promoted."[2]
"Elementary School Musical" was nominated for a 2010 Annie Award for Music in a Television Production, but it lost to SpongeBob SquarePants.[3]
Gallery
[
edit
]
Promotional pictures for this episode
References
[
edit
]