Bleeding Gums Murphy
Wikisimpsons - The Simpsons Wiki
Oscar "Bleeding Gums" Murphy was a jazz musician, and an idol of Lisa Simpson.
Biography
[
edit
]
Bleeding Gums learned his musical skills "at the feet of Blind Willie Witherspoon". Willie wanted to give Bleeding Gums his saxophone, only to be finally told that it wasn't a saxophone and actually an umbrella, meaning that Willie had actually been playing an umbrella for some thirty years. Bleeding Gums explained to Willie that no one informed him of the mistake because "we all thought it was funny".[1]
At one point, Murphy was married to a woman named Vela, who was also a singer. At some point, they got divorced, but Vela still used her ex-husband's last name in a professional capacity.[2]
Murphy had one child, Monk Murphy. When Monk was born, Bleeding Gums wrote "Monk's New Tune". Monk was born deaf, which saddened his father because it meant Monk could never hear his music. Bleeding Gums tried to raise the money to pay for cochlear implants for his son, but only made $16. He then wrote the song "Sixteen Bucks Just Ain't Enough".[3]
Murphy recorded only one album, titled Sax on the Beach, which was extremely lucrative for him. However, he soon went broke after spending his money on his Fabergé egg addiction. He revealed that he had once made a guest appearance on The Cosby Show in 1986 as the Huxtable children's grandfather, as well as appearing on The Tonight Show when Steve Allen was the host.[1]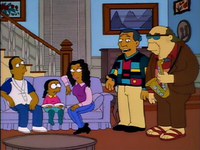 Bleeding Gums was a mentor to Lisa Simpson until his early death. He played and sang a blues song written by Lisa. It pleased Lisa to see the performance of her own song in the club "The Jazz Hole", but not everyone in the family was happy with the lyrics, as they were sharply critical of Homer and Bart, and mildly critical of Marge.[4]
Bleeding Gums once sang a twenty-six minute version of the American national anthem "The Star-Spangled Banner" at a Springfield Isotopes game.[5]
He served as one of the three judges for a talent show once, giving Bart a 10 for his impersonation of Principal Skinner.[6] Murphy also joined with a group of local celebrities in singing the song "We're Sending Our Love Down the Well" as a benefit for Timmy O'Toole.[7]
When Springfield was hit by a freak snowstorm and Mayor Quimby declared a snow day for the whole town, Murphy and Lisa were seen playing their saxes in the crowd of townspeople enjoying the snow.[8]
Allison Taylor has a photo of Bleeding Gums on her wall. It may be possible that Bleeding Gums was also Allison's one idol.[9] Lisa also has a picture of Bleeding Gums on her wall.
It is hinted that Dr. Hibbert and Bleeding Gums are long-lost brothers.[1]
He has been featured on Before They Were Famous.[10]
At some point before his death, Bleeding Gums Murphy told his nephew that Lisa was the most promising young musician he had ever met.[11]
At some point before his death, he had a relationship with Mrs. Muntz.[12]
In Bart's coma dream, Bleeding Gums Murphy was one of the ghosts who came to Bart to get help to move on to the afterlife.[13]
Death and legacy
[
edit
]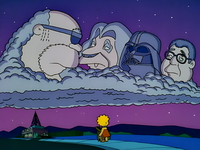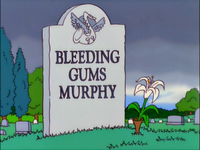 When Bart went to the hospital after eating a jagged metal Krusty-O, Lisa found Bleeding Gums in a hospital bed in a nearby ward. They played Carole King's "Jazzman" together, entertaining everyone in the hospital. Bleeding Gums told Lisa about his life, family and career, including his only album, Sax on the Beach. He also gave her advice for her upcoming school recital and lent her his saxophone. At the recital, only a few of the school band members were present and their performance of "The Stars and Stripes Forever" was about to fall flat, but Lisa saved the day with an inspired impromptu jam on Murphy's sax. Lisa returned from the recital to share her triumph with Bleeding Gums, only to find that he had died. (The cause was never revealed, nor was the reason Murphy was in the hospital in the first place.)
No one, except for Lisa, Marge and Homer, attended Murphy's funeral. Reverend Lovejoy officiated and got Murphy's name wrong, calling him "Blood and Guts Murphy" and "Bloody Gums Murphy", as well as saying that he was "quite the sousaphone player". Lovejoy's blundering outraged Lisa and moved her to find Murphy's album and have it played on the radio so people would know who he was. However, even the local jazz station didn't have the album, and when she found it in Comic Book Guy's shop, it was priced at $500, which she couldn't afford. However, Bart had sued KrustyCo Inc. over the jagged metal Krusty-O incident and received $500 in a settlement. When he saw how disappointed Lisa was at not being able to buy Murphy's album, Bart bought the album and gave it to her. Lisa then took it to KJAZZ and the DJ played it on the radio. The station's signal was very weak, but a freak lightning strike hit the antenna and boosted the signal so that all of Springfield heard Sax on the Beach playing.
Murphy's face appeared from the clouds, thanking Lisa and telling him that he had made her happy. They were interrupted by other famous characters appearing: Mufasa from The Lion King, Darth Vader from Star Wars and James Earl Jones reciting his "This is CNN" narration. Murphy asked them to leave, and he and Lisa jammed out to "Jazzman" one last time. Lisa wanted to do it again ("One more time!"), but Murphy protested that he had a date with Billie Holiday.[1]
A hologram image of him was used by She-Done-Left-Me Records to advertise various products. This caused Lisa to protest against them for using dead celebrities to advertise various commercial products.[14]
After Bleeding Gums' death, the rights to his music were sold off by Treasured Artists Publishing to various other companies. This led to a song of his, "Can't Face Tomorrow", being turned into "Scratch That Itch" and used to advertise the Springfield Lottery. A giant hologram of him was also going on tour around Europe.[3]
Non-canon
[
edit
]
| | |
| --- | --- |
| | The contents of this article or section are considered to be non-canon and therefore may not have actually happened or existed. |
Bleeding Gums Murphy has a biography called Floss, I Hardly Knew Ye.[15]
The Simpsons: Tapped Out
[
edit
]
This section is transcluded from The Simpsons: Tapped Out characters/C-List Celebrities. To edit it, please edit the transcluded page.

Bleeding Gums Murphy
Image
Cost
Unlock method
Unlock message
165
Homerpalooza and All This Jazz
Premium, The Jazz Hole
80
Itchy & Scratchy Land
Premium, The Jazz Hole (Summer Concert Mystery Box)
80
Thanksgiving 2018, All American Auction, Blargsgiving, Northward Bound and The Atom Smasher
Premium, The Jazz Hole (Men Mystery Box)
1
Thanksgiving 2018, All American Auction, Blargsgiving, Northward Bound and The Atom Smasher
Gold Mystery Box, The Jazz Hole
FREE
Simpsons Babies
The Sleuthenizer Pt. 4, The Jazz Hole
Black History
Black History Month Mystery Box, The Jazz Hole
1
For All Rich Mankind
Shattered Dreams Mystery Box, The Jazz Hole (after event completion)
Permanent Tasks
| Task | Time | Reward | Requires | Quest with the task | Animated? |
| --- | --- | --- | --- | --- | --- |
| Go Skating | 10m | 26, 7 | Simpsons' Skating Rink | | |
| Catch up on Modern Music | 60m | 105, 26 | Brown House | | |
| Go See His Nephew Play | 2h | 110, 27 | The Spotted Cat | | |
| Play the Sax on Springfield Memorial Bridge | 2h | 110, 27 | Springfield Memorial Bridge | | |
| Play Jazz | 4h | 260, 70 | | It Happened One Event Pt. 2 | |
| Overpay for Sex on the Beach | 4h | 260, 70 | Smooches on the Beach | | |
| Stay at the Swelldorado | 4h | 260, 70 | Swelldorado | | |
| Try to Win at Blackjack | 4h | 260, 70 | $ Casino | | |
| Drink and Babysit | 4h | 260, 70 | The Boiled Potato | | |
| Attend Parenting Seminars | 4h | 260, 70 | Universal Panacea | | |
| Hoard Fabergé Eggs | 8h | 420, 105 | | It Happened One Event Pt. 5 | |
| Dance the Señor Burns | 8h | 420, 105 | Chez Guevara | | |
| Listen to Sax on the Beach | 12h | 600, 150 | The Jazz Hole | | |
| Enjoy a Night at the Theater | 12h | 600, 150 | Springfield Playhouse | | |
| Hangout and Jam | 24h | 1,000, 225 | The Jazz Hole | | |
Behind the Laughter
[
edit
]
The appearance of Bleeding Gums Murphy is loosely based on LeRoi Moore, the late saxophone player for the Dave Matthews Band. It may also be an homage to Sonny Rollins, a great saxophone player who famously retired from public performance and was not seen for three years, until a journalist discovered him playing the saxophone alone on the Williamsburg Bridge. Murphy's introductory appearance, where Lisa sees him playing his sax on a bridge in the middle of the night, is a direct reference to Rollins.
Bleeding Gums gave the origin of his nickname in "Moaning Lisa" as thus: "Well let me put it this way... you ever been to the dentist? Not me. I suppose I should go to one, but I got enough pain in my life as it is."
The voice of Bleeding Gums Murphy was provided by Ron Taylor, while his saxophone playing is provided by Dan Higgins. In the episode "Dancin' Homer" he was voiced by Daryl L. Coley.
Mufasa, Darth Vader, and (of course) the James Earl Jones CNN narration were voice roles originally portrayed by James Earl Jones, but were performed by Harry Shearer for their scene in "'Round Springfield".
Murphy has been a fixture of The Simpsons' opening sequence from Season Two on, even after his death. He even appeared in the live-action format,[16] in The Simpsons Sky One commercial, that was also used for the episode "Homer Simpson, This Is Your Wife". In 2009, the opening sequence had to be updated since the series was now broadcast in hi-def widescreen format. The new, updated sequence removed Murphy completely apart from a picture of him that can be seen in the Music Room when Lisa plays her Sax.
In addition to his onscreen appearances, Murphy also appeared on The Simpsons Sing the Blues, an album of rock, and jazz music with vocals performed by characters from the show. On the track "God Bless the Child" (a cover of the Billie Holiday song), performed by Lisa Simpson (Yeardley Smith), Murphy speaks up after the final chorus to praise Lisa for her vocals, after which he and Lisa perform a saxophone duet for the remainder of the song. Murphy was again voiced by Ron Taylor for the song, and his alto saxophone part was performed by Kim Richmond. Everytime Lisa's room is seen after "Moaning Lisa" a picture of Bleeding Gums Murphy is seen.
Foreign Dubs
[
edit
]
Appearances
[
edit
]
References
[
edit
]
Factfiles from Simpsons World the Ultimate Episode Guide: Seasons 1-20
Season 14
Rock Stars • Audrey McConnell, Third Grade Teacher • Dr. Velimirovic, Plastic Surgeon • Mitch Hartwell, the Reality Channel Producer • Junior (AKA Frank Grimes, Jr.) • Teacher of the Year Award Nominating Committee • Dexter Colt, Private Eye • The Mugger • Larry H. Lawyer, Jr. • Baby Stink-Breath • Booberella • Sara Sloane, Hollywood Movie Star • Cookie Kwan, Red Coat Realtor • Stark Richdale • Declan Desmond • Julio and Grady • Luke Stetson, Junior Wrangler • Suds McDuff, Spokesdog/Mascot for Duff Beer • Marriage Counselor • Jim Proudfoot • Don Castellaneta