Four Regrettings and a Funeral
Wikisimpsons - The Simpsons Wiki
533
"Four Regrettings and a Funeral"
"You know what I think about regrets? As long as your family is together, every choice you've ever made is the right one."
"Four Regrettings and a Funeral" The Simpsons attend the funeral of Chip Davis, "Springfield's most beloved character that you never saw."
Episode Information

"Four Regrettings and a Funeral" is the third episode of season 25 of The Simpsons and the five-hundred and thirty-third episode overall. It originally aired on November 3, 2013. The episode was written by Marc Wilmore and directed by Mark Kirkland. It guest stars Joe Namath as himself and Rachel Maddow as herself.
"Four Regrettings and a Funeral" was dedicated to Marcia Wallace, who passed away nine days before the episode aired.
Synopsis
[
edit
]
"Four Springfielders are prompted to try to right past regrets following the funeral of a beloved neighbor. Homer regrets selling his Apple stock to buy a bowling ball, Marge worries she caused Bart's rebellious streak, Mr. Burns reminisces about a romance he gave up with a beautiful Parisian woman and Kent Brockman admits he was too afraid to leave local news and follow his former partner Rachel Maddow (guest appearing as herself) to cable news.[1]"
A funeral for beloved neighbor Chip Davis is taking place at the First Church of Springfield, where Reverend Lovejoy discusses the topic of regrets.

During the reverend's speech, Marge overhears
Patty
and
Selma
mention that everyone has regrets, which she disagrees with. "
Your marriage is a dead fish floating in a tank of stale beer. Your baby's addicted to pacifiers and your son is out of control
," Patty remarks, "
He's been screwed up since the moment Homer's DNA staggered into your womb
." With this, Marge begins to regret the choices she made during her pregnancy with Bart and whether or not they could've influenced the devilish behavior he now exhibits. In a flashback to this time,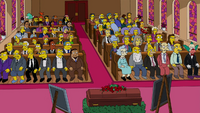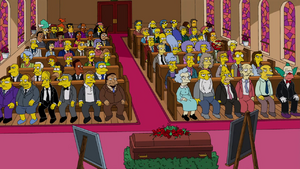 it transpires that Marge had a strange pregnancy craving for regularly listening to
KISS
albums to help relax her. "
Could Bart have been prenatally screwed up by the KISS music?
" Marge fears.
Down the aisle, Kent Brockman ponders upon the choices he has made regarding his career. Kent begins to regret staying local to Springfield, "a back-water town" that hates his guts, instead of moving on to a more successful news channel elsewhere.

Meanwhile, Homer recalls the worst financial decision he made of all time. In early 2001, he sold all of his stock investment in Apple.Inc - believing "technology is a fad" - in order to purchase a fancy bowling ball, as "heavy blue balls are the future." Lovejoy then instructs the congregation to pull out their Apple phones and tablets to text, leaving Homer sitting alone, isolated from the technology-filled-room, hugging his bowling ball.

"If it makes you feel worse, I'm the man who bought the stock you sold," Mr. Burns remarks, from the aisle behind. "I bet a rich man like you has no regrets at all," a jealous Homer remarks. However, Burns indeed does have a regret - a love that got away. She broke his first heart. "So is there truly anyone among us without regrets?" Lovejoy contemplates. Agnes Skinner steps up and informs the reverend that she has no regrets, before remembering she has a son and quickly sits down saying, "Oh, I didn't see you there," to Seymour.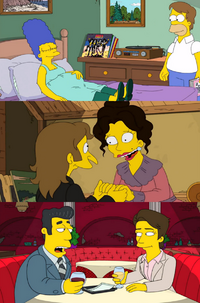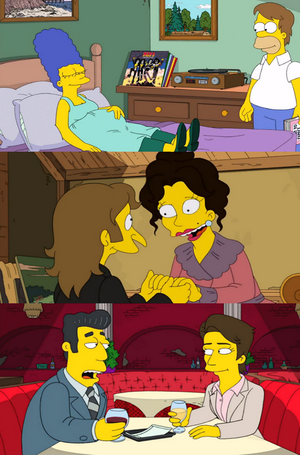 After the service concludes, the congregation crowds around outside the church. Bart plays a prank on several Springfield citizens by dressing up, along with Milhouse, as a priest and asks for donations, before Lovejoy intervenes. This causes Marge to flashback to her pregnancy, where again, she uses KISS records to prevent stress and let her relax from Homer's antics.

Burns watches on as Bart and Milhouse fight with the church donation baskets atop vehicles in the parking lot and recalls on his days of "reckless youth," whereby he fell in love with a Lyla, a crêpe stand vendor in Paris, who also just happened to be his cousin. The two began a relationship, with Burns eventually proposing. Lyla asks in return of her hand in marriage that Burns set aside 5 minutes a day to think of others. Burns loses her to his selfishness but always meant to find a way to win her back. Burns announces to Smithers his plans to reunite with his long-lost love.

Behind Burns and Smithers, Kent Brockman is approached by Rachel Maddow, whom he previously worked with. "Look," Kent begins, "Let's get this out of the way. Just because we both worked at Channel 6 and you made it big and I didn't doesn't mean I'm bitter." However, the license plate ("I H8 LIFE") attached to his car and logo in the window ("BITTER ON BOARD") show otherwise. In a flashback, Kent's early days in his career are explored. Brockman and Maddow used to present their own show together, mostly centering around celebrity and pop-culture, before growing tired and seeking bigger, more ambitious career goals. They learn that someone's been dumping tires in the forest and head out to make a report on the events.
However, it turns out the mysterious tire-dumper is Krusty, who has control of the Channel 6 news. Learning of Channel 6's corruption, Maddow decides to switch to cable news-casting to make something of herself. Kent is reluctant to follow her and stays and keeps the secret of who started the famous Springfield Tire Fire (which Krusty subsequently starts with his cigar, adding, "It'll burn out in an hour or so.")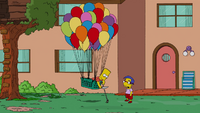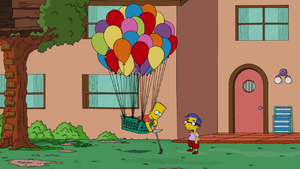 At Burns Manor, Mr. Burns learns from his hired personal investigator, Dexter Colt, that Lyla is still alive and is now a Buddhist nun. Satisfied with the findings, Burns dismisses Colt, who refuses to leave until he is paid. Using his usually trustworthy trap-door button hidden under his desk, Burns accidentally falls through the floor, instead of the intended Colt, after remembering his desk was recently moved.

Meanwhile, Kent Brockman takes a subway train to New York City and makes his way into the Fox News headquarters with the intention of getting back into the big league.

At the Simpson home, Bart is putting a "50% attention-seeking, 50% to drop-things-on-people" plan into action by attaching a batch of balloons to a laundry basket and flying off into the air, leaving Milhouse and Ralph behind on the ground.

Kent meets with a Fox News executive who introduces him to a device which can make Republicans from Alabama look good by faking that they are democratic Muslims from California. "Sorry, but I just discovered I have some scruples," Kent exclaims, "I'm going back to my sweet little town where I can decide what news is... like a god."

Elsewhere, Homer relives all the memories he has had with his favorite bowling ball - including canoeing adventures, birthday parties and roller-coaster rides - and decides to get it nicely shined up at the local bowling alley. Unfortunately the bowling alley just reminds him of his failure.
Bart quickly realizes his idea wasn't a good one when he floats to dizzying heights. He drifts past The Peak Inn, where Smithers waits outside while Burns and Lyla embrace and make-out in one of the hotel's rooms. Before the two can start their love-making session, Burns retreats to the bathroom where he begins concocting a potion to help him out in the 'bedroom department.'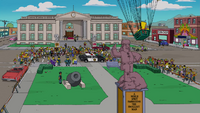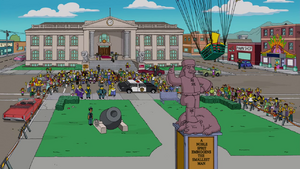 Across town, Kent returns to Channel 6 studios with little enthusiasm. Before he can go through the door, he spots Bart flying above him. Recognizing a news-story when he sees one, Kent calls out for a camera-man and begins filming the report.

Back at the Inn, Burns exits the bathroom now fully prepared only to find Lyla's lifeless body lying across the bed. Attempting to give her the breath of life, instead, Lyla's body quickly decomposes and disintegrates into dust upon contact with Burns' lips. Smithers appears and suggests Burns do the one thing Lyla ever requested of him - spend 5 minutes of his day thinking of others. Burns takes up this suggestion and serves the homeless at a local soup kitchen.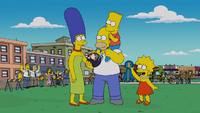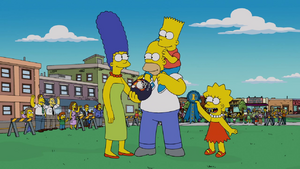 A crowd of Springfieldians gather around the town center, along with Chief Wiggum and Homer and Marge, to try and find a way to rescue Bart. Marge continues to regret listening to KISS albums when she was pregnant with Bart, which Wiggum quickly tells her is ridiculous as his wife listened to Mozart and Churchill speeches when she was pregnant with Ralph and "he can't even open a refrigerator" and is "scared to flush...thinks it's his brother." Just then, Professor Frink suggests firing a canon ball carefully into the laundry basket to weigh it down. Using Homer's favorite bowling ball, Lou fires a canon and brings Bart back down to ground. The Simpson family unite and Marge adds, "You know what I think about regrets? As long as your family is together, every choice you've ever made is the right one."

Kent concludes his news report on the event. Then, Rachel Maddow informs him of an opportunity to work at MSNBC but Kent turns her down saying, "I'm happy right here. No regrets."
Production
[
edit
]
The episode guest-stared Joe Namath and Rachel Maddow both as themselves.[2]
The episode featured a tribute to Marcia Wallace, who died nine days before the episode aired.[3]
A scene was cut from the final episode. In this scene, in a moment of truth during Brockman's meeting at the Fox News, Aaron Sorkin appears in a thought bubble above Brockman's head and advises the anchor on whether or not he should work for the cable channel.[2]
Reception
[
edit
]
The episode was watched by a total of 5.43 million viewers, making it the most watched show of the night, beating American Dad!, Bob's Burgers and Family Guy.[4]
The episode received generally mixed reviews from critics. The A.V Club gave the episode a C+ rating and criticized the episode for its "mediocre writing", "shoddy structure" and "flabby, toothless attempts at satire."[5] TV Fanatic compared it to the seventh season episode "22 Short Films About Springfield", "but this time it felt rather disjointed and lacked any real humor." They ultimately gave it a 2.5/5 rating.[6] Film Watch gave an identical rating and named the episode "a letdown as the writers trotted out some tired old tropes and gags."[7] Bubble Blabber concluded, "the four different plots were sloppily put together and really just rehashed from prior seasons. [...] how many Burns love stories have we seen? The Hobbit-inspired intro was legit, but it was all down hill from there."[8] Conversely, Den of Geek gave a positive 4/5 rating, praising the show for "playing with their own publicity" by having 'the death of Springfield's most beloved character' be a one-time character never seen before.[9]
Fan reaction was more positive, but still mixed. On No Homers, the episode holds a 3/5 majority rating on a fan poll. Some fans criticized the episode for "crudely mashing a bunch of uninteresting subplots together," while others noted the episode contained "some good jokes." The Hobbit couch-gag was lauded and the tribute to late Marcia Wallace was deemed "touching."[10]
Harry Shearer won a Primetime Emmy Award for Outstanding Character Voice-Over Performance in the 66th Primetime Emmy Awards for voicing Kent Brockman, Mr. Burns, Waylon Smithers, and Younger Burns for this episode.[11]
In other languages
[
edit
]
| Language | Name | Translation |
| --- | --- | --- |
| Deutsch | "Nichts bereuen" | Regret nothing |
| Español | "Cuatro arrepentimientos y un funeral" | Four regrets and a funeral |
| Español | "Cuatro lamentos y un funeral" | Four regrets and a funeral |
| Français | "Quatre regrets et un enterrement" | Four regrets and a funeral |
| Français | "Quatre regrets et un enterrement" | Four regrets and a funeral |
| Italiano | "Quattro rimpianti e un funerale" | Four regrets and a funeral |
International premieres
[
edit
]
| Country | Date | Channel | Note |
| --- | --- | --- | --- |
| Latin America | May 11, 2014; 8:30PM (Argentina Time) | Fox Latin America | |
Gallery
[
edit
]
References
[
edit
]
External links
[
edit
]