Scratchy
Wikisimpsons - The Simpsons Wiki
Scratchy the Cat
Character Information

Scratchy is a cartoon cat from the show Itchy & Scratchy. Despite usually being depicted as kind in nature, Scratchy is relentlessly attacked by Itchy the mouse. In almost every episode, Scratchy is brutally maimed and injured - and usually killed - by Itchy. Only in a few episodes is Scratchy not the victim of violence.
History
[
edit
]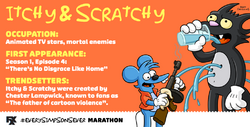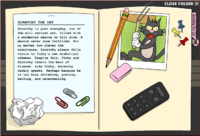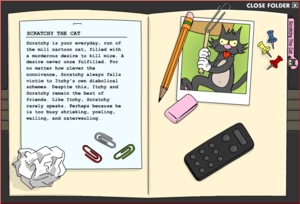 Scratchy's first cartoon, entitled That Happy Cat, was released in 1928. The cartoon starred Scratchy and showed him walking down the street and whistling. The cartoon did poorly and it was not until Scratchy was teamed up with Itchy that the pair really became popular.[1]
Itchy & Scratchy Land is an Itchy and Scratchy theme park. It has parades with robots resembling Itchy and Scratchy which are supposed to be inoffensive and only attack themselves. While on vacation, the Simpsons were attacked by a group of robots, until they used the cameras flashes to short circuit them (the reason flash snaps are not allowed).[2]
Non-canon
[
edit
]
| | |
| --- | --- |
| | The contents of this article or section are considered to be non-canon and therefore may not have actually happened or existed. |
The Simpsons: Tapped Out
[
edit
]
Scratchy
[
edit
]
This section is transcluded from The Simpsons: Tapped Out characters/The Itchy & Scratchy Show. To edit it, please edit the transcluded page.

Permanent Tasks
Task
Time
Reward
Requires
Quest with the task
Animated?
Go Skating
10m
26, 7
Simpsons' Skating Rink
Work on Death Scream
60m
105, 26
Cartoon Set
Overpay for Sex on the Beach
4h
260, 70
Smooches on the Beach
Stay at the Swelldorado
4h
260, 70
Swelldorado
Try to Win at Blackjack
4h
260, 70
$ Casino
Drink and Babysit
4h
260, 70
The Boiled Potato
Fight, Fight, Fight!
4h
520, 140
Cartoon Set
Itchy
Prepare for Battle
4h
260, 70
Cartoon Set
Catamauling Pt. 5
Attend Parenting Seminars
4h
260, 70
Universal Panacea
Dance the Señor Burns
8h
420, 105
Chez Guevara
Hunt for Itchy
8h
420, 105
Catamauling Pt. 1
Catamauling Pt. 4
Count How Many Lives He Has Left
12h
600, 150
Cartoon Set
Check All Body Parts Are Still Attached
24h
1,000, 225
Cartoon Set
See also
[
edit
]
Behind the Laughter
[
edit
]
Scratchy is a parody of Katnip of Herman and Katnip. Katnip's position as the usual loser in their feuds has been exaggerated with Scratchy, who is simply a clueless victim who rarely even has thoughts of hurting Itchy. His appearance in Steamboat Itchy references Pete.
The LEGO bio of the Scratchy figure claims he wants to eat Itchy, though in the actual shorts Scratchy shows no interest in eating Itchy, and only seems to attack Itchy rarely in self defense. The bio doesn't mention Scratchy's tendency to die. It is likely this is due to LEGO wanting to tone down the characters for lower ages.
Foreign dubs
[
edit
]
| Language | Voice dubber |
| --- | --- |
| Español | Rafael Alonso, Jr. |
Appearances
[
edit
]
This article or section is incomplete.


Please improve the article, or discuss the issue on the talk page.

References
[
edit
]
| | |
| --- | --- |
| | Wikisimpsons has a collection of images related to Scratchy. |
Factfiles from Simpsons World the Ultimate Episode Guide: Seasons 1-20
Season 14
Rock Stars • Audrey McConnell, Third Grade Teacher • Dr. Velimirovic, Plastic Surgeon • Mitch Hartwell, the Reality Channel Producer • Junior (AKA Frank Grimes, Jr.) • Teacher of the Year Award Nominating Committee • Dexter Colt, Private Eye • The Mugger • Larry H. Lawyer, Jr. • Baby Stink-Breath • Booberella • Sara Sloane, Hollywood Movie Star • Cookie Kwan, Red Coat Realtor • Stark Richdale • Declan Desmond • Julio and Grady • Luke Stetson, Junior Wrangler • Suds McDuff, Spokesdog/Mascot for Duff Beer • Marriage Counselor • Jim Proudfoot • Don Castellaneta